It was supposed to be a chance for the Liberal Democrats to present their own spending plans for the next Parliament.
But instead it turned into a humiliating session for Danny Alexander, the chief secretary to the Treasury, as presented his "Alternative Budget" to an almost empty House of Commons.
It was a bizarre and unprecedented session in the House of Commons – a Treasury minister standing up to deliver his "better" alternative budget less than 24 hours after his boss had delivered the government's budget.
The "Yellow Box" – which Mr Alexander proudly posed with outside the Treasury – contained plans to borrow £70 billion less than Labour and cut £50 billion less than the Tories in the next parliament.
Even the Lib Dem benches were sparse, with fewer than 20 of their of their MPs bothering to turn up and Nick Clegg only joined for a brief appearance.
So determined was chief Sec to feel important he had his very own yellow box made & much like his principles sold it off to highest bidder

— Angela Eagle (@angelaeagle) March 19, 2015
Labour MPs waved "good bye" to him as he exited the chamber after Mr Alexander had delivered his speech.
Two of the party's five Cabinet secretaries didn't bother lending their moral support – neither Ed Davey nor Alistair Carmichael made an appearance for their party's first very own "budget".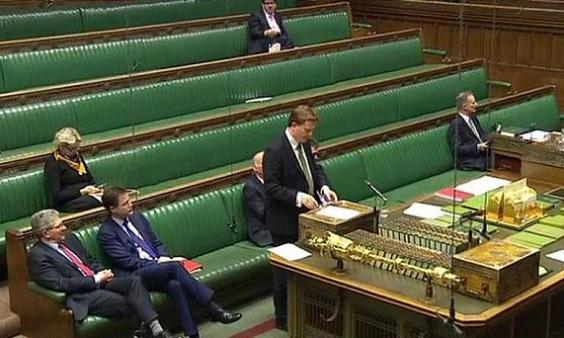 Mr Alexander was stumped before he even began, with the Speaker warning the chief secretary not to make it too like party political broadcast.
But when he got round to it, and what we could hear above the braying and jeering from the Labour benches, Mr Alexander set out Liberal Democrat plans to match the Conservative party's target to eliminate the deficit by 2017-18 through £30 billion of cuts and tax rises.
However the Lib Dem plans differ over their proposal to net an extra £6 billion from tax evaders and an extra  £6 billion in tax rises on the better-off.
What a farce. Chief Secretary tries to distance Lib Dems from their own government's budget less than 24 hours after it was presented

— Bridget Phillipson (@bphillipsonMP) March 19, 2015
Labour MPs did their best to put Mr Alexander off, waving their Budget Red Books over their head and shouting "Which page is this on?"
At one point, Labour front bencher Andrew Gwynne breached Parliamentary protocol and reached across the despatch box to pass him the Red Book.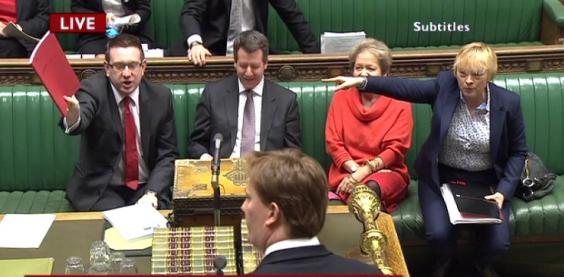 Chris Leslie, who responded on behalf of the Opposition accused the Lib Dems of being "two faced" for voting for the Budget and then a day after presenting their own, and attacked Mr Alexander for "party political pleading". 
"I thought statements in the House of Commons were supposed to be from ministers speaking collectively on behalf of the government," he said. "He has totally abused that privilege."
Reuse content