David Cameron has been accused of trying to sneak fox hunting in by the back door as he announced a vote to relax the ban next week.
MPs will vote on whether to allow packs of hounds to be used for pest-control purposes by flushing out foxes that can then be shot. But opponents accused the Prime Minister of fudging the controversial issue, offering hunters a cover for their illegal activities by amending the existing ban.
They contend that he stopped short of his manifesto promise to hold a vote to repeal the Hunting Act altogether because he was worried he would be defeated.
Amending the Hunting Act, which came into force in 2005, would enable him to sidestep the weeks of controversial debates associated with a full-blown repeal as well as greatly increasing his chance of success.
"This is a sneaky way to try and weaken even further the restrictions of the Hunting Act, as it is clear that a bid to get a total repeal would fail. It is completely dishonest, as all the evidence shows foxes represent no danger to lambs. It's just a dirty trick," said Penny Little, an independent hunt monitor.
Green Party MP for Brighton Pavilion Caroline Lucas, said: "The prospect of the hunting ban being rendered toothless is grave news for animal lovers across the country. If the current restrictions on hunting with packs of dogs are lifted, countless foxes will suffer painful deaths and injuries."
The amendment would let hunters use an unlimited number of hounds to flush out foxes for pest-control purposes – compared to just two now. It would only apply to England and Wales because Scotland has its own Hunting Act.
The Independent understands that the Prime Minister has quietly sounded out MP support for changing the hunting rules and concluded that he has a much better chance amending the ban than repealing it. The PM hopes that the Scottish National Party will find it more difficult to object to the amendment, since the same rules already apply in their own country.
But he may look to head off the threat of a Scottish rebellion by using new "English Votes for English Laws" which are expected to be introduced just before the vote on 16 July. These could be used to exclude Scottish MPs from voting.
Robbie Marsland, director of the League Against Cruel Sports, added: "The government are deliberately and cynically making it easier for hunts to chase and kill foxes, and harder for them to be convicted when they break the law. This is not about hunting foxes for pest control. It's about hunting foxes for fun."

Mr Marsland also said an investigation by the League Against Cruel Sports a few months ago in Scotland had uncovered widespread evidence that traditional fox hunts were occurring under the cover of pest-control.
"The League Against Cruel Sports filmed Scottish hunts and our footage suggests that at least half are hunting for foxes exactly as they were before it was illegal – and not a gun was in sight," he said.
Maria Eagle, Labour's shadow rural affairs secretary, said: "David Cameron is resorting to desperate measures to bring back fox hunting."
A spokesman for the Department for Environment, Food and Rural Affairs said: "We will bring forward technical amendments to the Hunting Act before the summer recess to more closely align the legislation in England and Wales with Scotland. It would not be appropriate to comment further until amendments have bee laid before parliament."
He declined to say if the vote may exclude Scottish MPs.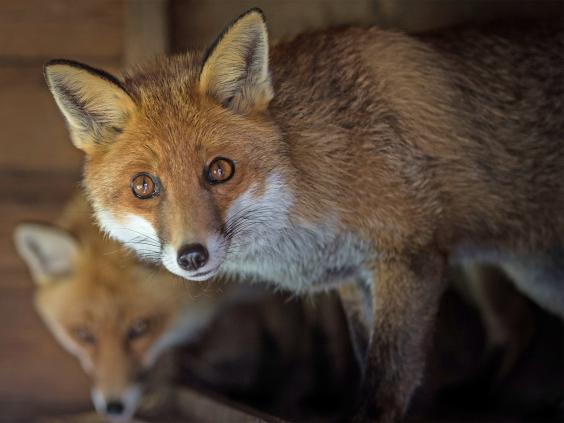 The hunting fraternity broadly welcomed the development but said the vote didn't go far enough. "This is a step forward and will mean that farmers and hunts will be able to use packs of hounds to find and shoot foxes. Traditional hunting, though, will remain illegal…We still believe the Hunting Act needs to be scrapped," said Tim Bonner, of the Countryside Alliance.
He said it was "patently nonsense" that the proposed amendment amounted to "repeal by the backdoor".
"These amendments will bring the law into line with Scotland and ensure that farmers are able to choose how to manage the fox populations in the most effective and humane manner," Mr Bonner said.
Timeline: Fox news
2005: A highly controversial piece of legislation, the Hunting Act comes into force on 18 February. The pursuit of foxes with hounds was banned in Scotland two years earlier by the Protection of Wild Mammals (Scotland) Act 2002.
2010: A manifesto promise ahead of the election for a vote to repeal the ban was  not kept.
March 2014: An attempt to relax the ban on hunting – like the one MPs will vote on next week – is blocked by the Liberal Democrats.
May 2015: Prime Minister David Cameron once again pledges to hold a vote to repeal the Act in his manifesto for the latest election.
Instead, he presses ahead with a vote to amend existing legislation.
July 2015: The vote is due to be held on Thursday next week, following a 90-minute debate in parliament.
If passed, the measure will go to the Lords for debate in the Autumn. If approved, it would take effect immediately.