Sugar-filled soft drinks will see a tax hike in April 2018 in an attempt to combat rising levels of obesity.
Philip Hammond announced details of the new sugar tax in his budget statement, saying the money raised would go to the Department for Education (DfE) for school sports.
Tax on drinks with more than five grams of sugar per 100ml will be levied by 18p per litre, while those with eight grams or more of sugar per 100ml will have an extra tax of 24p per litre.
The DfE is expected to receive an extra £1bn from the sugar tax, said Mr Hammond.
However, he added that revenues could be lower than expected as companies reduce the amount of sugar in their products to avoid the tax.
This could bring significant health benefits, cutting rates of tooth decay, obesity and type 2 diabetes, although soft drinks manufacturers say there is no evidence this will be the case.
The controversial levy was first announced last March, when the Government announced it would target the producers and importers of soft drinks with added sugar.
Pure fruit juices will be exempt as they do not carry added sugar, while drinks with a high milk content will also be exempt because of their calcium content.
Alcoholic drinks with an alcohol by volume of up to 1.2 per cent are included in the levy although some of these drinks will be exempt.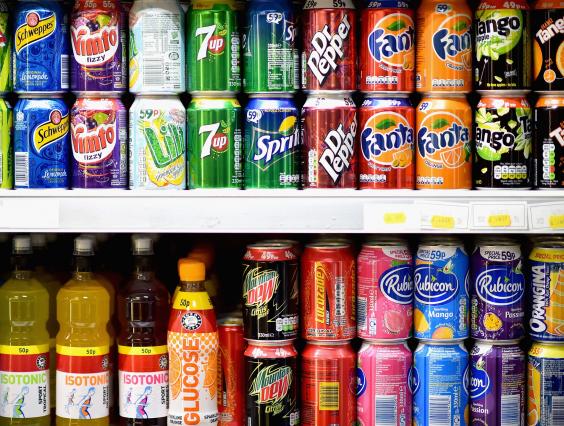 Responding to the Budget announcement, British Soft Drinks Association director general Gavin Partington said: "Given current increases in the cost of goods, we're surprised the Treasury wishes to put more pressure on businesses and raise prices for hard-pressed consumers.
"It's also ironic that the tax hits the soft drinks category, which has led the way in helping consumers reduce sugar intake – down nearly 18 per cent since 2012. We are also the only sector with a calorie reduction target for 2020.
"We support the need to address the public health challenge the country faces, but it's worth bearing in mind that there is no evidence taxing a single product or ingredient has reduced levels of obesity anywhere in the world."
However the Obesity Health Alliance described the levy as a "bold, positive and necessary move we believe will help reduce the amount of sugar our children consume".
The Royal Society for Public Health (RSPH) chief executive, Shirley Cramer, said: "We are delighted that, as shown by the downgrading of the Treasury's revenue expectations, the sugar levy is already working to spur reformulation of sugary drinks by manufacturers.
"This is a crucial development for the health of our children, who receive the highest proportion of their added sugar intake from such drinks.
"We are doubly delighted that, despite the reduction of forecast revenue from the levy, the Government has maintained its commitment to the full funding already promised to schools for sports and healthy living programmes.
"Schools have an important role to play in giving all our children a healthy and active start in life, and it is encouraging to see the Government giving them this backing."
Everyone the Government blames for the NHS crisis – except themselves
Everyone the Government blames for the NHS crisis – except themselves
1/6 The elderly

"We acknowledge that there are pressures on the health service, there are always extra pressures on the NHS in the winter, but we have the added pressures of the ageing population and the growing complex needs of the population," Theresa May has said. Waits of over 12 hours in A&E among elderly people have more than doubled in two years, according to figures from NHS Digital.

Getty

2/6 Patients going to A&E instead of seeing their GPs

Jeremy Hunt has called for a "honest discussion with the public about the purpose of A&E departments", saying that around a third of A&E patients were in hospital unnecessarily. Mr Hunt told Radio 4's Today programme the NHS now had more doctors, nurses and funding than ever, but explained what he called "very serious problems at some hospitals" by suggesting pressures were increasing in part because people are going to A&Es when they should not. He urged patients to visit their GP for non-emergency illnesses, outlined plans to release time for family doctors to support urgent care work, and said the NHS will soon be able to deliver seven-day access to a GP from 8am to 8pm. But doctors struggling amid a GP recruitment crisis said Mr Hunt's plans were unrealistic and demanded the Government commit to investing in all areas of the overstretched health service.

Getty Images

3/6 Simon Stevens, head of NHS England

Reports that "key members" of Ms May's team used internal meetings to accuse Simon Stevens, head of NHS England, of being unenthusiastic and unresponsive have been rejected by Downing Street. Mr Stevens had allegedly rejected claims made by Ms May that the NHS had been given more funding than required.

Getty Images

4/6 Previous health policy, not funding

In an interview with Sky News's Sophy Ridge, Ms May acknowledged the NHS faced pressures but said it was a problem that had been "ducked by government over the years". She refuted the claim that hospitals were tackling a "humanitarian crisis" and said health funding was at record levels. "We asked the NHS a while back to set out what it needed over the next five years in terms of its plan for the future and the funding that it would need," said the Prime Minister. "They did that, we gave them that funding, in fact we gave them more funding than they required… Funding is now at record levels for the NHS, more money has been going in." But doctors accused Ms May of being "in denial" about how the lack of additional funding provided for health and social care were behind a spiralling crisis in NHS hospitals.

Getty Images

5/6 Target to treat all A&E patients within four hours

Mr Hunt was accused of watering down the flagship target to treat all A&E patients within four hours. The Health Secretary told MPs the promise – introduced by Tony Blair's government in 2000 – should only be for "those who actually need it". Amid jeers in the Commons, Mr Hunt said only four other countries pledged to treat all patients within a similar timeframe and all had "less stringent" rules. But Ms May has now said the Government will stand by the four-hour target for A&E, which says 95 per cent of patients must be dealt with within that time frame.

Getty Images

6/6 No one

Mr Hunt was accused of "hiding" from the public eye following news of the Red Cross's comments and didn't make an official statement for two days. He was also filmed refusing to answer questions from journalists who pursued him down the street yesterday to ask whether he planned to scrap the four-hour A&E waiting time target. Sky News reporter Beth Rigby pressed the Health Secretary on his position on the matter, saying "the public will want to know, Mr Hunt". "Sorry Beth, I've answered questions about this already," replied Mr Hunt. "But you didn't answer questions on this. You said it was over-interpreted in the House of Commons and you didn't want to water it down. Is that what you're saying?" said Ms Rigby. "It's very difficult, because how are we going to explain to the public what your intention is, when you change your position and then won't answer the question, Mr Hunt". But the Health Secretary maintained his silence until he reached his car and got in.

Getty Images
Action on Sugar campaign manager Jenny Rosborough said: "We are fully supportive of the sugar tax levy and the commitments we've already seen from a growing number of drink manufacturers who've started to reduce sugar to less than 5% across popular brands.
"Sugar-sweetened drinks are the biggest contributor of sugar in the diets of children and teenagers and unless they are reduced these drinks will still contribute to the high levels of obesity, type 2 diabetes and tooth decay, all of which are preventable and cost the NHS billions of pounds each year.
"We now strongly urge all manufacturers to reformulate and avoid the levy."
Reuse content