Photos of the uncomfortable moment David Cameron and Jean-Claude Juncker decided to greet each other with a poorly-executed 'high-five' at Brussels have emerged this morning, just weeks after the Prime Minister tried to stop him from getting the top EU post.
The unconvincing photo gaffe came ahead of their first face-to-face talks after the Prime Minister unsuccessfully tried to prevent Mr Juncker from becoming the President of the European Commission.
Downing Street suggested Mr Juncker was responsible for the unconventional greeting, with a spokesperson explaining the moment thusly: "I think that's how Mr Juncker greets quite a few people."
Mr Juncker was all smiles as he met with Mr Cameron for breakfast this morning who was defeated 26-2 by fellow EU leaders in a vote on his appointment.
In a bid to make it clear that Mr Cameron is ready to work with the new Commission president, Downing Street described the 'high-five' photo as "substantive, constructive and amicable" after it was released by the European Commission.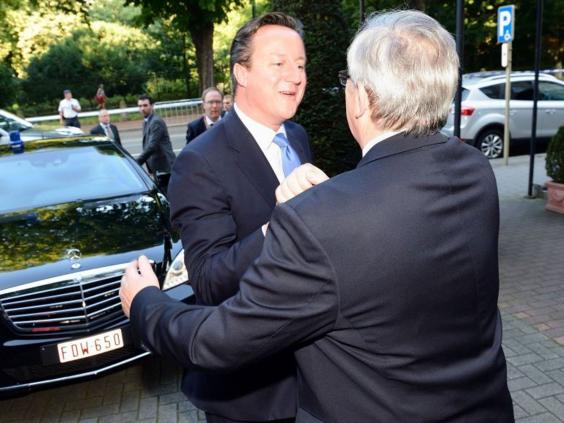 The awkward poses continued throughout the morning, with the former Prime Minister of Luxemburg appearing to go in for a half-hug at one point, before they both were photographed standing stiffly together.
Mr Cameron, who requested the meeting, used it to lobby for Lord Hill of Oareford, his nominee for Britain's place on the Commission, to be handed a key economic portfolio in Mr Juncker's team.
The PM has faced criticism over his choice, with Martin Schulz, the President of the European Parliament, saying on Wednesday: "I cannot imagine Hill, whose views – in as far as he's got any – are radically anti-European, getting a majority in the European Parliament."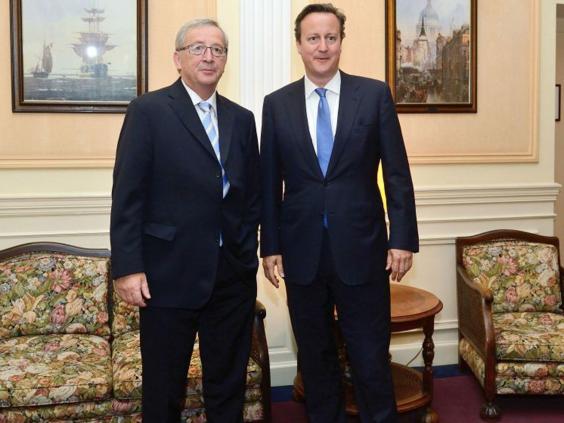 Downing Street said that Mr Cameron and Mr Juncker spent 40 minutes discussing the challenges facing the EU over the next five years, before being joined by Lord Hill.
"The Prime Minister set out his vision for reform of the EU and the UK's relationship with it," Mr Cameron's spokesman said. "Mr Juncker reiterated his commitment, set out in his manifesto, to work with Britain and the other member states to address the concerns of the UK over the next few years."
He said Mr Cameron had "underlined his preference for securing an economic portfolio that would enable the British Commissioner to play a pivotal role tackling Europe's lack of competitiveness".
Mr Cameron's spokesman stressed that the PM's opposition to Mr Juncker's presidency was always based on "arguments around principles and priorities and never anything else".
He added: "The PM has said very clearly that we will of course be working with all members of the European Commission to secure Britain's national interest."