The Liberal Democrats have become the first major party to support the legalisation of cannabis, a move, they argue, that will reduce drug-related crime and raise around £1bn in tax revenue. 
The policy was overwhelmingly approved by delegates at the Lib Dems' spring conference in York on Saturday. 
It follows a review of soft drugs set up by the former health minister Norman Lamb, one of the eight MPs who survived the party's general-election rout last year, and chaired by Steve Rolles, a senior policy analyst from the Transform Drug Policy Foundation.
Mr Lamb told The Independent on Sunday, that the vote would be "totemic" for the party. 
The party's former leader Lord Ashdown built up the Lib Dems through the 1990s by taking on unusual causes that nevertheless appealed to a substantial sub-section of the electorate. This included allowing Hong Kong nationals British passports to relocate to the UK when the former colony was handed back to the Chinese. 
Mr Lamb said the Lib Dems are similarly "out on our own" on legalising and regulating cannabis. 
He added: "The frontbenchers of the other parties, I think, are frightened of the issue. The hypocrisy of it is extraordinary. 
"I guess if people in government are anything like the broader population, probably 50 per cent of the government has taken cannabis at some stage." 
Mr Lamb, who has never taken illegal drugs, added: "The strategic challenge we [the Lib Dems] have is that a great chunk of people in the country, including probably many readers of The Independent on Sunday and The Independent, regard themselves as liberal in their instincts, in their attitudes, in their philosophical position, but they don't necessarily associate themselves with the Lib Dems. 
"Our task, if we are to build electoral support, is to convince people that we're the party that represents those liberal values. I think totemic policies like the cannabis motion – which has the great value of being evidence-based and rational, and also acutely liberal – is the sort of thing we should be doing to develop an identity for ourselves that people can identify with."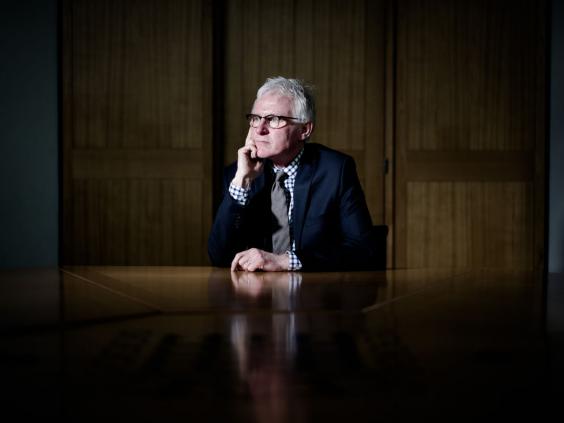 The review concluded that a regulated cannabis market would help smash criminal cartels that run the British drugs trade. Mr Lamb denied this was a "whacky" plan, given relaxation of cannabis laws was passed in Canada last year and that several US states have legalised the drug. 
Mr Lamb stood for the Lib Dem leadership last year, but was defeated by Tim Farron, a former party president. Unlike Mr Lamb, Mr Farron was unscarred by the Lib Dems' bruising experience in coalition, because he did not serve as a minister during those five years in government. 
Mr Farron told The IoS: "This is about being really grown up about a massive issue and looking at the evidence. It contributes hugely to a criminal network that thrives off the illegality of the substance. 
"We're trying to help those people who might have problematic use. We're trying to help society by undermining the criminal fraternity who make billions out of this. In doing that, you can look at how to better focus resources on catching the real criminals. And, let's be honest, £1bn in tax could be used to invest in policing, education, and in health." 
Where cannabis is and isn't legal
Where cannabis is and isn't legal
1/12 UK

Having been reclassified in 2009 from a Class C to a Class B drug, cannabis is now the most used illegal drug within the United Kingdom. The UK is also, however, the only country where Sativex – a prescribed drug that helps to combat muscle spasms in multiple sclerosis and contains some ingredients that are also found in cannabis - is licensed as a treatment

Getty

2/12 North Korea

Although many people believe the consumption of cannabis in North Korea to be legal, the official law regarding the drug has never been made entirely clear whilst under Kim Jong Un's regime. However, it is said that the North Korean leader himself has openly said that he does not consider cannabis to be a drug and his regime doesn't take any issue with the consumption or sale of the drug

MARCEL VAN HOORN/AFP/Getty Images

3/12 Netherlands

In the Netherlands smoking cannabis is legal, given that it is smoked within the designated 'smoking areas' and you don't possess more than 5 grams for personal use. It is also legal to sell the substance, but only in specified coffee shops

Getty

4/12 USA

Although in some states of America cannabis has now been legalised, prior to the legalisation, police in the U.S. could make a marijuana-related arrest every 42 seconds, according to US News and World Report. The country also used to spend around $3.6 billion a year enforcing marijuana law, the American Civil Liberties Union notes

AP Photo/Ted S. Warren

5/12 Spain

Despite cannabis being officially illegal in Spain, the European hotspot has recently started to be branded, 'the new Amsterdam'. This is because across Spain there are over 700 'Cannabis Clubs' – these are considered legal venues to consume cannabis in because the consumption of the drug is in private, and not in public. These figures have risen dramatically in the last three years – in 2010 there were just 40 Cannabis Clubs in the whole of Spain. Recent figures also show that in Catalonia alone there are 165,000 registered members of cannabis clubs – this amounts to over 5 million euros (£4 million) in revenue each month

Getty

6/12 Uruguay

In December 2013, the House of Representatives and Senate passed a bill legalizing and regulating the production and sale of the drug. But the president has since postponed the legalization of cannabis until to 2015 and when it is made legal, it will be the authorities who will grow the cannabis that can be sold legally. Buyers must be 18 or older, residents of Uruguay, and must register with the authorities

Getty

7/12 Pakistan

Despite the fact that laws prohibiting the sale and misuse of cannabis exist and is considered a habit only entertained by lower-income groups, it is very rarely enforced. The occasional use of cannabis in community gatherings is broadly tolerated as a centuries old custom. The open use of cannabis by Sufis and Hindus as a means to induce euphoria has never been challenged by the state. Further, large tracts of cannabis grow unchecked in the wild

Getty

8/12 Portugal

In 2001, Portugal became the first country in the world to decriminalize the use of all drugs, and started treating drug users as sick people, instead of criminals. However, you can still be arrested or assigned mandatory rehab if you are caught several times in possession of drugs

Getty

9/12 Puerto Rico

Although the use of cannabis is currently illegal, it is said that Puerto Rico are in the process of decriminalising it

RAUL ARBOLEDA/AFP/Getty Images

10/12 Colorado

The US state became the first in the country to legalise marijuana in January 2014. In February 2015, President Obama recently said he expects to see more states "looking into" legalisation. However, it is illegally to grow more than six cannabis plants and to possess more than 28 grams of the drug

Rex Features

11/12 California

Oaksterdam in Oakland, California, is the world's only university dedicated to the study and cultivation of cannabis. If you are court in California with anything up to an ounce of cannabis, you will be fine $100, but you will not get a criminal record, nor will you have to appear in court

Getty Images

12/12 China

Cannabis is grown in the wild and has been used to treat conditions such as gout and malaria. But, officially the substance is illegal to consume, possess and sell

Getty
Mr Farron will make his leader's address today, when he is expected to launch a strong attack on Health Secretary Jeremy Hunt and his actions during the junior doctors crisis. These doctors have gone on strike over changes to pay and conditions, while Mr Lamb predicts that the NHS could need a government bail-out due to its deteriorating finances. 
The Lib Dem leader will also say that Chancellor George Osborne is "taking an unnecessary political choice" to continue with public spending cuts. The Lib Dems believe public-sector workers needed substantial pay increases after years of seeing their wages squeezed. 
Mr Farron is also angry that the Government has reversed the coalition's green energy subsidies. 
He will argue: "It is time to be active and ambitious by investing in capital spending on housing, broadband and public transport. It's time to make the tax system work for small businesses. It's time to support the skills people want and need  .... And it's time to condemn the Tory approach to green energy that is killing jobs, killing innovation, and putting our future in peril. It's time to back renewables." 
The Lib Dems also adopted a policy to ban fracking. Energy and climate change spokeswoman Baroness Featherstone said: "Fracking is not the solution to the country's energy problems. We need to focus on long-term, sustainable goals like achieving a zero carbon Britain by 2050, not carving up the countryside for short-term gains."
Reuse content