On the eve of becoming Prime Minister, David Cameron promised to tackle the under-the-radar industry of ministers, former ministers and special advisers using their political influence in return for cash. He described this "lobbying industry" as "out of control."
One of Mr Cameron's flagship solutions to prevent "the next big scandal waiting to happen" is supposed to kick in just before parliament breaks up for the general election.
The register for lobbyists who contact ministers and senior civil servants – a key part of the awkwardly named "Transparency of Lobbying, Non-Party Campaigning and Trade Union Administration Act" – is designed to record ministerial meetings, increase transparency, and list the money being put up to buy political influence.
But during its fast-tracked progress through the Commons, the head of the constitution committee that scrutinised the new law, called it a "dog's breakfast" and predicted: "We will all be back in a year facing another scandal."
In pictures: Embarrassing political exits
In pictures: Embarrassing political exits
1/9 Mark Harper

Immigration minister Mark Harper resigned after emerged his cleaner was in the country illegally. Mr Harper quit after he discovered his cleaner, whom he employed at his London flat for seven years, did not have indefinite leave to remain in the UK.

2/9 Mark Menzies

Former Conservative MP Mark Menzies resigned as a ministerial aide following allegations made by a Brazilian rent boy in March. The MP for Fylde in Lancashire resigned his position as the parliamentary private secretary (PPS) amid allegations which appeared in a tabloid newspaper, which he strenuously denied.

3/9 Liam Fox

Former Defence Secretary Liam Fox resigned in 2011 over his working relationship with his friend Adam Werritty, which saw the Tory MP ordered to repay £3,000 of expenses for allowing Mr Werritty to live rent-free at his taxpayer-funded second home for a year. Mr Fox faced further embarrassment when it was revealed successfully claimed 3p of taxpayers' cash for a car journey of fewer than 100 metres.

4/9 Denis MacShane

Labour MP for Rotherham Denis MacShane resigned over what a parliamentary enquiry described as "the gravest case of misconduct" ever to be investigated at the time. The ex-Europe Minister was jailed for six months after making false expense claims of nearly £13,000. The former MP previously pleaded guilty to false accounting by filing 19 fake receipts for "research and translation" services. MacShane, 65, used the money to fund a series of trips to Europe, including one to judge a literary competition in Paris.

5/9 Patrick Mercer

Patrick Mercer resigned the Tory whip in May last year after he was filmed by the BBC's 'Panorama' apparently agreeing to lobby on behalf of Fiji for a pro-Fijian cross-party committee.

Rex Features

6/9 Michael Martin

Former Labour party MP Michael Martin became the first Commons Speaker to be forced out of office for more than 300 years following criticism of his handling of the MP's expenses scandal of 2009.

7/9 Jacqui Smith

Former Home Secretary Jacqui Smith stood down in the cabinet reshuffle amid a flurry of controversy after the MPs expenses scandal revealed her husband Richard Timney, who also ran her constituency office, had watched two pay-per-view adult movies which had then, unknown to her, been subject to a claim for reimbursement. The 'porn scandal' not only saw the former Labour MP Ms Smith, who was the first female Home Secretary, eventually resign but also saw her lose her back bench position in May 2010.

8/9 Sir Peter Viggers

Sir Peter Viggers also found himself caught up in the MPs expenses scandal when The Daily Telegraph reported that the Conservative Party Member had attempted to claim for a pond feature identified as a floating duck island, although this was notoriously rejected. The Gosport MP said he would repay £10,000 in claims for garden maintenance and repairs and agreed to stand down at the next election.

PA

9/9 Prime Minister David Cameron

David Cameron gave his shock resignation in … wait, no he didn't. Wales Online were forced to apologise after a story that the government was rocked by news the PM had quit was used in a "training exercise" but went live on the internet by accident before it was quickly pulled.

Getty
The forecast by Graham Allen was out by only a couple of months. The new cash-for-access allegations against two former Foreign Secretaries, Jack Straw and Sir Malcolm Rifkind, suggest little has changed inside parliament's culture since the scandals that led to Liam Fox's resignation as Defence Secretary in 2011, and the damage to the Labour Party that followed the former Transport Secretary, Stephen Byers, being caught on camera in 2010 saying he was a "cab for hire" who would work for £5,000 a day.
The new lobbying bill, according to Mr Allen, "has mistakenly roped in innocent charities and others in the voluntary sector instead of looking at the key issue of MPs who believe it is perfectly acceptable for them to hold second jobs and be highly paid for doing so."
Iain Anderson, chairman of the Association of Professional Political Consultants, said: "There are no lobbyists to be seen in this latest scandal. And the new legislation and register will do nothing to stop this happening again and again."
Instead of looking at the behaviour of rogue MPs, Mr Anderson accused the Prime Minister of taking the easy option. "What we have ended up with is a law that is simply a misfit, a bill that gags the wrong people, and misses the entire point," he said.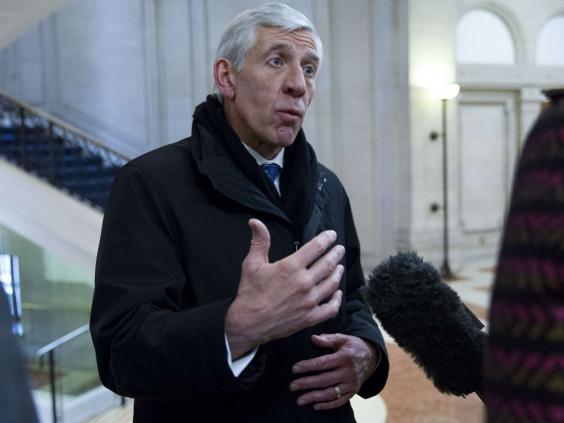 The new regulation excludes all in-house lobbyists working for companies such as banks, energy firms, and those who act for large corporations. Specialist lobby firms need to list direct contact with ministers (which is rare); but do not have to list their dealings with special advisers (which are frequent). Details about deals, activities, or their financial relationships, are exempt.
Transparency campaigners, such as Spinwatch, have said the bill fails because it is unable to offer insight into who is influencing government.
A wider consequence of the act means charities speaking out on issues that have a party-political connotation will be effectively gagged.
Oxfam have said they could be silenced during the election campaign because of fears their comments will be interpreted as supporting one party.
Amnesty International UK have warned their associate organisations to be "vigilant" and to track expenditure.
Mr Allen warned: "It is still not too late for the government to admit they were fixed on the wrong target. They should postpone the introduction of the lobbying register and admit that with yet another cash-for-access scandal on our hands, the intended clean-up law is, as I've said, a dog's breakfast."
Reuse content