British MPs receive a smaller salary than many other elected officials around the world, according to data from the Independent Parliamentary Standards Authority.
According to an Ipsa report from July 2013, the £67,060 annually earned by British MPs compares unfavourably to the pay packages offered to similarly-ranked representatives in Australia, the United States, Canada and the Scandinavian countries.
Members of Italy's Parliament are the best paid politicians in the world, receiving equivalent to almost £130,000.
German, French and Spanish MPs are paid less, however, as is a Member of the European Parliament.
Former Foreign Secretary Sir Malcolm Rifkind, who earlier this week was revealed by Channel 4 and The Telegraph to have offered government access in exchange for thousands of pounds, has argued that it's "unrealistic" to expect MPs to accept their current salary.
He was recorded in the sting operation as having said to the fictitious Hong-Kong company: "You'd be surprised how much free time I have. I am self employed so nobody pays me a salary.
"I have to earn my income, but when I'm not doing something I can do what I like."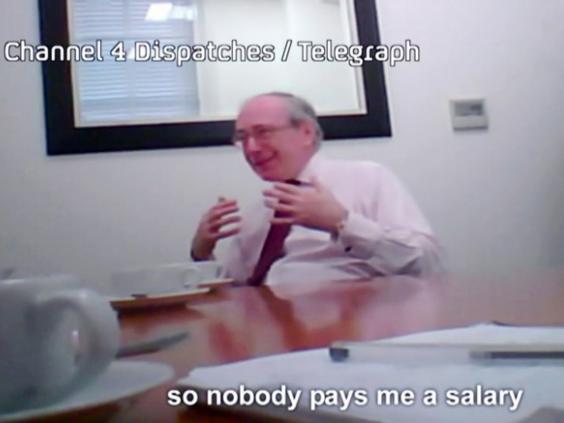 Rifkin expected between £5,000 and £8,000 for half a day's work doing presentations in the Middle East, and Jack Straw, another former Foreign Secretary, asked for £5,000 a day.
An analysis earlier today revealed that many MPs are earning hundreds of thousands of pounds a year, and logging hundreds of hours of work, in second jobs such as consultancy.
Former Prime Minister Gordon Brown earned more than £950,000 on top of his Parliamentary wages in 2014 mainly through speaking commitments, though he states he does not receive any of it — instead it is held by his and his wife's office for "ongoing involvement in public life".
Geoffrey Cox, Conservative MP for Torridge and West Devon, also earned several hundred thousand pounds outside of his Parliamentary capacity, working nearly 2000 hours last year as a QC.
Sir Malcolm Rifkind announced today that he will step down as MP for Kensington and Chelsea.
Reuse content