Channel 4's chief executive is to step down from his post, according to a leaked statement accidentally posted by the broadcaster.
The Channel 4 press office Twitter account posted a long statement confirming David Abraham's departure on Tuesday afternoon but quickly deleted it. The tweet was apparently sent in error.
The Independent contacted the Channel 4 press office for comment; the press office would neither confirm nor deny the statement's accuracy. After the publication of this story the broadcaster issued a statement confirming Mr Abraham's departure.
Mr Abraham, who has headed the broadcaster since 2010, has been an outspoken opponent of Government suggestions that the broadcaster, currently owned by the public, should be privatisated.
Last year he said his channel "continues to make an economic, social and cultural contribution of a kind I simply cannot imagine a company structured to maximise shareholders' financial returns being able to match". 
The media boss said at the time that the idea of privatising the channel "really does feel like a solution in search of a problem".
This view would have apparently put him at odds with elements in the Government; previous leaks have suggested plans have been developed to sell off the broadcaster, which is funded by adverts but owned by the taxpayer. It was reported at the end of last year that plans for a full sell-off have been shelved, at least temporarily.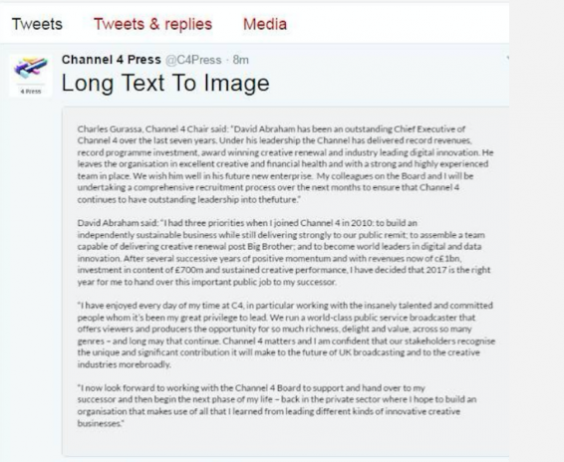 The leaked statement included comments from Charles Curassa, Channel 4's chair of the board, and Mr Abraham himself. Mr Curassa pledged a "comprehensive recruitment process" to find a successor for Mr Abraham.
Mr Abraham's comment in the statement says he will be working "back in the private sector" and that he hopes to build a new organisation.
In the statement, Mr Gurassa, the broadcaster's chair says: "David Abraham has been an outstanding chief executive of Channel 4 over the last seven years. Under his leadership the channel has delivered record revenues record programme investment, award winning creative renewal and industry leading digital innovation.
"He leaves the organisation in excellent creative and financial health and with a strong and highly experience team in place. We wish him in his future new enterprise. 
"My colleagues on the board and I will be undertaking a comprehensive recruitment process over the next few months to ensure that Channel 4 continues to have outstanding leadership into the future."
Mr Abraham says: "I had three priorities when I joined Channel 4 in 2010: to build an indepnedently sustainable business while still delivering strongly to our public remit; to assembly a digital team capable of delivering creative renewable post Big Brother; and to become world leaders in digital and data innovation.
Controversial Channel 4 programmes
Controversial Channel 4 programmes
1/10 Benefits Street

The first series of Benefits Street made a star of James Turner Street resident White Dee (pictured). Last year, the programme caused as much controversy as Top Gear, being criticised for benefiting the ratings rather than the people who are in it.

Channel 4

2/10 The Undateables

It first aired in 2012, featuring disabled singletons on a quest for love. Critics attacked the marketing of the reality TV show as "sensationalist", "harmful" and akin to exploitative Victorian "freak shows", but Channel 4 argued that the campaign and title was a reflection of society's own prejudices.

Channel 4

3/10 Dogging Tales

The show was the most watched programme by 16-34 year olds, causing reactions on the disturbing range of animal masks worn by the "doggers", and on the statistic reported on the show that 70 per cent of lorry drivers go dogging.

Channel 4

4/10 Big Fat Gypsy Weddings

The show has been a ratings winner for Channel 4, but it was criticised by the Traveller community, saying it fuels discrimination and portrays their lives inaccurately.

5/10 The Paedophile Hunter

The documentary shone a light into the murky world of internet vigilantism. In it, online vigilante Stinson Hunter and his associates lure and trap sexual predators by posing as underage children online, and then pass evidence on to the police and post it online.

Channel 4

6/10 Sex Box

In the show couples have sex in a soundproofed box and then discuss it with a panel of experts afterwards. Our reviewer called it a titillation that masquerades as serious television.

7/10 Drugs Live: The Ecstasy Trial

Hosted by Jon Snow, the programme showed people trying Ecstasy live on air. Actor and comedian Keith Allen volunteered to help the live study on the effect of the drug.

8/10 Angry White and Proud

The documentary showed some of the less salubrious sides of far right groups and activities in this country, showing evidence that whilst it is true that actual street base support has dropped, this does not take into account how the narratives of these extreme groups has pervaded and spread across the internet.

Channel 4

9/10 Ukip: The First 100 Days

The documentary received over 6,500 complaints after it imagined former Ukip leader Nigel Farage as Prime Minister.

10/10 Married at First Sight

Documentary programme featured three couples, two of whom decided to get married without having previously met. Cameras followed them through their wedding night, honeymoon and their first few weeks of living together.

Channel 4
"After several successive years of positive momentum and with revenues now of £1 billion, investment in content £700m and sustained creative performance, I have decided that 2017 is the right year for me to hand over this important job to my successor."
He said he had "enjoyed" his time at C4 and added: "I now look forward to working with the Channel 4 board to support and hand over to my successor and then begin the next phase of my life – back in the private sector where I hope to build and organisation that makes use of all that I learned form leading different kinds of innovative creative businesses."