In the Sunday Times magazine in November 1987 I wrote that Charles Kennedy, then aged 27, was destined  to become a "future leader of the merged Alliance party." Although Paddy Ashdown and Alex Salmond were also in my "Those to Watch" list, I really liked the idea of Charles, someone I'd been at university with, reaching the top of the parliamentary greasy pole without packing too much climbing gear.
I described him as an engaging, persuasive orator – which was true. I'd experienced it first-hand across the dispatch box in Glasgow University Union's debating chamber, and was confident that once David Steel and Paddy Ashdown had done their stint, Kennedy was next.
Twelve years later when Charles was a guest on a politics programme I was producing, I realised how accurately I'd mapped out his life. Off-air in the studio we chatted and looked out across the Thames. It was late, and a few glasses of wine were involved. He'd come in to pre-record an interview, and was in good spirits. Then he took a phone call – and his mood changed. I noticed the colour drain from his face, and his language, normally flowing, became staccato and hesitant.
What he'd learned would change his life, and probably not for the better.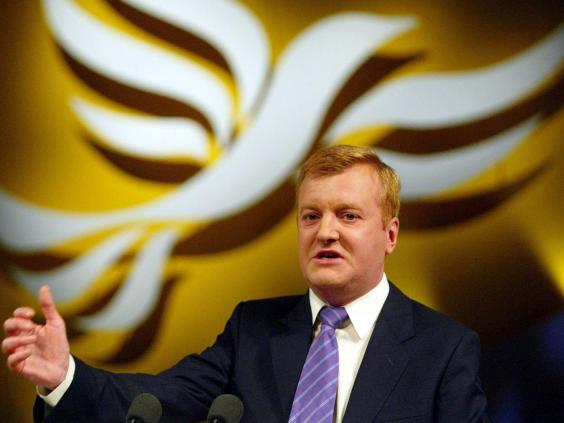 Paddy Ashdown, then the Liberal Democrat leader, was going to announce he would be standing down. Kennedy knew that if he wanted it, the job was his. I knew his party would choose him. What I didn't know was the scale of the deep-seated anxiety that probably gripped him during that brief minute when he understood a job he'd coveted from his first day in the Commons, aged only 23, might now be coming his way.
Political leaders can be ruthless. They often have an overblown sense of their own worth, allied to a battlefield cunning and determination to crush rather than nurture any talent that lies close by. Charlie Kennedy had none of these attributes. Former colleagues describe him as having "genuine empathy". Others point to "charm" and "decency". On that night when we gazed over London's dark river, I wonder if he knew exactly how he'd struggle to cope and what he'd lean on for help.
Years of travelling from London to Fort William, often on the overnight sleeper, left him capable of sitting up all night in the company of only a bottle of Scotch. Accompanied on one journey by a film crew, the producers told me they'd worried about someone who smoked and drank that much. And yet they said how great his company was, how unlike other politicians he was.
Charles Kennedy - his political career in pictures
Charles Kennedy - his political career in pictures
1/18 1986

Charles Kennedy at the SDP conference in September 1986. He had become Britain's youngest MP three years earlier and the party later merged to become the Liberal Democrats.

Getty Images

2/18 1987

Charles Kennedy attends the Joint Liberal Assembly, October 1987.

Getty Images/Hulton Archive

3/18 1999

Charles Kennedy being congratulated by his girlfriend and future wife, Sarah Gurling, and mother Mary after being elected Lib Dem leader in 1999

PA

4/18 2001

Charles Kennedy greeting supporters at a rally before the 2001 general election, when he was the Lib Dem leader

Getty Images

5/18 2002

Mr Kennedy at his wedding to Sarah Gurling, outside the House of Commons in London. The couple divorced in 2010.

Getty Images

6/18 2003

Charles Kennedy speaks during a question and answer session at the Liberal Democrat Party annual conference in Brighton

Getty Images

7/18 2004

Charles Kennedy and his then wife arrive at the British Academy Television Awards in London

Getty Images

8/18 2005

Charles Kennedy unveiling a Lib Dem campaign poster ahead of the 2005 general election

Getty Images

9/18 2005

Charles Kennedy with his then wife Sarah and new born son Donald James on 12 April 2005. He returned to the election campaign trail days later

Getty Images

10/18 2005

Charles Kennedy celebrating the Lib Dems' gains after the 2005 general election, when the party won 62 seats

Getty Images

11/18 2006

Charles Kennedy admitted his drink problem and called a leadership election in January 2006

Getty Images

12/18 2006

Charles Kennedy is canvassing in Dunfermline for a by-election a month after his resignation as Lib Dem leader

Getty

13/18 2006

Sir Menzies Campbell, Lord Rennard and Simon Hughes give Charles Kennedy a standing ovation after his speech to the party conference in September 2006, his first since his resignation

Getty Images

14/18 2007

Charles Kennedy and his predecessor Paddy Ashdown congratulating Nick Clegg on his election as Lib Dem leader in December 2007

AFP/Getty Images

15/18 2010

Charles Kennedy with Nick Clegg on the campaign trail ahead of the 2010 general election

Getty Images

16/18 2011

Charles Kennedy launching the pro-AV campaign for the 2011 proportional representation referendum in Glasgow

Getty Images

17/18 2014

Charles Kennedy with Danny Alexander and fellow Lib Dems campaigning for a 'no' vote in the Scottish independence referendum in 2014

AFP/Getty Images

18/18 2015

Charles Kennedy campaigning with Jo Swinson in East Dunbartonshire in April ahead of the 2015 general election, where he lost his seat

Getty Images
It was the same in the Commons. For those with addictive personalities, the Palace of Westminster's 13 bars and late nights isn't a healthy home, even if charm and a noted political instinct are yours in spades.
As the son of crofter, who educated himself out of his Highlands backyard, Kennedy could move in any circle. His class baggage was minimal and difficult to pin-down.
I think he was 24, a year into his first parliament, a young star of the SDP and in demand in circles in London where crofters aren't generally found, when one of the Bonham-Carter family contacted him. I think it was Jane, now Baroness Bonham-Carter, whose grandfather was Herbert Asquith, part of a generation of the Liberal party that once governed.
Charles accepted the invitation to dinner and en route stopped off to buy a bottle of wine. Even if the vino didn't match the Bonham-Carter's fine cellar, Kennedy's company and wit added to the evening's entertainment. Princess Margaret was one of the guests, and the Queen Mother popped in. I don't know if young Charles poured the Queen Mum some of the stuff he'd bought, but I know it wouldn't have fazed him to do so.
By late 2005, when rumours of his drinking were increasing, he called me into his Commons office. Both of us understood the game in play. We drank tea, coffee, everything but the one thing we both wanted – a dram. He offered assurances that everything was under control; I agreed that negative chat about him was exaggerated, and I wrote some anodyne commentary about the viciousness of Westminster.
Both of us knew what lay behind this fragile facade. So did his party. I'm the son of an alcoholic. I know what damage it does. They say they'll see you at 1pm, they turn up at 4pm. You learn to be disappointed. A party leader can't do that. But instead of recognising an illness and offering help, many of those around Kennedy in 2005 moved in for the kill. A private letter signed and sent to him at the time by 25 of his so-called colleagues was brutal. Some of those heartless thugs have offered their praise today.
So hypocrisy is alive and well in Westminster, and the village has just lost one of its better sons.
Reuse content