Cherie Blair boasted of her "good links" to the rulers of an autocratic petro-state which has been criticised as having a terrible human rights record, according to emails seen by the public for the first time.
The eminent lawyer and wife of former prime minister Tony Blair wrote to US secretary of state Hillary Clinton in June 2010 to encourage stronger ties between Qatar and the US.
"As you know I have good links to the Qataris," she wrote in the email to Hilary Clinton, released to the public this week.
"Sheikha Mosah's son is the 31/32 year old Crown Prince and she is keen that he starts to build a wider international profile."
Ms Blair then tried to arrange a meeting or phone call between the then prince and Ms Clinton, noting the prince's role at the country's food security programme.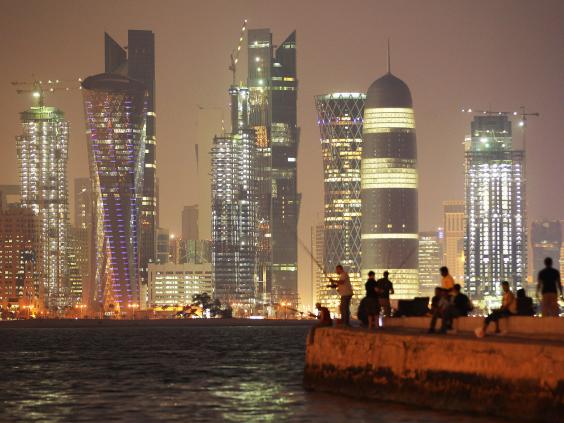 Qatar has a widely criticised human rights record. Homosexuality is illegal and punishable by jail and lashings, while human rights groups have noted widespread domestic violence against women and restrictions on freedom of expression.
The country has also come under sustained international criticism for its treatment of migrant workers, with reports of thousands dying in unsafe conditions on construction projects, most notably the 2022 World Cup.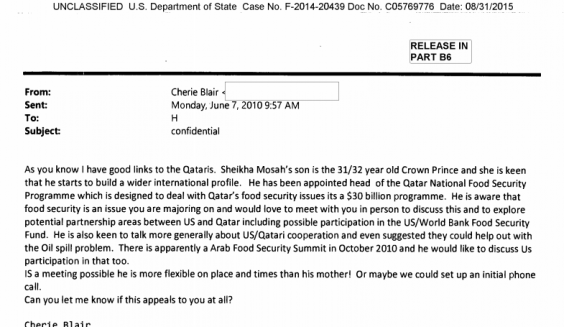 Former FIFA president Sepp Blatter was made to apologise in 2010 after he said gay football fans should avoid having sex while visiting the World Cup to get around its discriminatory laws.
Amnesty International's human rights report 2014/15 on Qatar says: "Migrant workers remained inadequately protected under the law and were exploited and abused. Women faced discrimination and violence. The authorities restricted freedom of expression and courts failed to uphold fair trial standards. At least two death sentences were passed; no executions were reported."
Key players in the Qatar World Cup bid controversy
Key players in the Qatar World Cup bid controversy
1/5 Mohammed bin Hammam

The Qatari was the Asian Football Confederation president at the time of the 2010 vote. The Sunday Times alleged that documents showed he made payments to officials as part of a campaign to win support for the 2022 World Cup bid. He insisted he had no "official or unofficial" role with the bid. Fifa imposed a second life ban on him in December 2012, after his decision to quit all his football roles. This came after the Fifa ethics committee investigation found him guilty of "repeated violations" of the ethics code on conflicts of interest, while he was AFC president and while a member of the Fifa Exco between 2008-2011.

AP

2/5 Jack Warner

The Trinidad & Tobago politician was forced to resign as a Fifa vice-president in 2011, after he and Bin Hammam were alleged to have paid bribes of £600,000 to Caribbean associations. He is also alleged to have helped Bin Hammam bribe Caribbean officials in return for support in his aim to oust Sepp Blatter.

Getty Images

3/5 Sepp Blatter

The long-standing Fifa president oversaw the bidding process to award Qatar the World Cup. Has since admitted awarding Qatar the cup was "a mistake". He set up an executive committee task force to look into the World Cup in Qatar being moved to the winter because of the extreme summer temperature.

Getty

4/5 Lord Triesman

Former FA chairman. Alleged that, in exchange for voting for England to host the World Cup, Warner asked for money to build an education centre in Trinidad and to buy World Cup television rights for Haiti, and that Paraguay's Nicolas Leoz asked for an honorary knighthood in exchange for their votes.

Getty Images

5/5 Michael Garcia

Former New York district attorney Michael Garcia was named Fifa's chief independent ethics investigator. He spent a year investigating the organisation, and delivered a 350-page report on the 2018 and 2022 bidding processes in September. Called for greater transparency and culture change in Fifa.

Getty Images
It emerged yesterday that Tony Blair could be asked to take part in a government inquiry into allegations that he tried to save Libyan dictator Golonel Gaddafi before the allied bombing of the country.
Mr Blair purportedly called Downing Street to say the Libyan leader wanted "a deal with the British". David Cameron, however, did not take up the offer.
The Independent contacted Cherie Blair's office for comment on this story but did not immediately receive a response.
Reuse content