Douglas Carswell's 21,113-vote victory has not just entered the record books for making him Ukip's first MP - the result was the largest increase in votes by any party in any UK by-election ever.
Professor John Curtice, an elections expert and President of the British Polling Council, called it "truly remarkable".
"He's not only won, he's won stupendously," he told BBC This Week.
"This is the largest increase in the vote achieved by any party in any by-election in the United Kingdom.
"To go from zero to 60 per cent – no one has ever done that."
Previous Clacton elections, where Mr Carswell was the Conservative MP before his defection, had not been contested by Ukip.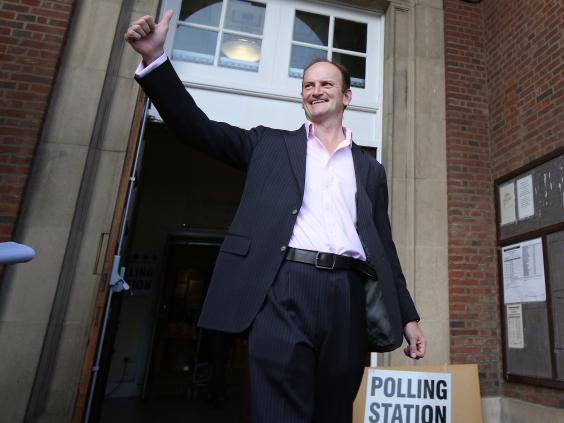 Only 51.2 per cent of the electorate turned out for Thursday's vote but Mr Carswell's 21,113 votes saw him comfortably defeat Conservative Giles Watling, on 8,709 votes.
Labour came in third place and the Greens pushed the Liberal Democrats down to a humiliating fifth with just 483 votes.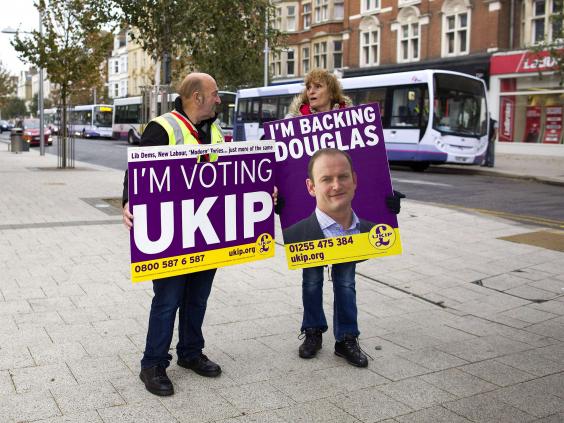 Other notable by-election results include Simon Hughes' victory for the Liberal Party in 1983 and Winnie Ewing winning a shock victory for the Scottish National Party in Hamilton in 1967.
In his acceptance speech, Mr Carswell said the Eurosceptic party must ensure it could appeal to all people in Britain, including those from immigrant backgrounds.
"To my new party I offer these thoughts: humility when we win, modesty when we are proved right," he added.
"If we speak with passion, let it always be tempered by compassion. We must be a party for all Britain and all Britons: first and second generation as much as every other."
In pictures: The rise of Ukip
In pictures: The rise of Ukip
1/8 1993: Alan Sked forms Ukip

History professor Alan Sked had been active in anti-EU politics for a while beore he founded Ukip in 1993. He resigned from the party after the 1997 election, concerned that it was attracting far-right members, and has been critical of Ukip since. Picture: Reuters

Reuters

2/8 2005: Kilroy defects

Former TV presenter Robert Kilroy-Silk founded Veritas in 2005, after a failed bid to become leader, and took many of Ukip's elected members with him. But the party slowly lost its popularity and didn't put forward any candidates in the last election. Picture: REUTERS/Kieran Doherty REUTERS KD/RUS

3/8 2010: Farage becomes leader, again

Farage had led Ukip from 2006 until 2009, when he stood down to fight against the Speaker, John Bercow, for his Buckingham seat. He failed to win the election and returned to lead the party in November 2010. Picture: REUTERS/Kieran Doherty

REUTERS/Kieran Doherty

4/8 2010: Ukip fights for election

Nigel Farage was injured in a plane crash on polling day in the 2010 general election, but his party increased its success in the votes. It fielded 572 candidates and took 3.1% of the vote, though failed to win any seats. REUTERS/Darren Staples

REUTERS/Darren Staples

5/8 2013: Eastleigh gains

Ukip's candidate Diane James got the highest ever number of votes for any candidate from the party, but was beaten by the Liberal Democrats. The surge in support gave Ukip confidence ahead of local and European elections later in the year. Picture: Reuters

6/8 2013: Bloom kicked out

Godfrey Bloom, who served as an Ukip MEP from 2004 to 2014, had the whip withdrawn in 2013 after sexist comments and an attack on a journalist. He sat as an independent MEP until 2014, when he ended his term in office. Picture: REUTERS/Luke MacGregor

7/8 2014: European election success

Ukip got a higher proportion of the vote than any other party in 2014's European elections, adding 11 new MEPs and taking its total to 24. REUTERS/Luke MacGregor

8/8 2014: Carswell defects

Douglas Carswell defected from Ukip at the end of August, and was followed by Mark Reckless at the end of September, who resigned from the Tories amid rumours of many more defections to come. Picture: REUTERS/Toby Melville
Ukip's next target is Rochester and Strood, where Mr Carswell's fellow Tory defector Mark Reckless is hoping to return to Parliament.
Reuse content