In a last-minute bid to get the people of Clacton to vote Ukip in today's by-election, Nigel Farage has promised to organise a pub crawl throughout the evening - that he hopes will culminate in a late surge to the polling booths.
Writing in his column for The Independent, Mr Farage hailed the "massive gains" his Eurosceptic party have made in the past 20 years.
As Ukip stood on the brink of receiving its first MP in this Parliament, its leader said he would do all he could to "coax people down to the polling station".
"This evening Ukip have organised a Clacton pub crawl," he said, "to encourage the remaining men and women who are yet to engage with democracy to stake their claim in tomorrow's result".
"It's a bit of a burden for me and rather a break from the norm, of course, but I would do anything for the party."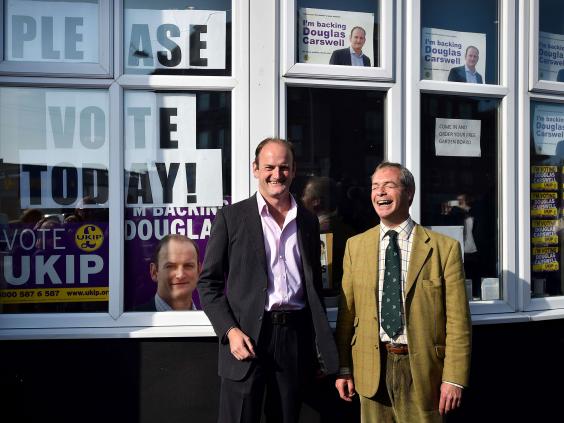 Mr Farage's plan to dredge up the last possible votes for Ukip tonight comes after a mixed week of campaigning in Clacton.
He received a great deal of attention by posing on the top of a tank yesterday – but then managed to come across as sexist by admitting his party had been a bit "blokeish" with the caveat: "What do you want me to do, go sell flowers?"
In pictures: The rise of Ukip
In pictures: The rise of Ukip
1/8 1993: Alan Sked forms Ukip

History professor Alan Sked had been active in anti-EU politics for a while beore he founded Ukip in 1993. He resigned from the party after the 1997 election, concerned that it was attracting far-right members, and has been critical of Ukip since. Picture: Reuters

Reuters

2/8 2005: Kilroy defects

Former TV presenter Robert Kilroy-Silk founded Veritas in 2005, after a failed bid to become leader, and took many of Ukip's elected members with him. But the party slowly lost its popularity and didn't put forward any candidates in the last election. Picture: REUTERS/Kieran Doherty REUTERS KD/RUS

3/8 2010: Farage becomes leader, again

Farage had led Ukip from 2006 until 2009, when he stood down to fight against the Speaker, John Bercow, for his Buckingham seat. He failed to win the election and returned to lead the party in November 2010. Picture: REUTERS/Kieran Doherty

REUTERS/Kieran Doherty

4/8 2010: Ukip fights for election

Nigel Farage was injured in a plane crash on polling day in the 2010 general election, but his party increased its success in the votes. It fielded 572 candidates and took 3.1% of the vote, though failed to win any seats. REUTERS/Darren Staples

REUTERS/Darren Staples

5/8 2013: Eastleigh gains

Ukip's candidate Diane James got the highest ever number of votes for any candidate from the party, but was beaten by the Liberal Democrats. The surge in support gave Ukip confidence ahead of local and European elections later in the year. Picture: Reuters

6/8 2013: Bloom kicked out

Godfrey Bloom, who served as an Ukip MEP from 2004 to 2014, had the whip withdrawn in 2013 after sexist comments and an attack on a journalist. He sat as an independent MEP until 2014, when he ended his term in office. Picture: REUTERS/Luke MacGregor

7/8 2014: European election success

Ukip got a higher proportion of the vote than any other party in 2014's European elections, adding 11 new MEPs and taking its total to 24. REUTERS/Luke MacGregor

8/8 2014: Carswell defects

Douglas Carswell defected from Ukip at the end of August, and was followed by Mark Reckless at the end of September, who resigned from the Tories amid rumours of many more defections to come. Picture: REUTERS/Toby Melville
Douglas Carswell – of whom Mr Farage wrote today "cometh the hour, cometh the man" – is the overwhelming favourite to retain his seat after defecting from the Conservative Party. He held onto the seat with a majority of more than 12,000 in 2010.
And while it is expected to be a good day for Mr Farage, he has kept his own party guessing right to the very end. When approached for comment their leader's pub crawl scheme, Ukip's London press office had to admit that they hadn't been told anything about it.