There is still a week to go before the Rochester and Strood by-election, but bookmakers Coral have already started paying out on people's bets for a Ukip win.
Sparked by Mark Reckless' defection from the Conservatives to Ukip, the by-election will be held on 20 November, where a recent poll put Nigel Farage's party in a 12 per cent lead over the Tories.
Following Ukip's landslide victory in Clacton where Douglas Carswell, another Tory defector, became the first elected Ukip MP, Coral immediately made the party favourites to double their total at Rocherster and Strood, with opening odds of 1-3.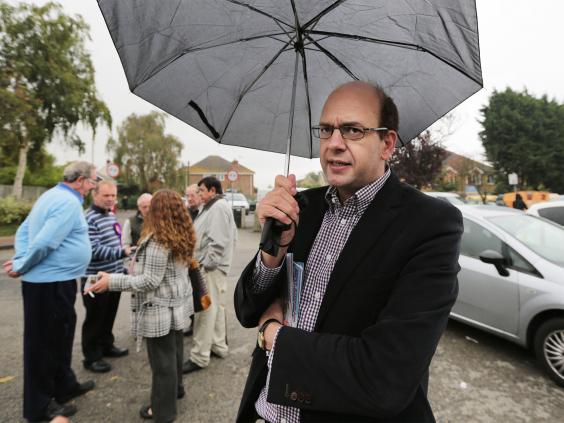 David Stevens, a spokesperson for Coral, said: "Those odds soon tumbled, all the way down to 1-25. We've not taken more than a handful of bets on any other party, and as far as we're concerned this contest is over, so anyone who has backed Ukip can go and collect and begin the celebrations now."
At 1-25, punters stand to make £1 for every £25 placed on Mark Reckless winning the by-election.
Coral said it currently has the Conservatives on at 9-1 for a win by candidate Kelly Tolhurst, Labour at 50-1 with Naushabah Khan, and The Liberal Democrats at 350-1 with candidate Geoff Juby for the Rochester and Strood seat.
The bookmakers claimed it has started taking long odds-on that Ukip will win more seats in the general election in May, adding it has taken several bets over £1000 that Ukip will pull off a huge victory and with the most seats in May.
A Ukip spokesperson said that while Coral was celebrating early, the party isn't treating the by-election as "a done deal".
In pictures: The rise of Ukip
In pictures: The rise of Ukip
1/8 1993: Alan Sked forms Ukip

History professor Alan Sked had been active in anti-EU politics for a while beore he founded Ukip in 1993. He resigned from the party after the 1997 election, concerned that it was attracting far-right members, and has been critical of Ukip since. Picture: Reuters

Reuters

2/8 2005: Kilroy defects

Former TV presenter Robert Kilroy-Silk founded Veritas in 2005, after a failed bid to become leader, and took many of Ukip's elected members with him. But the party slowly lost its popularity and didn't put forward any candidates in the last election. Picture: REUTERS/Kieran Doherty REUTERS KD/RUS

3/8 2010: Farage becomes leader, again

Farage had led Ukip from 2006 until 2009, when he stood down to fight against the Speaker, John Bercow, for his Buckingham seat. He failed to win the election and returned to lead the party in November 2010. Picture: REUTERS/Kieran Doherty

REUTERS/Kieran Doherty

4/8 2010: Ukip fights for election

Nigel Farage was injured in a plane crash on polling day in the 2010 general election, but his party increased its success in the votes. It fielded 572 candidates and took 3.1% of the vote, though failed to win any seats. REUTERS/Darren Staples

REUTERS/Darren Staples

5/8 2013: Eastleigh gains

Ukip's candidate Diane James got the highest ever number of votes for any candidate from the party, but was beaten by the Liberal Democrats. The surge in support gave Ukip confidence ahead of local and European elections later in the year. Picture: Reuters

6/8 2013: Bloom kicked out

Godfrey Bloom, who served as an Ukip MEP from 2004 to 2014, had the whip withdrawn in 2013 after sexist comments and an attack on a journalist. He sat as an independent MEP until 2014, when he ended his term in office. Picture: REUTERS/Luke MacGregor

7/8 2014: European election success

Ukip got a higher proportion of the vote than any other party in 2014's European elections, adding 11 new MEPs and taking its total to 24. REUTERS/Luke MacGregor

8/8 2014: Carswell defects

Douglas Carswell defected from Ukip at the end of August, and was followed by Mark Reckless at the end of September, who resigned from the Tories amid rumours of many more defections to come. Picture: REUTERS/Toby Melville
"The bookies might reckon it's a done deal, but we don't. There's still a week to go. Still, it's quite something."
Despite Coral's confidence in the party, Mr Farage has been caught on camera telling party supporters that the NHS should move away from a state-funded model, which contradicts Ukip's claims that the party opposes the privatisation of the NHS.
In a 2012 video from his Common Sense tour, Mr Farage said: "I think we are going to have to move to an insurance-based system of healthcare.
"Frankly, I would feel more comfortable that my money would return value if I was able to do that through the marketplace for an insurance company, than just as trustingly giving £100 billion a year to central Government and expecting them to organise the healthcare service from cradle to grave for us," he is recorded saying.
Reuse content