David Blunkett, Labour's former Home Secretary, has said Nicky Morgan should be "forgiven" for changing her mind and coming out in support of gay marriage.
Ms Morgan, the Education Secretary and Equalities minister who voted against same sex marriage in Parliament, caused controversy last week when she said she would support it now.
She was heckled during her speech by Ben Bradshaw, a former Labour Culture Secretary.
But Mr Blunkett argued today that Ms Morgan should be praised for her U-turn.
He told the Pink News website: "We all have the duty to change our minds when we're persuaded – I'm glad she did. I historically have been persuaded of things. I've never been bamboozled or badgered or hectored into changing my mind, but I've been persuaded.[Mr Bradshaw] should have said 'you voted against it but are now forgiven'."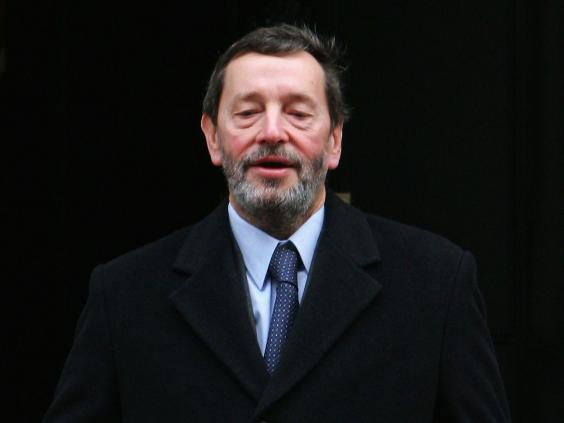 The former Home Secretary praised the Government for introducing gay marriage, saying that "on this part of the social agenda, the Coalition have done a good job. It's revealed incredible fissures particularly within the Tory party which is a shame… but nevertheless it has continued the progress of social reform."
But Mr Blunkett, who is standing down at next May's general election after 27 years as an MP, attacked the Conservatives' plans to scrap Labour's Human Rights Act, which incorporated the European Convention on Human Rights  into British law. 
In pictures: UK's first gay weddings
In pictures: UK's first gay weddings
1/16 First gay marriages

Lesbian couple Sarah Keith (left) and Emma Powell embrace while posing for photographs after their same-sex wedding at the Claremont Hotel in Brighton

Reuters

2/16 First gay marriages

Sean Adl-Tabatabai, center, and Sinclair Treadway, right, pose for photographers with the openly gay mayor of Camden Jonathan Simpson, left, after they were announced officially married in a wedding ceremony in the Council Chamber at Camden Town Hall in London, Saturday 29 March, 2014

AP

3/16 First gay marriages

Helen Brearley (right) and Teresa Millward pose for photographs after getting married at Halifax Register Office

Getty Images

4/16 First gay marriages

Gay couple Neil Allard (right) and Andrew Wale are married in the Music Room of Brighton's Royal Pavilion shortly after midnight in one of the UK's first same-sex weddings

Getty Images

5/16 First gay marriages

Sean Adl-Tabatabai, third from left, and Sinclair Treadway, fourth from left, pose for photographs with, from left, the openly gay mayor of Camden Jonathan Simpson, deputy superintendent registrar Steven Lord and registrar officer Tania Uddin

AP

6/16 First gay marriages

A woman waves a rainbow flag as gay couple Peter McGraith and David Cabreza leave Islington Town Hall

Getty Images

7/16 First gay marriages

A solitary demonstrator holds a placard in protest against the legalisation of same sex marriage, outside St Margaret's Church, Westminster Abbey, London

PA

8/16 First gay marriages

Sean Adl-Tabatabai and Sinclair Treadway look jovial as they tie the knot in front of around 100 guests

AP

9/16 First gay marriages

The rainbow flag flies above British Cabinet Offices, marking the first day Britain has allowed same sex marriages, in London

Reuters

10/16 First gay marriages

Lesbian couple Sarah Keith and Emma Powell (left) react after their same-sex wedding at the Claremont Hotel in Brighton

Reuters

11/16 First gay marriages

A pair of shoes are pictured on a chair at a place setting during the reception after the same-sex wedding of couple Sarah Keith and Emma Powell in Brighton

Reuters

12/16 First gay marriages

Camden mayor Jonathan Simpson speaks during the ceremony, which took place just after midnight on Saturday

AP

13/16 First gay marriages

Sean Adl-Tabatabai looks on as his new husband Sinclair Treadway signs official documents

AP

14/16 First gay marriages

Sean Adl-Tabatabai and Sinclair Treadway hold hands as they celebrate their marriage

AP

15/16 First gay marriages

Sean Adl-Tabatabai and Sinclair Treadway toast married life

AP

16/16 First gay marriages

Sealed with a kiss: Sean Adl-Tabatabai and Sinclair Treadway make it official

AP
He said: "It would be a mistake to do that and if they invented a Bill of Rights instead, they would create a whole new can of worms which would have to be worked through in the courts and would probably take us back several decades."
Reuse content