David Cameron has been accused of publishing a "dodgy dossier" to support the case for staying in the European Union.
The Government study, released on Wednesday warns of a serious impact on British business were the UK to leave the EU – but has faced criticism from some Tory eurosceptics.
The research examines different options for the UK outside the EU and argues that "Britain would be weaker, less safe and worse off outside the EU".
British businesses with supply chains in European countries would particularly suffer, the report says.
Iain Duncan Smith, the Work and Pensions Secretary, criticised the report's approach – arguing that it was misleading.
"This dodgy dossier won't fool anyone, and is proof that Remain are in denial about the risks of remaining in a crisis-ridden EU," the Brexit-supporting minister said.
"The truth is, we won't copy any other country's deal. We will have a settlement on our own terms - and one that will return control of our borders, and money to Britain. That's the safer choice."
The tension between top Tories follows suggestions by Mr Duncan Smith that Mr Cameron had a "low opinion of the British people" because of his support for remaining in the EU.
Foreign Secretary Philip Hammond defended the report, however – arguing that Britain had a "special status" in the EU.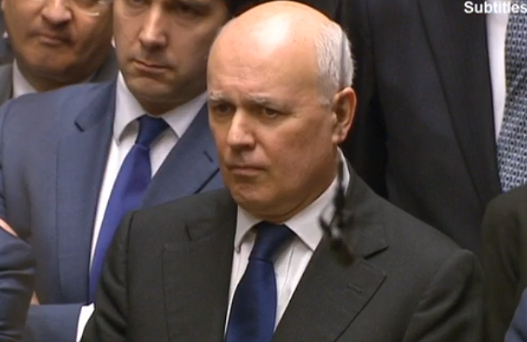 "Hard-headed analysis shows that every alternative to remaining in a reformed EU would leave Britain weaker, less safe and worse off," he told BBC Radio 4's Today programme.
"Working people would pay the price with fewer jobs and rising prices. The report concludes that Britain is stronger, safer and better off in a reformed European Union.
"Our special status gives us the best of both worlds: in the parts of Europe that work for us, but outside those that do not."
What has the EU ever done for us?
What has the EU ever done for us?
1/7 1. It gives you freedom to live, work and retire anywhere in Europe

As a member of the EU, UK citizens benefit from freedom of movement across the continent. Considered one of the so-called four pillars of the European Union, this freedom allows all EU citizens to live, work and travel in other member states.

2/7 2. It sustains millions of jobs

A report by the Centre for Economics and Business Research, released in October 2015, suggested 3.1 million British jobs were linked to the UK's exports to the EU.

3/7 3. Your holiday is much easier - and safer

Freedom to travel is one of the most exercised benefits of EU membership, with Britons having made 31 million visits to the EU in 2014 alone. But a lot of the benefits of being an EU citizen are either taken for granted or go unnoticed.

4/7 4. It means you're less likely to get ripped off

Consumer protection is a key benefit of the EU's single market, and ensures members of the British public receive equal consumer rights when shopping anywhere in Europe.

5/7 5. It offers greater protection from terrorists, paedophiles, people traffickers and cyber-crime

Another example of a lesser-known advantage of EU membership is the benefit of cross-country coordination and cooperation in the fight against crime.

6/7 6. Our businesses depend on it

According to 71% of all members of the Confederation of British Influence (CBI), and 67 per cent of small and medium-sized enterprises (SMEs), the EU has had an overall positive impact on their business.

7/7 7. We have greater influence

Robin Niblett, Director of think-tank Chatham House, stated in a report published last year: "For a mid-sized country like the UK, which will never again be economically dominant either globally or regionally, and whose diplomatic and military resources are declining in relative terms, being a major player in a strong regional institution can offer a critical lever for international influence.
The latest publication comes a day after the Boris Johnson's chief economist published a report that appeared to contradict the Mayor's view in favour of Brexit.
That study warned of an "economic shock" of Britain left the EU – depressing economic activity – and higher risks in the long-term for the Capital from Brexit.
Mr Johnson had however written in a newspaper column the day earlier that there were greater risks to staying in – and admonished the Chancellor George Osborne for citing "economic shocks".
The head of the civil service Jeremy Heywood yesterday told the Public Administration Committee in the House of Commons that it was "common sense" for civil servants to take the Government's position of supporting EU membership.
His statement follows a row about whether Brexit-supporting ministers would be given access to documents relating to the EU referendum.
The EU referendum will be held on 23 June this year.
Reuse content