David Cameron has launched a fierce defence of Britain's spy services in the face of mounting anger in Europe over state surveillance, accusing the US whistleblower Edward Snowden and newspapers which publish his leaks of putting people's lives at risk.
After fresh claims that British and US spy agencies monitored Italian communications, Mr Cameron insisted security services needed to use "all of the modern techniques" to prevent attacks by terrorist groups who "want to do us harm, who want to blow up our families, who want to maim people".
"What Snowden is doing – and to an extent, what the newspapers are doing in helping him doing what he is doing – is frankly signalling to people who mean to do us harm how to evade and avoid intelligence and surveillance," he said. "That is not going to make our world safer."
The Prime Minister was speaking after an EU summit which was overshadowed by German and French anger at allegations that the US National Security Agency (NSA) had bugged the German Chancellor Angela Merkel's phone and tapped up to 70 million communications in France in a month.
The fresh revelations published this week were the latest in a drip feed of reports in both European and American newspapers this year based on leaks by the former NSA contractor Snowden, which have dented Washington's relations with some of its closest allies.
While there were angry comments from Ms Merkel and other European leaders about the alleged hacking as they went into the summit on Thursday afternoon, the tone shifted towards trying to find ways to repair a transatlantic relationship which brings great benefit to both sides.
"What is at stake is preserving our relations with the United States," said the French President, François Hollande. "Trust has to be restored and reinforced."
Ms Merkel and Mr Hollande have demanded urgent talks with the US and an agreement to end the alleged widespread snooping. Germany will send spy chiefs to Washington soon to try to find answers to claims that the NSA listened in on calls on Ms Merkel's mobile phone.
In a statement issued today, the 28 EU heads of state expressed "deep concern" about the revelations sourced to Snowden, warning that a "lack of trust could prejudice the necessary cooperation in the field of intelligence-gathering". The European Parliament voted on Thursday to suspend a data-sharing agreement aimed at detecting terrorist fund-raising.
The text of the EU statement referred to "relations between European countries as well as... relations with the US," a possible reference to similar accusations of state surveillance levelled at Britain. The Italian Prime Minister, Enrico Letta, has labelled recent reports in L'Espresso magazine that the NSA and Britain's GCHQ spied on the government and businesses as "inconceivable and unacceptable".
GCHQ has also been accused of hacking into the Belgian telecoms firm Belgacom, which counts EU institutions as clients. Mr Cameron refused to answer questions about whether he had been able to reassure allies that British intelligence had not been involved in any bugging. He did, however, argue that Britain's strong security services were of benefit to other nations.
"The information that we gather that we then share with other countries in Europe has helped those countries," he said, adding: "I will back the work [security services] do and I will criticise those that make public some of the techniques they use because that is helping our enemies – simple."
Mr Cameron did not name the newspapers to which he was referring, but added: "The first priority for any prime minister is to help to keep the country safe, and that means not having some la-de-da, airy-fairy view about what this all means – it's understanding intelligence and security services do an important job."
In Britain, The Guardian has been publishing reports sourced to Snowden, including a memo on Thursday which implied that the NSA may have monitored the phone numbers of 35 unnamed world leaders. The Independent has published one article based on information contained in the Snowden files, regarding a British internet-monitoring station in the Middle East.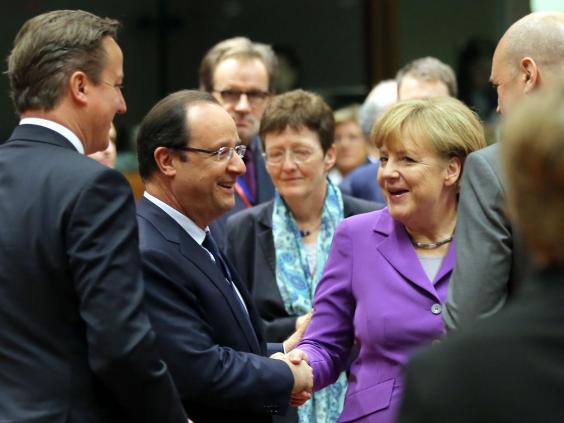 The spying game: A history of international snooping
Britain spied on US isolationist groups during the Second World War, secret archives published earlier this year revealed. The declassified documents at the National Archives in London showed how Winston Churchill was sent a report on a 1940 private phone call between President Franklin D. Roosevelt, his Secretary of State Cordell Hull, and Joe Kennedy, the US ambassador to London, during which they discussed options "if Europe is overrun" by Nazi Germany.
The following year, British agents in the US compiled a 4in thick dossier on America First, a group urging the US to stay out of conflict.
Great Britain and the Soviet Union were uneasy allies after Hitler launched Operation Barbarossa in June 1941 and continued to spy on each other. In 1942, Gevork Vartanyan, a notorious Soviet agent of the time, managed to attend an entire British training course in Tehran for Russian-speaking spies, whom London wanted to send all over the Soviet Union. His work helped expose the British network despite London's wartime alliance with Moscow.
A leaked warning by the CIA over French spying on the US was reported in 1993. The agency said that American aerospace and electronics companies would do well to skip the Paris Air Show due to open at the time because the French, according to the CIA, have traditionally used the air show to steal industrial and military secrets.
Revelations that the Americans were spying on Japan at a Geneva economic conference in the mid-1990s fuelled tensions ahead of major trade talks in 1995. But it ultimately did the Japanese no harm, as the talks at Ripley Castle in England culminated in a favourable deal on cars and auto parts for Tokyo.
A former head of Australia's spy agency gave an interview in 2007 saying Russia had spied on his country for decades. David Sadleir and other sources said the Russians were especially interested in acquiring military technology and knowledge related to lasers, electronic warfare simulation and tactical radios.
Paul Gallagher
Reuse content