The stand-off between Britain and Brussels intensified over the European Commission's attempt to impose a surprise £1.7bn surcharge on this country intensified today.
David Cameron repeated his refusal to hand over the sum by that deadline, although he left open the possibility of paying a smaller amount at a later stage.
But the Commission also dug in, insisting the Government should have known about the demand for cash and warning that refusal to pay could put the UK's £3bn-a-year EU rebate in jeopardy.
Mr Cameron has now lost a key ally after Holland, which also faces a demand for extra cash, suggested it would pay up.
The Prime Minister told MPs that the controversy over the budget demand at last week's summit of EU leaders had undermined public support for the Union. And he vowed that Britain would "crawl over" the details of the Commission's calculations.
In noisy Commons scenes he said: "The events at last week's European Council will not, to use some British understatement, have enhanced the reputation of the EU.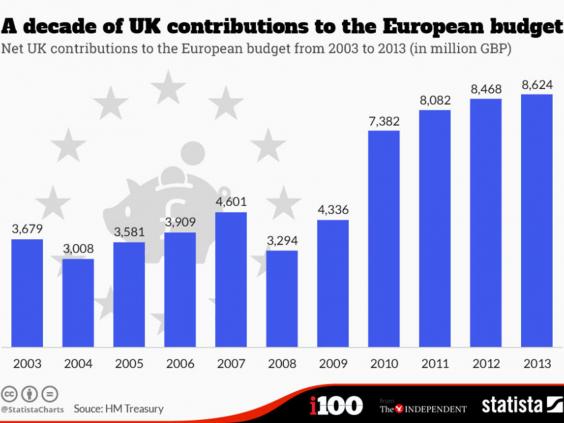 "As the Italian prime minister put it, the EU's founding fathers would turn to euroscepticism when faced with some of the things we have seen here."
He said other nations faced with surprise bills from the Commission, including Italy, the Netherlands and Greece, were angry to receive the demands.
It was perverse that Greece, which has suffered most from the financial crisis, should be asked to pay more to a country like Germany, he said.
Mr Miliband agreed the Commission's handling of the demand had been "cack-handed", but challenged Mr Cameron's claim that he had been caught by surprise, pointing to a letter earlier this year by a former Treasury minister pointing to the new method of calculating Britain's EU contribution.
"Once again he shows that for all his bluster he has been asleep at the wheel and it is the British people who are paying the price," the Labour leader said.
The Tory former Chancellor Kenneth Clarke said he "sympathises" with Mr Cameron for "being taken by surprise on a subject which everybody in the Foreign Office and the Treasury must have known was coming along for the last five months".
The Conservative MP John Baron said the time had come to tell the EU that the money would not be paid until its "shambolic" accounts had been properly audited and signed off. He said: "Otherwise, how can we have any faith in any of the figures produced by that organisation?"
However in Brussels, the budget commissioner Jacek Dominik said it would be "extremely difficult" for Britain to challenge the EU's demand, and warned that the nation was obliged by law to pay by 1 December or be liable for "late payment fines".
Jeroen Dijsselbloem, the Dutch finance minister, said that his country would pay its £505m bill "if facts and figures are correct" in the EU's new calculation method.
Reuse content