David Cameron is "living on borrowed time" and driving support for independence by alienating people living in Scotland, the country's First Minister has said.
Nicola Sturgeon accused the Prime Minister of "continuing to ignore Scotland's voice" in a speech in Edinburgh delivered on Friday morning.
"My message to David Cameron today is the same as it was when I met him just after the general election," she told her audience.
"What happens to support for independence in the months and years to come will depend as much on what you do as it will on what we do.
"And, right now, you are living on borrowed time: If you continue to ignore Scotland's voice, if you continue to disrespect the choice that people across this country made in May, more and more people will conclude that Westminster simply can't deliver for Scotland.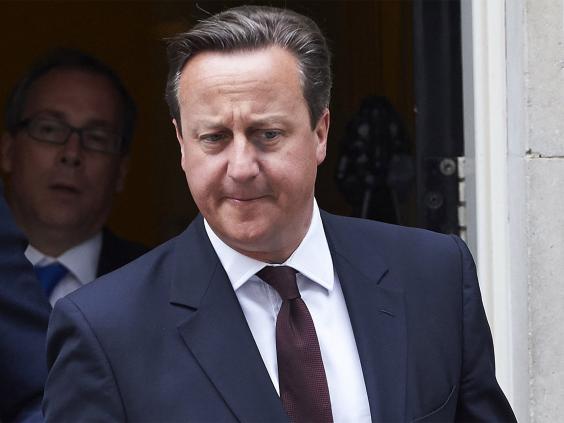 "So, it is your choice, Prime Minister – but know that Scotland is watching."
David Cameron has said he would not permit Scotland to hold a second independence referendum.
The SNP said earlier this month that it could call a second independence referendum for Scotland when the circumstances are right.
The party is to lay out the specific conditions under which it would consider a second plebiscite in its 2016 Holyrood elections manifesto.
Former Better Together director Alistair Darling warned on Tuesday that the UK establishment should not stand in the way of a second vote if the Scottish people genuinely wanted one.
"My view is if people really, genuinely want to have a vote you are daft to deny it," he told the newspaper," he told The Times newspaper.
"It's a bit like in Spain: the Spanish government seem determined not to hold a referendum [on Catalan independence] which always seemed to me to be just fanning the flames.
A poll released by the STV news channel earlier this month found that Scotland would vote for independence if a second referendum on leaving the UK was held tomorrow.
Scotland goes to the polls
Scotland goes to the polls
1/20 Scotland decides

Piper Ryan Randall leads a pro-Scottish independence rally in the suburbs of Edinburgh

Getty Images

2/20 Scotland decides

A "No" campaigner bursts into song as the BBC's Nick Robinson walks past

Getty Images

3/20 Scotland decides

Chris McAleese holds a Saltire flag as he speaks with Gerrard Corrigan, left, and Robbie Devine outside Bannockburn Polling Station in Scotland

AP

4/20 Scotland decides

George Mackay and his daughter Anne Mackay run a polling station from their caravan at Coulags near Lochcarron

PA

5/20 Scotland decides

Voters arrive at the polling station in the village hall in the remote Highland area of Lochcarron, Scotland

PA

6/20 Scotland decides

A No campaign supporter and Yes campaign supporter debate with each outside the Scottish Parliament building in Edinburgh, Scotland

AP

7/20 Scotland decides

Martin Greenhouse arrived at Partick polling station wearing a Scottish football jersey with the number 14 - for 2014 - on the back. Martin said that he'd lived in Scotland for years and would be remaining north of border regardless of the outcome tonight. "Westminster does London very well. But not the rest of Britain. Devolution works, independence will work better and the regions of England will take note. That's why my wife and I are voting YES."

James Cusick/The Independent

8/20 Scotland decides

A supporter of the 'Yes' campaign stands outside a polling station

Reuters

9/20 Scotland decides

A yes supporter talks with a man and a woman with a Union flag in George Square, just a few hours before polling stations will close in the Scottish independence referendum

Getty Images

10/20 Scotland decides

Chris McAleese at Bannockburn Polling Station, as voters go to the polls in the Scottish Referendum

PA

11/20 Scotland decides

Ryan Randall plays the bagpipes outside a polling station in Edinburgh, Scotland

Reuters

12/20 Scotland decides

Fashion makes a point on voting day in the Scottish Independence referendum in Stirling

EPA

13/20 Scotland decides

Voters come to Notre Dame Primary School polling station as the people of Scotland take to the polls to decide their country's fate

Getty Images

14/20 Scotland decides

Voters come to Notre Dame Primary School polling station as the people of Scotland take to the poles to decide their country's fate in a historic vote

Getty Images

15/20 Scotland decides

First Minister of Scotland Alex Salmond chats to school children at Strichen Primary School in Strichen

PA

16/20 Scotland decides

Former Prime Minister Gordon Brown with No campaigners outside the polling station at North Queensferry Community Centre as polls open

PA

17/20 Scotland decides

Scottish First Minister Alex Salmond gives the thumbs up after voting in the Scottish referendum in Aberdeenshire, Scotland

EPA

18/20 Scotland decides

Residents take part in a "short walk to freedom" march in Edinburgh

Reuters

19/20 Scotland decides

Young voters leave a polling station in Charlotte Square, Edinburgh

Reuters

20/20 Scotland decides

David Aguilar, left, and Aleix Sarri from Catalonia, who are visiting Scotland to support the Scottish independence referendum, gesture and hold up a placard supporting a Yes vote at passing motorists in Edinburgh, Scotland

AP
The Ipsos MORI survey found that a would-be 'Yes' campaign would have a nine-point lead over the 'No'  camp.
53 per cent of Scottish voters would vote 'Yes' while 44 per cent would vote 'No', with three per cent undecided which way they would vote, the survey suggests.
This poll marks the first lead for leading the UK since the last referendum.
Half of those surveyed said they would like to see another referendum in the next five years, while 58 per cent said they would be in favour of another vote being held within ten years.
Reuse content