The red carpet was rolled out for David Cameron as he arrived in Washington tonight for talks with Barack Obama.
The Prime Minister was afforded the rare honour of staying tonight in White House guest accommodation usually reserved for heads of state.
His flying visit is Mr Cameron's final scheduled trip to the United States before the general election.
And although serious global issues are on the agenda, his aides hope that pictures of the two men side by side will burnish Mr Cameron's leadership credentials.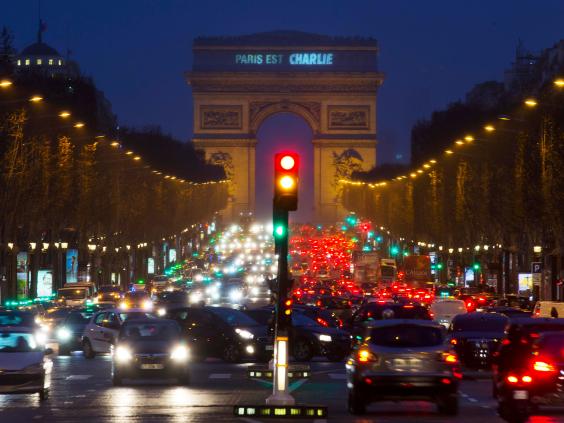 The Prime Minister will join the President for a working dinner in the White House tonight. The two leaders will discuss ways of bolstering the UK and US economies and cushioning them from the global economic uncertainty threatened by rapidly falling oil prices.
The focus switches tomorrow to the fight against international terrorism in the light of last week's murderous attacks in Paris.
On Thursday evening, Mr Cameron responded to reports that at least two people had been killed after Belgian police launched a major operation against a suspected jihadist terrorist cell.
"Ït's still early days in terms of getting information but it looks like yet another indication of the huge risk that we face from Islamist extremist terror in Europe after the attacks in Paris, after events here in America now we see this."
He added: "We have to remain extremely vigilant we have to take all the steps we can to beat this evil. I'll be discussing this issue with Barack Obama this evening."
The two men are also expected to finalise an agreement for Britain and the US to co-operate closely on tackling cyber-crime. Mr Cameron will also meet British cyber-security firms tomorrow seeking contracts with large US corporations.
In addition, they will discuss tactics in the continuing military operation against Islamic State forces in Iraq, as well as the lessons of Ebola epidemic in west Africa.
Charlie Hebdo: Mourning in Paris
Charlie Hebdo: Mourning in Paris
1/6 Mourning in Paris

Fraternité: people take part in a unity rally on Sunday at the Place de la Nation (Nation Square) in Paris

AFP/Getty

2/6 Mourning in Paris

The growing floral trobute near the Charlie Hebdo offices

PA

3/6 Mourning in Paris

Police guard a Jewish school in Paris

Getty

4/6 Mourning in Paris

Marie-Pierre

5/6 Mourning in Paris

Emmanuel

6/6 Mourning in Paris

Us tous: Parisien couple show off their Tricolour and support for Je Suis Charlie movement

PA
Mr Cameron is due to raise the case of the last British detainee in Guantanamo Bay, Shaker Aamer, who has spent 13 years in the US military prison.
The Prime Minister is pressing for his immediate freedom without preconditions, although the US authorities are understood to support his release only if Britain commits itself to monitoring Mr Aamer.
In a joint article ahead of the visit, Mr Cameron and Mr Obama said they "stand together" in the face of terrorist threats and global economic uncertainty.
Linking the issues, they wrote in The Times: "We reaffirm our our belief that our ability to defend our freedoms is rooted in our economic strength."
Reuse content