David Cameron's wife helps him make key ministerial decisions on hostage situations and military operations, he has revealed.
The Prime Minister told The Mail on Sunday: "She has very good judgment. I talk to Samantha about the most difficult decisions, life-and-death situations such as rescuing hostages or putting troops potentially in harm's way."
Cameron said that, while he is supported by various bodies and advisors, responsibility essentially lies with him: "There is a whole process in Cobra (the emergency committee) and listening to military advice, but in the end I make the decision.
"You worry a lot. It is a very turbulent night when something like that is going to happen."
Evening Standard Top 20 Most Influential Londoners
Evening Standard Top 20 Most Influential Londoners
1/19 1. George Osborne

Chancellor of the Exchequer

Getty

2/19 2. Boris Johnson

Mayor of London

3/19 3. Demis Hassabis

Deep Mind Technologies founder

Independent

4/19 4. Amal Clooney

Barrister

5/19 5. Mark Carney

Bank of England Governor

PA

6/19 6. Theresa May

Home secretary

Getty

7/19 7. Prince Harry

Prince Harry

Bless 'im. Prince Harry is known to the public as the shaggy-haired brother of Prince William - you know, the one who had that wedding that got everybody a day off. Much has been made of Harry's military career, having served in the British Army and fought in Afghanistan. Indeed, as far as elite institutions go, Harry began his training at Sandhurst, the UK's premier officer training school. In purely academic terms, however, Harry isn't much to speak of - gaining only two A-levels, despite his private schooling and privileged background.

This is in stark contrast to his brother; William studied at St. Andrews, taking a course in Art History and graduating with an MA. However, a friend of mine once described taking art history as taking a "course in being unemployed forever," so maybe they're not so different. It's not like it matters what degree you study for when you're steps away from the throne anyway.

Getty

8/19 8. Sir Paul Nurse

Francis Crick Institute chief executive and Nobel Prize-winning geneticist

Rex Features

9/19 10. David Cameron

Prime Minister

PA

10/19 11. Sir Peter Hendy

Transport Commissioner

11/19 12. Malala Yousafzai

Nobel Peace Prize winner

Getty

12/19 13. Ed Miliband

Labour leader

Getty Images

13/19 14. Nicholas Serota

Tate director

Getty images

14/19 15. Andre Balazs

Chiltern Firehouse restaurateur and hotelier

15/19 16. Kate Bush

Singer

Rex

16/19 17. José Mourinho

Chelsea manager

Getty Images

17/19 18. Stephen Hawking

Scientist

18/19 19. Sir Bernard Hogan-Howe

Metropolitan Police Commissioner

Getty Images

19/19 20. Benedict Cumberbatch

Actor

Getty Images
He says he particularly values Samantha's practical and organisational skills. "If she'd organised Napoleon's march on Moscow, they would have reached Vladivostok in good time," he said.
The pair have come under criticism in the past for allowing the lines between public and private to blur.
Last month The Belfast Telegraph claimed he left vital crisis talks in the city to attend an Ibiza-style "rave" for Mrs Cameron's birthday.
Shadow Secretary of State Ivan Lewis said: "I have no problem with David Cameron attending a family celebration.
"However, his unwillingness to remain in Northern Ireland for a longer period in order to broker progress caused serious concern at the time."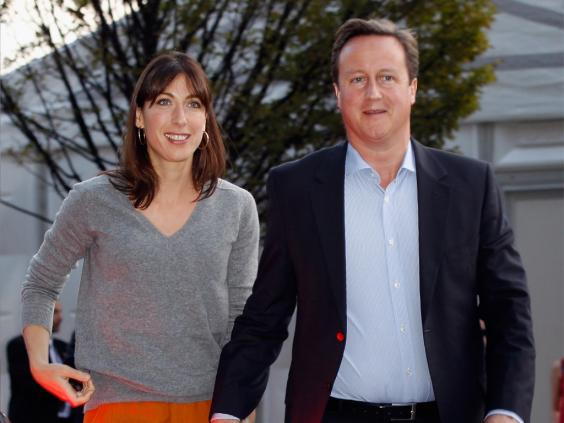 In 2013, Cameron was criticised for failing to declare his wife's stake in a company planning a massive housing development on greenfield land in Lincolnshire, which would push up land prices and benefit shareholders.
A Cabinet Office spokesman later said: "The Cabinet Secretary is satisfied that all procedures were followed correctly and that there is no conflict of interest."
There has also been speculation in the past about whether Mrs Cameron has influenced her husband's positions on gay marriage and intervention in Syria.
Reuse content