David Cameron has performed a U-turn over MPs' pay by calling for a rethink on the plan to increase salaries by 10 per cent.
Downing Street had said earlier this week that although he disagreed with the proposal to hike pay by £7,000, he would not be making a fresh case against it.
The decision over MPs' pay was taken out of MPs' hands after the 2009 expenses scandal and given to Ipsa, the independent parliamentary watchdog.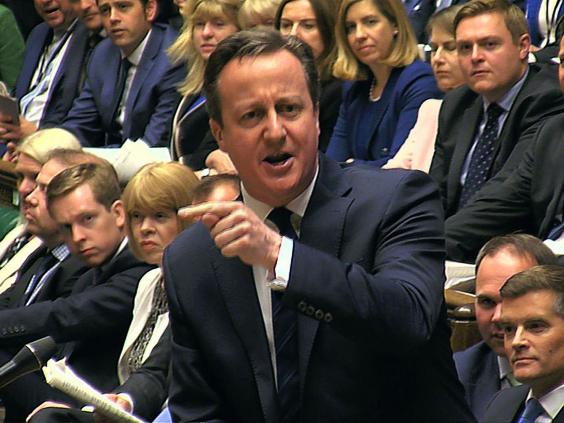 Ipsa said it would press ahead with its proposal to increase MPs' pay from the current salary of £67,070 to £74,000 by the end of the month unless "new and compelling evidence" came forward.
The Prime Minister's spokeswoman insisted on Tuesday the decision was ultimately one for them.
But this morning Number 10 backtracked, announcing it was being sent to Ipsa reaffirming Mr Cameron's opposition to the pay rise and urging a rethink.
It comes after pressure rose on the Prime Minister to make a stand after three of the four Labour leadership candidates said they would reject the increase and several of Mr Cameron's Cabinet colleagues said they would hand the increase to charity.
A Downing Street source said: "We're writing a letter to Ipsa to reiterate we stand by the detailed submission we had already made to them last year saying we think this rise is wrong."
It is a tricky subject for the Prime Minister, who is very aware of the inevitable public backlash if MPs were given a 10 per cent pay rise when the rest of the public sector is restricted to a 1 per cent rise.
But it would be difficult for the government to step in to stop the pay rise, considering Ipsa was introduced in 2010 for the precise purpose of taking the decision out of the hands of politicians.
Appointments in David Cameron's Tory government
Appointments in David Cameron's Tory government
1/7 Amber Rudd: Energy and Climate Change Secretary

Wins a big promotion after increasing her majority in Hastings and Rye despite once describing her constituency as a "bit depressing". The former banker and financial journalist is considered a moderate Eurosceptic

2/7 Priti Patel: Employment Minister (attending Cabinet)

Former party press officer and now the Witham  MP is rewarded for her  forceful performances  during the election campaign. She is on the right of the party and a Eurosceptic.  Ms Patel has called for the return of hanging

3/7 John Whittingdale: Culture Secretary

Having never been a minister in his 23 years as an MP John Whittingdale's elevation to the Cabinet is meteoric. But his appointment sends a message to Tory backbenchers that preferment is possible even for those who may have given up hope (and be tempted to rebel)

Getty

4/7 Anna Soubry: Minister for Small Business

Not long ago the former defence minister feared she would not even be an MP but now she has a key role in the Department for Business and the right to attend Cabinet

5/7 Sajid Javid: Business Secretary

Rising star tipped as Britain's first prime minister from an ethnic minority. Son of a bus driver, he grew up in two-bedroom flat in Bristol. After university he joined Deutsche Bank. Parliamentary aide to George Osborne before becoming Treasury minister and Culture Secretary

6/7 Greg Clark: Communities Secretary

Thoughtful moderniser who grew up in Middlesbrough where his father and grandfather were milkmen.  Was a special adviser before entering Parliament in 2005. In previous ministerial posts he drew up plans to devolve powers to cities

7/7 Matthew Hancock: Cabinet Office minister and Paymaster General

A former aide to George Osborne before becoming an MP in 2010 election. Hancock has had a meteoric ministerial rise
And Mr Cameron also faces opposition from his own backbenches, some of whom are deeply resentful of ministers – who earn more and many of whom are millionaires – insisting all MPs should reject the pay rise.
It will aggravate the lower orders in the party if they are told by 'Tory toffs' in the party that they should not accept an increase in pay.
It is unlikely that the Prime Minister's final call for a rethink will make any difference and is probably little more than a stunt, as was Andy Burnham's tweet yesterday morning saying he would reject the pay rise, which set in train the string of leading MPs insisting they would do the same.
I have always been clear that 10% pay rise for MPs cannot be justified. I won't accept it. Will turn down at source or give to local groups.

— Andy Burnham (@andyburnhammp) June 3, 2015
The Prime Minister's spokeswoman said Chris Grayling, the Commons leader, had written to Ipsa this morning reiterating Mr Cameron's opposition to the proposed increase. She said the new letter "underlined" the Government's view rather than presented fresh evidence over why it could not be justified.
But she confirmed he did not intend to follow the example of the Labour leadership contenders and give any increase to good causes.
She said Ipsa "determine the pay for MPs – the Prime Minister is an MP".
Reuse content