Legislation to introduce David Cameron's flagship childcare election pledge has been condemned by an influential committee of peers as a "skeleton" Bill which is "flawed", "vague" and lacks substance.
The cross-party Delegated Powers and Regulatory Reform Committee, one of the most powerful in the House of Lords, has issued stinging criticism of the Government's Childcare Bill, which contains the pledge for 30 free hours of childcare a week, for preventing the House of Lords from having an "informed debate" about the policy.
The committee also condemned ministers for claiming they were introducing the bill to "send a clear message to parents and providers about the Government's commitment" made at the election. The report adds: "That is not, in our judgement, a proper use of legislation: the purpose of an Act is to change the law, not to 'send a message'."
The report is the second time the Childcare Bill has come under "blue-on-blue" friendly fire in the space of a fortnight, after The Independent on Sunday last week revealed warnings by Conservative peers that the legislation contained draconian measures to jail parents and nursery staff for failing to provide full details of whether both mother and father were working – one of the qualifying conditions for the 30-hour entitlement. It is rare for government legislation to be picked apart and criticised from all sides before it has even got to committee stage, when legislation is discussed line by line.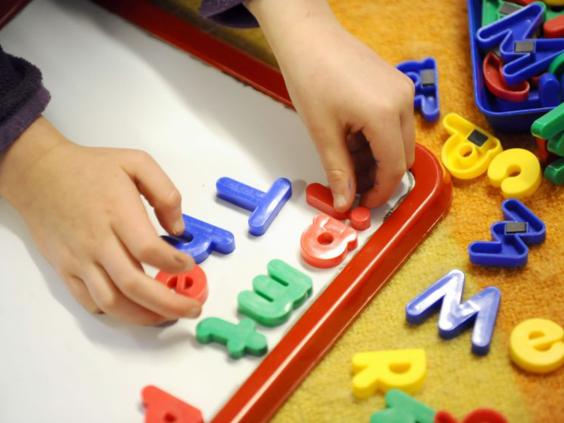 Peers will debate the bill at committee stage on Wednesday, but the Delegated Powers Committee cautioned that there was very little for the Lords to go on because the legislation is only six clauses long.
Ministers, in an accompanying memorandum to the bill, suggested that the lack of detail in the legislation will be compensated by regulations to be introduced later, but the committee's report said: "The remarkable imbalance between the provision that appears in the Bill itself and what is to be left to regulations, and the scarcity of explanation in the memorandum, has led us to question whether members will be in a position to contribute meaningfully to debates at Committee Stage and Report Stage.
"In our view, the Government's stated approach to delegation is flawed … [The Bill] contains virtually nothing of substance beyond the vague 'mission statement' in clause 1(1) … We of course acknowledge the need for consultation as a precursor to the formation of policy; but this should in our view have followed the well-established sequence of a Green Paper setting out proposals, followed by a White Paper containing the Government's legislative intentions, and finally the presentation of a Bill …
"During the debate on Second Reading on 16 June, the Bill was referred to more than once as a 'skeleton', and that seems to us to be an accurate description."
Describing clause 1(4), which says the Government may make regulations to deliver the additional 15 hours of free childcare, as "inappropriately wide", the committee concludes: "Without greater detail in the Bill itself, together with a much fuller explanation about the nature of the provision likely to be contained in the regulations under clause 1, the House will have insufficient information about the design of the new childcare provision for a properly informed debate."
A Department for Education spokesman said: "We make no apology for moving quickly to help parents back into work and to give children the best start in life. This is important legislation and the Government wants to make progress as quickly as possible."
Reuse content