The sister of a man who died 18 days after he was sanctioned by job centre staff has made an emotional plea to Iain Duncan Smith to open a public inquest into her brother's death. 
Gill Thompson, whose brother David Clapson died in July 2013, was joined outside the Department for Work and Pensions in central London with up to 50 protestors brandishing placards highlighting the "callous" nature of the government's benefit sanctions regime.
Ms Thompson carried with her a banner, engraved with the names of 96 people she claims to have died while on a benefit sanction. One of them is her brother. 
Speaking to The Independent, she said: "The DWP actions did not help my brother's situation. I feel that his death could have been prevented. By doing this, I can't bring my brother back, I'm just hoping that this will save other people.
"All these people have died, it has to stop now. That's all we ask for, that's all I ask for, no more deaths, no more suffering."
Campaigners also delivered a petition, signed by thousands of people, calling on the Mr Duncan Smith to implement the recommendations of last year's work and pensions select committee into benefit sanctions. In 2015 the government rejected calls from MPs to make public the number of peer reviews undertaken by the DWP following the death of a claimant. 
The action outside the DWP came as 70 coordinated protests took place around the UK at job centres, as part of a national day of action against the government's "grotesque cruelty" towards claimants. It was organised by Unite, Britain's biggest trade union organisation. 
Ms Thompson brother, David Clapson, who served as a Lance Corporal in Belfast during the height of the Troubles, passed away two weeks after being sanctioned by the DWP for missing two appointments. His death was attributed to diabetic ketoacidosis, which is caused by an acute lack of insulin.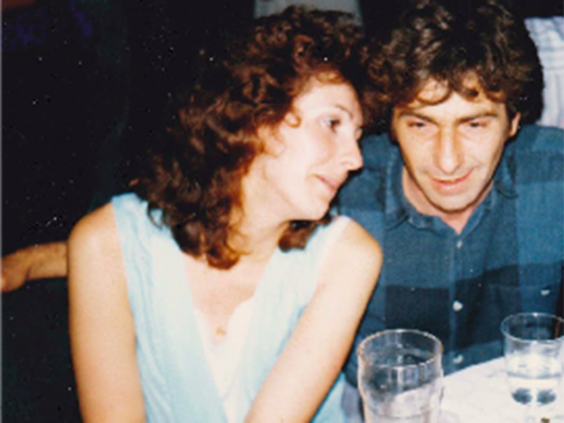 Mr Clapson's body was found a few metres away from a pile of CVs and he had £3.44 in his bank account. Speaking to The Independent last week, Ms Thompson said: "In my opinion, it [the benefit sanction] was a death sentence". 
With no money for his electricity meter, his family claim he was unable to chill his insulin in the height of summer. He also was found to have no food in his stomach when he died.  Leigh Day, the law firm representing Ms Thompson, has added that rendering a person unable to afford food or to chill their insulin "is likely to have fatal consequences".
Unite Community outside Tooting Job Centre #No2Sanctions pic.twitter.com/LYt7y9hnpe

— LEUniteCommunity (@OurCommunityLE) March 9, 2016
After exhausting other avenues Ms Thompson has now launched a crowd funding campaign to raise money to enable her to fight for a public inquest into his death. "The sanctioning took away his lifeline," she added.  
The £10,000 she hopes to raise will pay towards instructing lawyers, accessing records and seeking expert advice to "build the strongest case" for an inquiry. Leigh Day, the law firm representing Ms Thompson, has added that rendering a person unable to afford food or to chill their insulin "is likely to have fatal consequences". 
Responding to the protests, Owen Smith, the shadow work and pensions secretary, said to The Independent: "It's crystal clear that the Tories sanctions policy is unfit for purpose.  It is as callous as it is ineffective: damaging the wellbeing of many who are subject to its inflexible rules, as well as failing to help people in to work."
He added: "Iain Duncan Smith refuses to acknowledge that there is anything wrong with the sanctions regime and has consistently refused to subject it to independent scrutiny. However, Labour will keep up the pressure on this issue and maintain our demand that the system is totally overhauled to treat people with dignity, fairness and compassion."
Just been at @unitetheunion's #No2Sanctions protest in Notts. Part of national campaign against benefit sanctions pic.twitter.com/CoviWLlkQl

— Samuel Boyle (@samboyle93) March 9, 2016
Liane Groves, the head of Unite Community, said: "Half a million people have been sanctioned and had their financial support withdrawn in the last 12 months alone. Money can be cut for arriving late at the Jobcentre, missing an appointment to go to a funeral or even failing to apply for a job while waiting to start a new job."
She added: "This harsh benefit sanctions regime treats claimants worse than criminals fined in courts, leaving people without money and unable to feed themselves and their family. It is a system out of control with decisions on guilt taken in secret and claimants not even allowed to be present to explain their case.
The most ridiculous reasons people had their benefits sanctioned
The most ridiculous reasons people had their benefits sanctioned
1/16

"One case where the claimant's wife went into premature labour and had to go to hospital. This caused the claimant to miss an appointment. No leeway given"

2/16

"It's Christmas Day and you don't fill in your job search evidence form to show that you've looked for all the new jobs that are advertised on Christmas Day. You are sanctioned. Merry Christmas"

3/16

"You apply for three jobs one week and three jobs the following Sunday and Monday. Because the job centre week starts on a Tuesday it treats this as applying for six jobs in one week and none the following week. You are sanctioned for 13 weeks for failing to apply for three jobs each week"

4/16

"A London man missed his Jobcentre appointments for two weeks because he was in hospital after being hit by a car. He was sanctioned"

2011 Getty Images

5/16

"You've been unemployed for seven months and are forced onto a workfare scheme in a shop miles away, but can't afford to travel. You offer to work in a nearer branch but are refused and get sanctioned for not attending your placement"

2013 Getty Images

6/16

"You are a mum of two, and are five minutes late for your job centre appointment. You show the advisor the clock on your phone, which is running late. You are sanctioned for a month"

7/16

"A man with heart problems who was on Employment and Support Allowance (ESA) had a heart attack during a work capability assessment. He was then sanctioned for failing to complete the assessment"

Copyright (c) 2015 Rex Features. No use without permission.

8/16

"A man who had gotten a job that was scheduled to begin in two weeks' time was sanctioned for not looking for work as he waited for the role to start"

9/16

"Army veteran Stephen Taylor, 60, whose Jobseeker's Allowance (JSA) was stopped after he sold poppies in memory of fallen soldiers"

2014 Getty Images

10/16

"A man had to miss his regular appointment at the job centre to attend his father's funeral. He was sanctioned even though he told DWP staff in advance"

2014 Getty Images

11/16

"Ceri Padley, 26, had her benefits sanctioned after she missed an appointment at the jobcentre - because she was at a job interview"

Jason Doiy Photography

12/16

"A man got sanctioned for missing his slot to sign on - as he was attending a work programme interview. He was then sanctioned as he could not afford to travel for his job search"

2012 Getty Images

13/16

"Mother-of-three Angie Godwin, 27, said her benefits were sanctioned after she applied for a role job centre staff said was beyond her"

14/16

"Sofya Harrison was sanctioned for attending a job interview and moving her signing-on to another day"

15/16

"Michael, 54, had his benefits sanctioned for four months for failing to undertake a week's work experience at a charity shop. The charity shop had told him they didn't want him there"

16/16

"Terry Eaton, 58, was sanctioned because he didn't have the bus fare he needed to attend an appointment with the job centre"
"Far from helping people back to work, the cruel sanctions regime harms physical and mental health and drives up food bank use and homelessness. 
"It is totally counterproductive and there can be no justification for this grotesque cruelty by the government. It can't be allowed to go on."
A spokesman for the DWP said: "Decisions on sanctions aren't taken lightly but are an important part of our benefits' system — they are only ever used as a last resort and the number of sanctions continues to fall.
"Even when someone is sanctioned they can still get financial support through hardship payments and we continue to spend around £80bn a year on working age benefits to ensure a safety net is in place"