David Miliband has revealed how his "worst fears were confirmed" when his brother led Labour to the party's worst election result in nearly three decades.
The former foreign secretary, who moved to New York to head up the International Rescue Committee charity after narrowly losing to his brother Ed in the 2010 Labour leadership election, said he had been "very fearful of the consequences" of the lurch to the left in the last five years.
He said the election defeat, which saw the number of Labour MPs fall to a 30-year low of 232, was "doubly painful" because of his brother's involvement, but refused to attack him directly and insisted: "I don't want him to be vilified."
And although he revealed he had feared the direction Ed was taking the party was "courting disaster," he insists any sense of vindication is "massively outweighed by a sense of frustration and anger about what's going to happen to the country".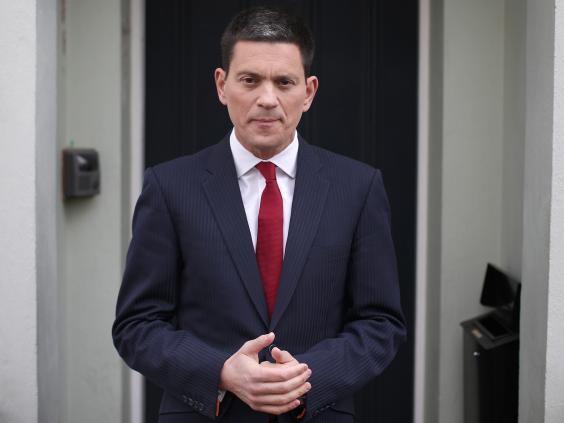 "There is no consolation in any sense of vindication, frankly, because I care about the country and I care about the party. It's now facing ten years out of power," the older Miliband brother said in an interview with The Times.
"All my worst fears were confirmed," he added. "I had spent the previous two or three weeks wondering whether in fact I was wrong to believe that you couldn't suspend the laws of political gravity because the polls obviously suggested that things were close, but . . . the politics of our offer and our positioning made me very fearful of the consequences, and that was borne out."
Lord Mandelson, echoing Mr Miliband's critique, said all the advances New Labour had made over combating its weakness over the economy, crime, public services and confusion over Europe "were being flushed away" under Ed's leadership.
Best General Election 2015 quotes
Best General Election 2015 quotes
1/10 1. "Am I tough enough? Hell, yes, I'm tough enough."

Ed Miliband bats away suggestions he would be too weak on the international stage. It likely to go down as one of the quotes we remember this election by.

Matthew Lewis/Getty Images

2/10 2. "If I'm getting lively about it, it's because I feel bloody lively about it."

David Cameron attempts to prove how passionate he is about wanting a second term as Prime Minister after Tory donors criticised his lack of enthusiasm.

AFP

3/10 3. "Oh it's crats? I thought it was Liberal Demo-cats"

Reality TV star Joey Essex is taught a thing or two during his meeting with Nick Clegg.

PA

4/10 4. "Brain fade"

Green party leader Natalie Bennett gave what was described as the "worst political leader's interview ever" on LBC Radio as she fails to answer how the Greens would pay for its ambitious housing policies.

LBC/YouTube

5/10 5. "We're a shining example of a country where multiple identities work. Where you can be Welsh and Hindu and British, Northern Irish and Jewish and British, where you can wear a kilt and a turban, where you can wear a hijab covered in poppies. Where you can support Man Utd, the Windies and Team GB all at the same time. Of course, I'd rather you supported West Ham"

David Cameron experienced his own brain fade when he forgot which football team he supported.

Getty Images

6/10 6. "This is a real career-defining … country-defining election that we face in less than a week's time"

The Prime Minister made another gaffe when he made it sound like the election was all about himself.

BBC

7/10 7. "Ed Miliband stabbed his own brother in the back to become Labour leader. Now he is willing to stab the United Kingdom in the back to become prime minister."

Defence Secretary Michael Fallon launched a vicious personal attack on Ed Miliband.

PA

8/10 8. "Ajockalypse Now."

The colourful term used by Boris Johnson to describe a Labour government propped up by the SNP.

JUSTIN TALLIS/AFP/Getty Images

9/10 9. "The SNP are openly racist. The anti-English hostility, and the kind of language that is used about and towards English people, is totally extraordinary."

Nigel Farage launches an attack on Nicola Sturgeon and her SNP party.

AFP/Getty Images

10/10 10. "Terms are like Shredded Wheat. Two are wonderful, three might be too many."

David Cameron rules out a third term as Prime Minister.

Getty Images
Mr Miliband hinted at a return to British politics, but refused to be drawn on whether he still harbours ambitions of leading the Labour party. Addressing the future direction of the party, he said the challenge was how Labour becomes a "post-Blair political project rather than a pre-Blair political project".
He called upon the leadership contenders to apologise for the things New Labour got wrong but insisted: "We should liberate ourselves from the delusion that running away from three election victories is a route to success . . . it's 50 years since Labour won a majority at a general election without Tony as leader. It's important to have this in mind."
Addressing his own future, he said: "I hope that I can use my voice now and again in the British scene," he said. "In terms of what I do next I'll have to take some time to think about that."
Reuse content