A disgraced Ukip MEP who was expelled amid allegations of expenses fraud has thrown her support behind a new far-right political grouping in the European Parliament.
Janice Atkinson MEP has been named co-chair of the new Europe of Nation and Freedom group at the European Parliament in Brussels, amid suggestions she has given a "victory" to the far-right in Europe.
Ms Atkinson was thrown out of Ukip in March and is facing an "on-going" police investigation over fraud allegations, however her defection to the new EU parliament grouping, which is dominated by the French National Front, has triggered a minor political earthquake in Brussels.
Last month The Independent revealed that Ms Atkinson was still sitting with Ukip's political group in Brussels despite her expulsion, which came after her chief of staff Christine Hewitt was recorded appearing to ask a restaurant to provide her with a receipt for £3,150 for a lunch attended by senior Ukip figures, which had in fact only cost £950.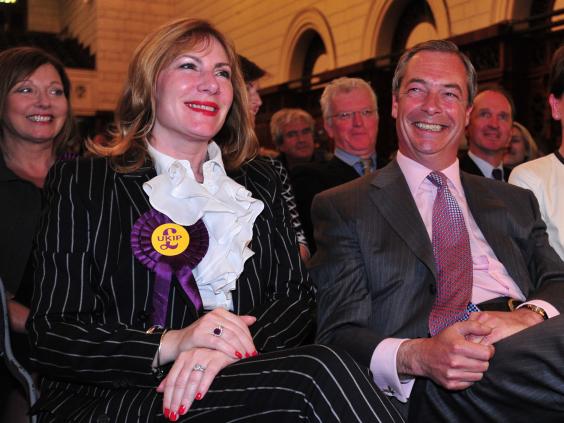 However she has now broken ranks with Ukip and appeared alongside Marine Le Pen, the leader of France's National Front, at a press conference on Tuesday.
Ms Atkinson said that Le Pen had shown "great courage and leadership" in creating the right-wing group, which will now be eligible for €17.5m of EU money over the next four years.
She said: "Today is a historic day for all in Britain and across Europe who stand opposed to the European superstate.
"A stable and committed new group in the European parliament is launched, bringing new weight to bear against the ideology of the European Union."
Labour's Richard Corbett MEP said that Ms Atkinson had handed the far right a "victory" in Brussels.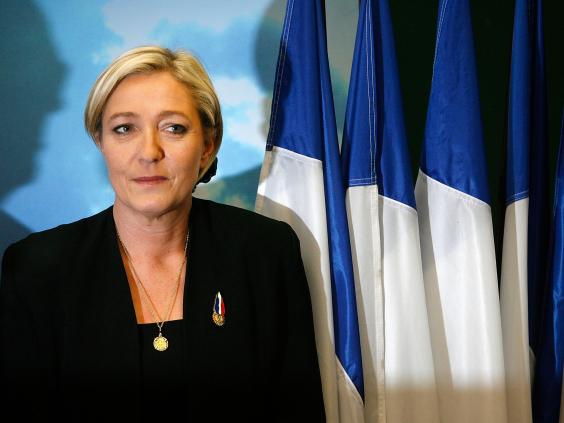 He said: "Parliament's rules dictate that a political group must comprise of a minimum of 25 MEPs from 7 Member States. In the last 12 months, Le Pen has always struggled to find a Member from a 7th country to form the group. It seems that Janice Atkinson has handed her this victory.
"Ahead of last year's European elections, we were yet again told that Ukip's revolving door was a thing of the past. But, one year into the five-year parliament, two have already defected from Ukip's EFDD group: Amjad Bashir to Conservatives and Janice Atkinson to Le Pen's new group."
Ms Atkinson previously faced critism for calling a Thai constituent as a "ting-tong from somewhere", in comments which forced Ukip party leader Nigel Farage to apologise.
The National Front, which has 24 MEPs, has long wanted to form a far-right grouping in Brussels, however it struggled to find deputies from a minimum of seven nations needed to form a group.  With Ms Atkinson and several other key anti-EU MEPs it now has enough support to form a group, which will mean it is better position to get its members on powerful parliamentary committees. It will also get more speaking time and funding for staff.
Ukip's confusing policies
Ukip's confusing policies
1/6 Deport migrants

Ukip MP Mark Reckless suggested he would deport existing EU migrants, a policy Nigel Farage rejected out of hand.

Reuters

2/6 US-style NHS

Farage was caught on film in 2012 saying healthcare headed towards insurance-based system, though he has since said he would keep it free at the point of use.

Universal Images

3/6 Handbag tax

Ukip Economy spokesman Patrick O'Flynn said he would introduce a tax on high-price items like shoes, Nigel Farage disowned this idea.

4/6 Same-sex couple adoption

Ukip candidate Winston McKenzie likened adoption by same-sex couples to "child abuse", but the party rejects that view.

PA

5/6 Gay marriage?

In early 2014 Ukip released a statement saying it would review its gay marriage policy, but later said that was an error.

AFP/Getty Image

6/6 Sex education u-turn

Nigel Farage told Leaders Live that he backed sex education for under-11s but later admitted that is not Ukip policy.

Getty
Responding to news that Atkinson had formed the group, Catherine Bearder, a Liberal Democrat MEP, told Politico: 'This is a disgraceful decision. The fact that the South East region now has a representative from this appalling political grouping is deeply disturbing. Janice Atkinson should do the honourable thing and resign, not prop up a group of Europe's most hateful and far-right parties"
Last year Ukip was able to form its own grouping, Europe of Freedom and Direct Democracy (EFDD), after an MEP elected as a member of the French National Front defected to Ukip, prompting allegations that the British party had "borrowed" the MEP to gain access to EU funding. Last night an EU parliament source said there was speculation that Ukip was "returning the favour".
A spokesperson for the Ukip-backed EFDD group in Brussels said: "Former Tory, Janice Atkinson has been expelled from Ukip in March... whatever she does is beyond our control."
Reuse content