The number of doctors who applied for documentation to work abroad surged by over 1000 per cent the day Jeremy Hunt announced he would force a new contract on them, new figures show.
300 doctors applied for Certificates of Good Standing on Thursday 11 February – up from an average of 26 a day in February before the announcement.  
Each junior doctor costs taxpayers around £300,000 to train – meaning that on just the day of Mr Hunt's announcement alone doctors who had received £90 million worth of training took concrete steps towards emigrating.
The surge of doctors thinking about leaving has continued since the announcement, with 109 doctors requesting certificate the day after it, and figures on the weekend over double the previous weekend.
Certificates of Good Standing, also known as Certificates of Current Professional Status, are a note from the GMC that there are no fitness to practise suits against a doctor.
The certificates are required to get a doctors' job abroad and can only be sent directly to another appropriate body overseas – meaning some level of contact must have already established with employers aboard. 
The number of doctors applying to go abroad before the announcement already represented a significantly higher level than under Mr Hunt's predecessors.
In 2015, when the industrial dispute began, 8,627 certificates were issued to doctors – up from 4,925 in 2014 and around 5,000 in the previous three years to that.  The annual increase amounts to additional doctors with over a billion pounds in training looking to leave a year.
Junior doctors, bewildered by the Government's new contract, have threatened to leave the country or the profession altogether if the plan goes ahead.
The Government says the new contract will improve patient care at the weekends but junior doctors say it will incentivise unsafe staffing rosters and put patient care at risk.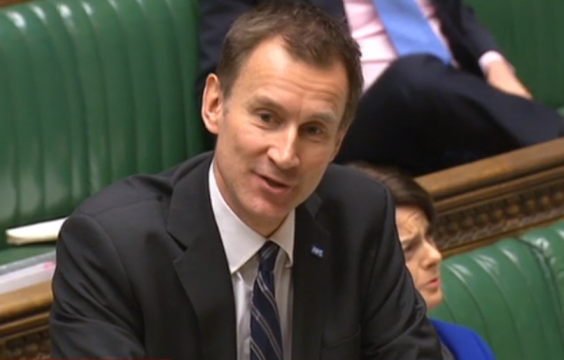 Two days of unprecedented strike action by junior doctors took place in the first months of this year, while the Health Secretary has set up an urgent inquiry into the morale of junior doctors. 
An unweighted survey reported by the Independent last week recorded around 90 per cent of junior doctors having misgivings about remaining working in the UK.
The Royal College of GPs, the professional association which represents family doctors, warned after Mr Hunt's announcement that it would almost certainly become more difficult to recruit enough doctors for the NHS under the new plans.
Labour's shadow health secretary Heidi Alexander has warned of a "fundamental breakdown in trust" between the Government and junior doctors.
She accused Mr Hunt of acting as a recruiter for Australian hospitals.
"These figures show how let down junior doctors feel with the way Jeremy Hunt has handled this dispute," she told the Independent.
"Medical experts have warned that the decision by the Tories to impose the junior doctors' contract could lead to a mass exodus of NHS staff to other countries.
In pictures: Junior doctors protests in UK
In pictures: Junior doctors protests in UK
1/10

20,000 Junior Doctors marched through central London in protest at the new contract changes the government is trying to impose which they say will be unfair and unsafe

2/10

Junior doctors protest in London

3/10

4 year old Cassius takes part in a demonstration in Westminster, in support of junior doctors over changes to NHS contracts, London

4/10

Protest over proposed changes to junior doctors' contracts, Leeds

5/10

Junior doctors and NHS staff protesting against the health service cuts and the proposed contract changes offered by the government outside Parliament

6/10

Junior doctors and NHS staff protesting against the health service cuts and the proposed contract changes offered by the government outside Parliament

7/10

Over 5000 junior doctors rallied in Waterloo place, before marching through Whitehall and onto Parliament Square, in opposition to Jeremy Hunt's new working conditions for doctors

8/10

Demonstrators listen to speeches in Waterloo Place during the 'Let's Save the NHS' rally and protest march by junior doctors

9/10

Junior doctors marched in London to highlight their plight

10/10

A protester at a demonstration in support of junior doctors in London
"Jeremy Hunt needs to come clean and explain to the public how he intends to be training the junior doctors and consultants of tomorrow when he is behaving like a recruiting agent for Australian hospitals.
"This whole sorry saga could have been avoided if Jeremy Hunt had decided to negotiate with junior doctors, rather than pick a fight with them."
The apparent exodus follows predictions by leading medical figures, including doctor, TV presenter, and Labour peer Robert Winston, who said the NHS was "losing some of our best and brightest".
The General Medical Council, the public body that regulates the medical profession, said the request of a certificate was an indication that a doctor as thinking about leaving the country but that not all doctors ended up leaving.
A 2012 Department for Health-commissioned study by academics at the University of Kent found that it costs £343,361 in total investment to train an average registrar, £269,527 to train a foundation level one doctor, and £294,164 in total investment to train a foundation level two doctors. 
All three of these classes make up the "junior doctor" category. These costs include tuition over lengthy training programmes, clinical placement costs, as well as salaries for on-the-job training years.
A Department of Health spokesperson said: "Medicine is an attractive career and the NHS is one of the best healthcare systems in the world. This is a fair, safe, reasonable contract – 90 per cent of it agreed with the BMA. 
"As we move towards implementation we hope junior doctors see the much improved offer on the table compared to their current contract."
Reuse content