What fun it was, for Jeremy Hunt that is. Before his two opponents, sitting side by side, had even made a speech he was taunting them. "We have seen many feisty disagreements on health policy," he cooed. "And that is just in the shadow Health team"
Hunt himself was flanked by the youthful Ben Gummer, whose qualifications as the new Public Health Minister include the childhood trauma of his father, then agriculture minister, stuffing a burger into the mouth of his unwilling four year old sister at the height of mad cow disease. But it was the pair opposite Hunt had in his sights.
Yes, Andy Burnham and Liz Kendall, deadly rivals for the leadership of the Labour Party, were yoked uneasily together to oppose the government on health policy. And Hunt couldn't leave it alone.  "May I ... wish [Burnham] every success in his left-wing leadership bid?" the Health Secretary continued. "This is perhaps the only occasion in history when my party's interests and those of [Unite leader] Len McCluskey are totally aligned."
Not content with this unusual – and if Tories really would prefer Burnham, possibly counterproductive – intervention, he even predicted that Kendall's "pro-business, reform-minded, centre-ground policies" would be "crushed inside today's Labour party".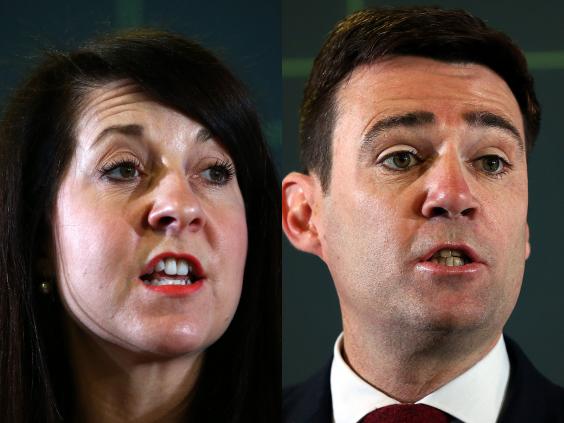 The Kendall and Burnham smiles at all this were wintry, their mutual conversation minimal-ish. Sat between Burnham and Chris Leslie, Kendall had an amiable chat with the new shadow Chancellor instead. But she made some obligatory nods as the shadow Health Secretary pointed out that hospital waiting lists were at a record low in 2010 before attacking Hunt over an "NHS that he inherits from himself and is heading downhill fast." He then vigorously attacked the Government over "privatisation" (or, as Hunt, who admitted it had crept up from 4.9 per cent to 6.2, prefers it, "use of the independent sector"), a forecast £2bn NHS deficit, and for not saying how it would find the £8bn it had promised. Burnham, to his credit, nodded more often during Liz Kendall's also fairly mainstream – but inevitably shorter – opposition speech at the end, and even gave her a little pat on the back after she sat down.
Kendall equally denounced the government for promising to cut NHS red tape but instead letting "bureaucracy boom". Challenged by the Tory Stewart Jackson on Labour's big 2004 pay increase to GPs without getting anything in return – not a bad point – Kendall declared: "I will never apologise for this side's record on the NHS." 
So, not really the occasion to judge the candidates' relative qualities. But if Kendall (priced by the bookmakers at 7-4, with Burnham on 5-6) does become Labour leader, at least she'll have the added satisfaction of telling Hunt he's a rubbish pundit.