Ed Miliband has defended his decision to sack a member of his Shadow Cabinet after she was accused of acting like a "snob" towards working class voters.
On a day when the Labour leader hoped the media focus would be on the Conservatives' defeat by Ukip in the Rochester and Strood by-election, he had to deny claims that his party is out of touch with ordinary people.
Emily Thornberry, a close ally of Mr Miliband, resigned as shadow Attorney General on Thursday night after she tweeted a photo of a house in Rochester draped with three England flags and which had a white van parked outside.
Mr Miliband said he was "angry" about the message it sent. After two phone conversations with Ms Thornberry, she quit her frontbench post but it is understood that he made it clear she should go. Labour insiders said the party would have dominated media coverage in the aftermath of the by-election if she had held on to her job.
The Labour leader said: "I was angry because I thought her tweet gave a misleading impression when she photographed a house in which the family lived, that somehow Labour had the wrong view of that family.
"It's not the view we have of that family. Labour's never had that view of disrespect and I'm afraid her tweet conveyed a sense of disrespect - that's not my view, that's not Labour's view, it's wrong, it never will be our view and that's why I think it was right she resigned."
Ms Thornberry, MP for Islington South and Finsbury, suggested she was victim of "prejudices about Islington". She denied "sneering" and appeared surprised by the controversy. "This was a house covered in the flag so you couldn't see out of the windows and it was a striking image," she said.
She told reporters outside her £3m Islington house: "I got it wrong, I made a mistake. I've resigned and if I have upset anyone or insulted anybody I apologise."
However, on her Twitter account, she highlighted supportive tweets, including one saying: "In my opinion I think you did nothing wrong. I think it's all been taken out of context."
Labour politicians were divided over her sacking. Some saw it as a decisive act by Mr Miliband that showed he would not allow anything to get in the way of a Labour election victory. But others said it was an overreaction.
John Mann, Labour MP for Bassetlaw in Nottinghamshire, said Ms Thornberry's "horrendous" tweet "insults people like me, the people I know, my friends and family, Labour voters across the country because white vans, England flags, they're Labour values and pretty routine Labour values for most of us."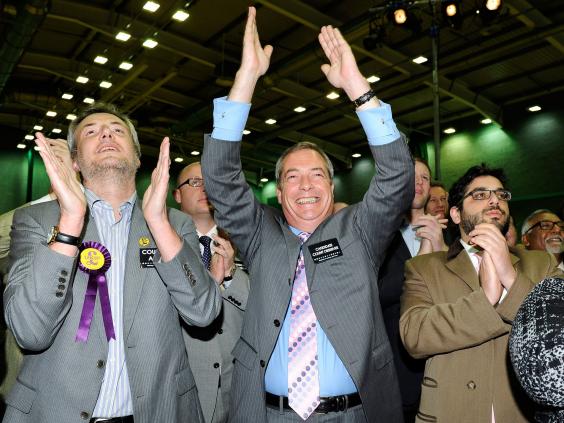 David Cameron claimed the incident showed that Labour "sneers at people who work hard, who are patriotic and who love their country, and I think that is absolutely appalling".
Nigel Farage, the Ukip leader, claimed Ms Thornberry "looked down her nose" at working people. "I don't think that traditional Labour voters look at the current Labour leadership and even recognise these people are members of their own tribe," he said.
***
The view from Islington
Elsa Buchanan
Emily Thornberry's £3m Islington home is in the Barnsbury Wood area.
Trendy gastropubs and stylish boutiques are on nearby Upper Street.
The daughter of a former Assistant Secretary General of the UN, she moved to the area in 1993 in the same week as Tony Blair. The coincidence was the "highlight of the avenue", according to Mark Notari, a sales consultant at Square Quarters, a local estate agent.
Yesterday all the talk locally was about their MP, with opinion divided between those who described her as a "good MP" and others who thought the tweet was "silly".
Gillian Higham, 53, who lives on the Finsbury estate, said that Ms Thornberry should not have sent the tweet. "I'm not racist – I have mixed-race grandchildren. We're multicultural and I agree with that. But we should have a right to put flags up for our own country, support our own country.
But Lynette-Anne Watt, 26, who also lives on the Finsbury estate, said she understood "where she's coming from". "It [the flag] does have that connotation  of racism."
The view from Strood
Oliver Wright
Coventry Close in Strood might not be posh like parts of Islington – but it would be equally mistaken to draw too many conclusions from Dan Ware's faded England flags.
Mr Ware, who works in the building trade, might be the proud owner of a white van – but parked on his street were a shiny Range Rover and Audis and BMWs.
It's a house-proud area with neatly tended front gardens – and at £200,000 for a terraced house, not the cheapest part of town.
In fact, if Ms Thornberry was attempting to make a sociological statement with her "image from Rochester" tweet she was not being particularly perceptive.
Yesterday, Mr Ware's neighbours were relaxed about his show of patriotism. They said the flags had gone up during the World Cup and were not making any political statement – he just hadn't taken them down.
For his part Mr Ware was exceedingly polite when asked what he thought about the fuss . He was, though, keen to take off The Sun stickers the paper had stuck to the side of his van, showing perhaps that he wasn't that keen to be stereotyped.
Reuse content