Labour has defended Ed Miliband after he was criticised for writing a "pathetic" message on a wreath laid at a service in Glasgow to commemorate the centenary of the First World War, and honour personnel from the Commonwealth who lost their lives.
Images of the wreath, which simply carried the message: "From the Leader of the Opposition" were shared online and contrasted to a more personal message from the Prime Minister, which read: "Your most enduring legacy is our liberty. We must never forget," and which was signed "David Cameron".
As many users on social media leapt on the opportunity to criticise the Labour leader for another PR gaffe, it later emerged that Mr Cameron had been the only senior guest allowed to write his own message, leading some to question why the Prime Minister alone was given this opportunity at the event organised by the Department for Culture, Media and Sport.
The contrasting wreaths were initially posted on Twitter by Channel 4's North of England correspondent, Ciaran Jenkins, and immediately sparked a flurry of condemnation from users who suggested the message showed Mr Miliband "clearly can't be bothered".
Messages on the wreaths laid by David Cameron and Ed Miliband. #WW1Centenary #c4news pic.twitter.com/gDNMxvc2tQ

— Ciaran Jenkins (@C4Ciaran) August 4, 2014
Video: The start of WW1 remembered
User @sarahsastro said: "I think Ed Miliband's message on the wreath is pathetic. He couldn't even be bothered to write his own name."
"Unbelievable Ed Miliband's message on his wreath. Shows the utter most disrespect. He should never become PM of this country. #WW1," tweeted @richie_1994wale.
However, it later emerged that messages laid from 'The People of Scotland', 'The Commonwealth Secretary General' and the Deputy Prime Minister Nick Clegg were also written in the same scrawled handwriting as Mr Miliband's - apparently by organisers and presented to guests at the event.
As a result, social-media users questioned why Mr Cameron was given preferential treatment, with some branding it a 'set-up'.
no, Ed Miliband did not write an impersonal message on a World War One wreath http://t.co/lAyj1mtFj1 pic.twitter.com/LjoILefAAc

— Matthew Champion (@matthewchampion) August 4, 2014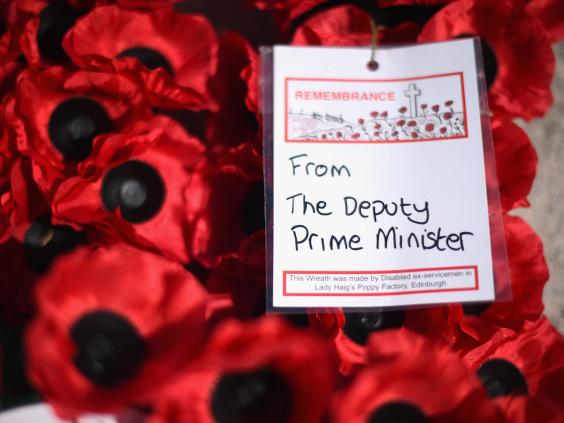 A spokesperson for the Labour Party said: "Ed Miliband was not given the opportunity to write a personal message on the wreath and was only handed it seconds before he had to lay it."
Speaking earlier at the event that also encompassed a service at Glasgow Cathedral and a march-past at the Cenotaph in George Square – where the wreaths were laid – Mr Miliband had a little more to say.
The Labour leader told reporters: "Young men from across Britain served alongside soldiers from across the world - from the Indian sub-continent to Africa, from Australia to the Caribbean.
"We must also remember those who served their country in other ways, from nurses who risked their lives on the Western Front to those who played their part on the Home Front."
The incident comes after Mr Miliband said that politics was being demeaned by "photo-op culture", but admitted that he can't compete with Mr Cameron on image.