Ed Miliband has refused to rule out Labour striking a post-election deal with the Scottish National Party if there were another hung parliament after the May general election.
During a visit to Glasgow, the Labour leader said his party did not want or need a deal with the SNP. He insisted: "I have only one focus, which is a majority Labour government. That is what I think the country needs and that's what all my focus and all my energy is on." 
He promised that Labour would have a separate Scottish manifesto north of the border.
Mr Miliband told the Scottish people the only way to remove David Cameron from Downing Street was to vote Labour. He said: "If you want change and you want this Tory government out, the only way to make that happen is to vote Labour. A vote for any other party is a risk you don't see the end of a Tory government."
The six-party election: key figures
The six-party election: key figures
1/12 Conservatives

2/12 Lynton Crosby (Con)

Chief election strategist

Rex

3/12 Labour

4/12 Lucy Powell (Lab)

Vice chair of general election campaign

5/12 Liberal Democrats

6/12 Paddy Ashdown (Lib Dem)

Campaign director

Getty

7/12 Ukip

8/12 Suzanne Evans (Ukip)

Deputy chairman

9/12 Greens

10/12 Chris Luffingham (Green)

Campaigns director

11/12 Scottish National Party

12/12 Angus Robertson (SNP)

General election director

PA
Although Labour officials insist the party would never seek a deal with the SNP, Mr Miliband appeared to adopt a softer line than Ed Balls, the shadow Chancellor. When he was asked the same question this week, Mr Balls replied: "No. And I don't think anybody is suggesting any suggestion of a deal with the SNP at all."
Nicola Sturgeon, the SNP leader, has ruled out a deal with the Conservatives but suggested that her party could support a minority Labour government in Commons votes. With the SNP threatening many of Labour's 41 Scottish seats, the Nationalists could hold the balance of power at Westminster after the May election.
The Conservatives seized on the Labour leader's remarks. A Tory source said: "Ed Miliband is desperate - he'll jump into bed with anyone."
Mr Miliband said the case for Labour's mansion tax on homes worth more than £2m was growing "stronger and stronger." He endorsed the pledge by Jim Murphy, Labour's new leader in Scotland, to use the proceeds to fund 1,000 nurses in Scotland. This has caused controversy in London, where most of the mansion tax revenue would be raised.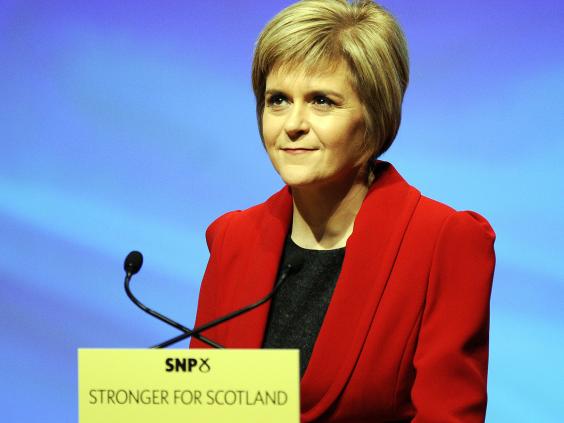 The Labour leader said: "Some of the powerful, the super rich and the famous are going to protest a lot more. But this week a house in London went on the market for £300m."
Mr Miliband promised that a Home Rule Bill would be put before Parliament within 100 days if he becomes the next prime minister to give Scotland the powers promised it on jobs, welfare and tax. Labour would immediately devolve the Work Programme for the jobless.
"Just as in 1997, devolution will be one of the first things on our agenda for the next Labour government," he said.
The SNP dismissed the idea that the Bill would amount to home rule as "laughable", saying that 70 per cent of taxation and 85 per cent of welfare spending would remain under Westminster's control. "Trying to claim that this is home rule could be reported under the Trade Descriptions Act for being completely untrue," said Stewart Hosie, the SNP's deputy leader.
In a party political broadcast tonight, Ms Sturgeon accused Labour and the Tories of being "joined at the hip". She said: "The fact is only the SNP will force Westminster to listen to the people of Scotland."
Reuse content