Ed Miliband appeared to ratchet up his rhetoric against The Daily Mail last night as he put his party on standby for a "big fight" with Fleet Street and insisted newspapers were "less powerful now than they were".
Speaking in London at a private dinner for party donors, the Labour leader called on his party to "fight back" against hostile newspaper coverage in the run-up to the 2015 election and "be willing to call these people out".
The comments, recorded at a dinner for donors in at a restaurant in Marylebone, come weeks after Mr Miliband sought a right-of-response to The Daily Mail after it twice published an article about his late father under the title: "The man who hated Britain." The newspaper has hitherto refused to apologise for the piece.
According to the Financial Times, Mr Miliband said last night:  "We've got to be willing to call these people out," and added: "They are less powerful than people ever thought and they are less powerful now than they were."
Publicly, the Labour leader has insisted his dispute with The Mail was about protecting his father's reputation and denied trying to exploit it to secure more favourable coverage in other papers. These latest remarks suggest he intends to take the opportunity send a wider message to Fleet Street.
The row overshadowed much of the Conservative party conference and led to cross-party condemnation from David Cameron and Nick Clegg. But Miliband allies believe he has improved his leadership credentials by standing up to "vested interests", and won sympathy from the most unlikely places, not least Mail readers themselves.
But it also comes at a delicate time for politicians and the press. Earlier this month the government presented a cross-party royal charter implementing principles of a voluntary system for press regulation. But it was bitterly opposed by numerous parts of the media with vehement debate likely to continue into next year.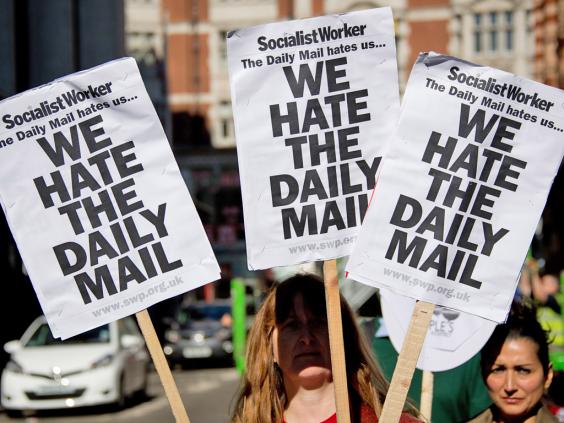 The Daily Mail's editor-in-chief has warned that "politicians must not be allowed anywhere near press regulation". Using the unlikely platform of the pages of The Guardian, he has appealed for the press to take a united front in opposing the interference of "those who rule us" in overseeing newspapers.
But Mr Miliband's words appeared to deliver an antithetical tone. "It is incredibly important that we fight back against them (hostile newspapers)," he said. "The only thing these people understand is people who are strong and will stand up to them and that is what we're going to do."