Pro-Europeans will this weekend launch a final push to ensure as many opponents of a hard Brexit as possible become MPs in next week's general election.
Open Britain, with 550,000 supporters the country's biggest pro-European campaign group, will appeal to voters to back candidates keeping an "open mind" on Brexit in case public opinion changes. It is targeting thousands of voters through social media and grassroots campaigning in key seats. 
The successor to the Remain camp in last year's referendum, which now urges a soft Brexit, wants the UK to retain close links to the EU and argues against leaving with "no deal", as Theresa May is prepared to do to avoid a "bad deal."
Open Britain is targeting three groups – Leave and Remain voters who accept the referendum result but are concerned about the effect on jobs; Remainers who still oppose Brexit; and young people concerned about Brexit's impact on their freedoms such as working, travelling and studying in Europe.
It declined to disclose its budget but it will run to thousands of pounds. Targeted ads in pro-Remain and marginally Leave areas, and other ads aimed at 18-26 year-olds, will reach one million people. National posts on social media channels have already been seen by 7.7 million people, a figure expected to rise to 10 million by next Thursday. Some 11 million people will have seen a graphic from the group by then.
The constituencies most targeted on social media are Esher and Walton; Altrincham and Sale West; Wokingham; York Outer; Chingford and Woodford Green; Enfield Southgate; Chipping Barnet; Lewes; Bristol North West; Hendon and Wycombe – all held by the Conservatives. 
A "don't write the Government a blank cheque on Brexit" graphic targets Bath, Bristol, Cambridge, London and Oxford. A "this is a Brexit election" message is running in Durham, Leeds, Nottingham, Plymouth and Sheffield, while a video aimed at young adults targets  Bristol, Canterbury, Leeds, Nottingham and Reading.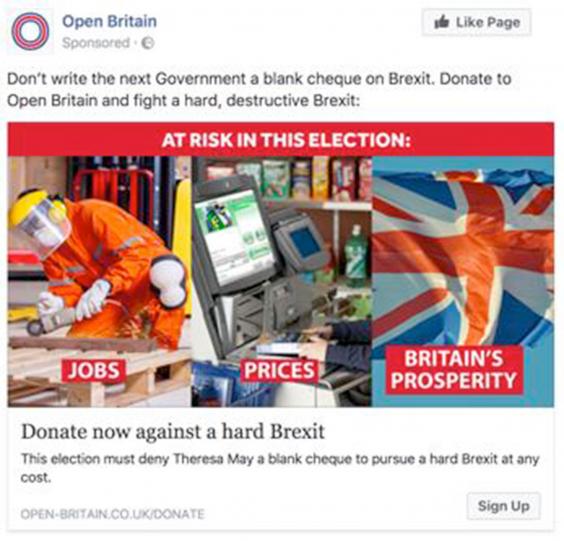 The group's "key seats" strategy urges its supporters to campaign for candidates who keep an open mind on  Brexit in seats near where the supporters live.
However, the campaign ran into controversy when its Conservative supporters withdrew their backing for Open Britain in protest at what they saw as an anti-Tory move. They included the former ministers Nicky Morgan, Anna Soubry and Dominic Grieve.
Tory sources believe the campaign will have limited impact, and accuse the group of refusing to accept the referendum verdict. They point to the Liberal Democrats' failure to improve their opinion poll ratings – currently averaging 8 per cent, their same share of the vote at the 2015 election – despite targeting the 48 per cent who voted Remain in last year's referendum. A YouGov survey found that only 22 per cent now oppose Brexit, while a total of 68 per cent of Leavers and former Remainers now want the Government to "get on with it". 
Tory hopes of winning the votes of Leave supporters have also been boosted by Ukip's decision to contest only 378 seats – down from 624 at the  2015 election.
Joe Carberry, co-executive director of Open Britain, who will leave the group this month for a new role in the private sector, said: "Through social media and local campaigning we've been urging pro-European activists across the country to make their voices heard. The Government perpetuates the lie that Brexit is cost-free, but already this is starting to unravel. Brexit gains will be shown to be fictional and the costs substantial, not least because of decisions this government has taken, which is why many will want to support candidates who will hold them to account."
He added: "The Tories' catastrophic campaign has undermined confidence in their ability to conduct Brexit negotiations, so denying them a blank cheque is essential. The main pro-European groups, such as Open Britain, will have a vital role in this at this election and beyond."
Reuse content