David Cameron will never campaign to leave the European Union even though he has threatened to call for an Out vote in the referendum, Lord Heseltine has suggested.
The Conservative former Deputy Prime Minister, a prominent pro-European, told BBC Radio 5 Live: "No, I don't see that he would. He has made his intentions pretty clear, he wants to secure arrangements he can recommend to the British people."
His intervention could harm Mr Cameron's attempt to wring concessions from Britain's EU partners ahead of the in/out referendum to be held by 2017. Although opinion polls show the British public split down the middle on whether to remain or leave, some EU leaders believe the UK would not be "mad enough" to quit and do not take the Prime Minister's warning seriously.
On 4 October Mr Cameron insisted he could not guarantee that he would campaign for an In vote unless he wins a better deal for Britain. He told the BBC's Andrew Marr Show: "If I don't get what I want, I rule nothing out."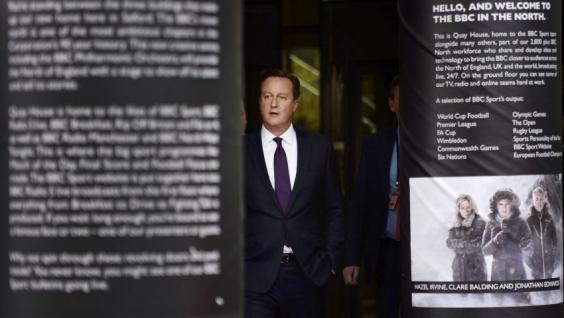 Mr Cameron argued that a "reformed Europe"  would offer  "the best of both worlds" where Britain can access the single market without giving up its border controls, and people would pay into the welfare system before drawing benefits.
He added: "Right now I'm fighting to get these things and I can't guarantee I will get them." On the Eurosceptics within his own party, he said: "There is nothing I'm going to bring back to satisfy those people. In the end it is going to be for the British people to decide."
Divisions over EU membership threaten to overshadow the Tory conference in Manchester. Downing Street has told Eurosceptic ministers not to rock the boat by saying that they might join the Out camp. "We are in the renegotiation phase and all ministers must remember that," said one Cameron ally.
 After the  Number 10 edict, Sajid Javid, the Business Secretary, pulled out of a conference fringe meeting staged by the Business for Britain group, which will be part of the Out campaign. Tory officials denied he had been muzzled. He  blamed a dairy clash, adding: "What we've been told as a government is to make sure we all work together, rightly so, to get the changes the British people want to see." 
David Cameron: You Ask The Questions
Steve Baker,  an MP who chairs the Conservatives for Britain group, said ministers should be free to urge an Out vote when the referendum came. Mr Cameron will consider relaxing the rules on collective responsibility for the referendum campaign.
Philip Hammond, the Foreign Secretary, told the conference that Mr Cameron would have to secure "genuine and irreversible change". He added: "It's got to be a deal that will stand up to the toughest scrutiny of all - the verdict of the British people in that referendum." He predicted: "We will secure a deal because our European neighbours understand the value Britain adds to the EU and that keeping us there requires real change."  
Reuse content