The Tory civil war over Europe has intensified as ministers rounded on Iain Duncan Smith over a series of provocative attacks on the Government.
The Work and Pensions Secretary has sparked fury in Downing Street after launching a sustained media assault on the Prime Minister's campaign to keep Britain in the EU – including allegations the Government produced a "dodgy dossier" about the UK's future in the event of a Brexit.
In an interview with The Independent on Sunday, the Education Secretary Nicky Morgan singled out Mr Duncan Smith for criticism over the remark, warning that women voters will swing behind EU membership as long as such attacks continue. She said she had been approached by constituents saying: "What kind of language is that?"
Another minister, who did not wish to be named, slammed Mr Duncan Smith for using language "resonant of the Iraq war" to attack the Government. The minister warned that the referendum must not be allowed to "dominate everything else".
The warning came amid claims that backbench Eurosceptics furious with David Cameron over his handling of the referendum campaign are refusing to back ministers on key government business. 
George Osborne has been forced to drop plans for a tax raid on wealthy savers – by introducing a flat rate of pension tax relief – after an outcry from Tory MPs. The Government is also facing a major rebellion this week over plans to relax Sunday trading laws.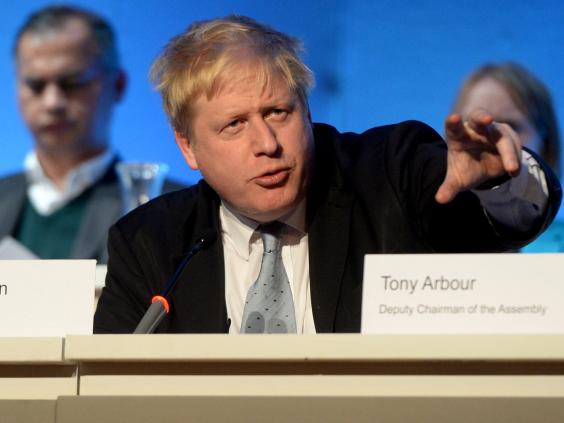 It is the latest sign that the EU referendum has led to a major breakdown in party discipline. Ministers have already been forced to kick the controversial obesity strategy into the long grass, alongside other fractious issues including a proposed British bill of rights, the renewal of Trident and Heathrow's expansion. The entire Queen's Speech – setting out the Government's programme – could also be delayed until after the 23 June poll.
While the Government's official position is for Britain to remain a member of the EU, ministers have been given the freedom to campaign to leave. About half of the Conservative Party's MPs – including London Mayor Boris Johnson and five cabinet ministers – are supporting a British exit.
Mr Duncan Smith has been the most outspoken cabinet critic of the Government's position, attacking the "desperate and unsubstantiated claims" of the Remain campaign which he claimed would "damage the very integrity of those who make them in the eyes of the public". He has accused the Government of launching "Project Fear" to scare people into voting to remain. Mr Duncan Smith has also warned that a vote to remain would increase the likelihood of a Paris-style attack in the UK. 
What's the European Parliament ever done for us?
What's the European Parliament ever done for us?
1/5 A cap on the amount of hours an employer can make you work

The Working Time directive provides legal standards to ensure the health and safety of employees in Europe. Among the many rules are a working week of a maximum 48 hours, including overtime, a daily rest period of 11 hours in every 24, a break if a person works for six hours or more, and one day off in every seven. It also includes provisions for paid annual leave of at least four weeks every year

Getty Images

2/5 Helping the people of Britain to avoid smoking

In 2014 MEPs passed the Tobacco Products Directive strengthening existing rules on the manufacture, production and presentation of tobacco products. This includes things like reduced branding, restrictions on products containing flavoured tobacco, health warnings on cigarette packets and provisions for e-cigarettes to ensure they are safe

3/5 Helping you to make the right choices with your food

Thanks to the European Parliament, UK consumers have access to more information than ever about their food and drink. This includes amount of fat, and how much of it is saturated, carbohydrates, sugars, protein and so on. It also includes portion sizes and guideline daily amount information so people can make informed choices about their diet. All facts must be clear and easy to understand

4/5 Two year guarantees and 14-day returns policy for all products

Consumers across the EU have access to a number of rights, from things which are potentially very useful, to things which used to be annoying. For example, shoppers in the UK receive a two-year guarantee on all products, and a 14-day period to change their minds and return a purchase, these things are useful

www.PeopleImages.com-licence restrictions apply

5/5 Keeping your air nice and fresh (and safe)

Believe it or not, although the situation is improving, some areas of the UK have appalling air quality. A report by the Royal College of Physicians released on 23 February says 40,000 deaths are caused by outdoor air pollution in the UK every year. Air pollution is linked to a number of illnesses and conditions, from Asthma to diabetes and dementia. The report estimates the costs to British business and the health service add up to £20 billion every year
Speaking to The IoS, Ms Morgan said such attacks would backfire. She said: "I had a conversation with some businesswomen in my constituency. They said, that bloke who talks about the dodgy dossier – Iain Duncan Smith – they said what kind of language is that? That's not going to tell us anything about the debate.
"Aggression always appeals to a certain type of person in politics, but my experience is it doesn't appeal to women. I think, actually, saying these phrases like 'dodgy dossiers' and asking about 'project fear' completely misses the point."
She also dismissed the impact Boris Johnson would have on the referendum. Ms Morgan said: "I can tell you nobody in Loughborough has talked to me about Boris Johnson's position."
A government source told The IoS: "If you are talking about 'project fear', you've got IDS talking about Paris-style attacks. He's not being straight with the public about how the UK outside Europe works."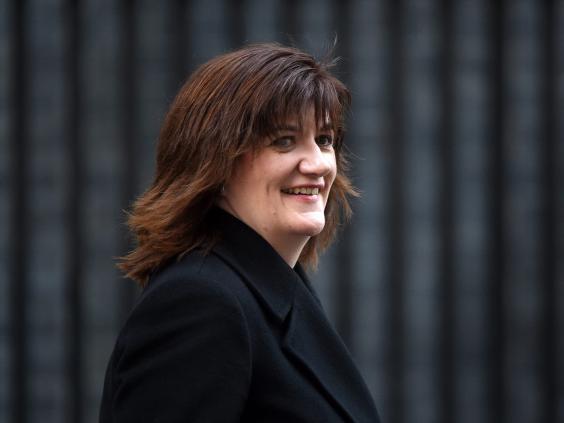 A senior source in the Remain campaign added: "We are making serious points, but they just scream 'project fear'. Rather than presenting themselves as victims, they need to answer tough questions, because this decision will have an impact on people's lives. The more they say 'project fear', the clearer it is they don't have an answer."
One minister, speaking anonymously, said: "Remember what we said at the start – that we would treat each other with respect and we would treat the people with respect. There's no need to start whingeing about the Government's position or to use language that's resonant of the Iraq war. You may disagree with the conclusion but that doesn't mean you should suggest people are dishonest. 
"We must not let the debate dominate everything else. The whole point about the referendum was to open this out widely and not focus on ourselves. There are a number of individuals who don't like the Prime Minister for whatever reason and are using it as a revenge match. Colleagues will remember this and won't forgive them if they use it as a personal vendetta."
It was announced on 5 March that the John Longworth, the director-general of the British Chambers of Commerce (BCC) has been temporarily suspended over his comment last week that Britain's long-term prospects could be "brighter" outside the EU. The BCC has said it will not campaign for either side as its membership is split on the issue.
Reuse content