Families still have less money to spend than when David Cameron came to office in 2010, although average living standards have returned to pre-recession levels of seven years ago, a report shows.
The disclosure that overall incomes are steadily recovering after years of being squeezed will be hailed by the Coalition as further evidence that its tough economic medicine is working.
However, the analysis by the Institute for Fiscal Studies (IFS) shows the recovery has been very slow and families remain extremely cautious about spending.
It also says average households are still more than 2 per cent worse off than at the last election and calculates that working-age adults have fared worse than pensioners.
The downturn began seven years ago when banks were forced to ask for emergency help from the taxpayer, but incomes continued growing slowly in 2008-09 and 2009-10 because of efforts by the last government to stimulate the economy. Average incomes then slid by 4 per cent over the next two years as the Coalition introduced austerity measures in an attempt to cut the national deficit.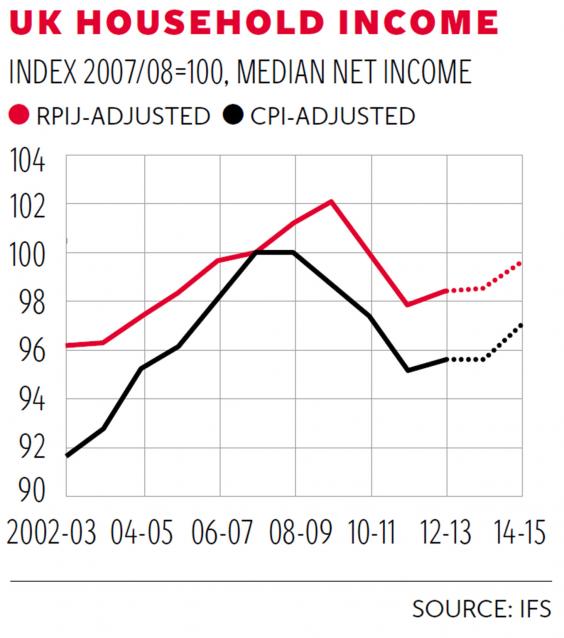 The recovery in living standards that followed has been anaemic, with average incomes edging up by less than 2 per cent in three years and with a lot of lost ground to make up.
In an election briefing note, the IFS said the recovery in living standards was strengthening thanks to falling inflation and growing employment. It calculated that average household income will have grown by 1.1 per cent during this financial year.
However, the IFS also stressed the sluggishness of the recovery, with incomes growing by just 1.8 per cent between 2011-12 and 2014-15, much more slowly than after the recessions of the 1980s and 1990s. It attributed the slow growth to flat wages, tax increases and benefits cuts.
The report's co-author, Andrew Hood, a research economist at the IFS, said: "After large falls and a historically slow recovery, average household income is now back to around its pre-crisis level.
"However, the young have done much worse than the old, those on higher incomes somewhat worse than those on lower incomes and those with children better than those without."
Reuse content