The leader of Ukip Nigel Farage totally disowned one of his party's key election policies on Sunday – less than 48 hours after it was announced.
On Friday Ukip's economic spokesman and key Farage ally Patrick O'Flynn suggested the party would levy a "luxury goods tax" on items such as designer shoes and handbags.
The idea was to introduce a 25 per cent VAT rate for top-end goods to appeal to Labour voters and was the centre-piece announcement at Ukip's annual party conference in Doncaster.
But today Mr Farage killed off the idea, saying bluntly it "isn't going to happen".
In pictures: The rise of Ukip
In pictures: The rise of Ukip
1/8 1993: Alan Sked forms Ukip

History professor Alan Sked had been active in anti-EU politics for a while beore he founded Ukip in 1993. He resigned from the party after the 1997 election, concerned that it was attracting far-right members, and has been critical of Ukip since. Picture: Reuters

Reuters

2/8 2005: Kilroy defects

Former TV presenter Robert Kilroy-Silk founded Veritas in 2005, after a failed bid to become leader, and took many of Ukip's elected members with him. But the party slowly lost its popularity and didn't put forward any candidates in the last election. Picture: REUTERS/Kieran Doherty REUTERS KD/RUS

3/8 2010: Farage becomes leader, again

Farage had led Ukip from 2006 until 2009, when he stood down to fight against the Speaker, John Bercow, for his Buckingham seat. He failed to win the election and returned to lead the party in November 2010. Picture: REUTERS/Kieran Doherty

REUTERS/Kieran Doherty

4/8 2010: Ukip fights for election

Nigel Farage was injured in a plane crash on polling day in the 2010 general election, but his party increased its success in the votes. It fielded 572 candidates and took 3.1% of the vote, though failed to win any seats. REUTERS/Darren Staples

REUTERS/Darren Staples

5/8 2013: Eastleigh gains

Ukip's candidate Diane James got the highest ever number of votes for any candidate from the party, but was beaten by the Liberal Democrats. The surge in support gave Ukip confidence ahead of local and European elections later in the year. Picture: Reuters

6/8 2013: Bloom kicked out

Godfrey Bloom, who served as an Ukip MEP from 2004 to 2014, had the whip withdrawn in 2013 after sexist comments and an attack on a journalist. He sat as an independent MEP until 2014, when he ended his term in office. Picture: REUTERS/Luke MacGregor

7/8 2014: European election success

Ukip got a higher proportion of the vote than any other party in 2014's European elections, adding 11 new MEPs and taking its total to 24. REUTERS/Luke MacGregor

8/8 2014: Carswell defects

Douglas Carswell defected from Ukip at the end of August, and was followed by Mark Reckless at the end of September, who resigned from the Tories amid rumours of many more defections to come. Picture: REUTERS/Toby Melville
"I am very happy to give the freedom to our spokesmen and spokeswomen to float ideas but I'm pretty certain that while I'm leader that will not be in our manifesto," he said in an interview with BBC1's The Andrew Marr Show.
"As far as I am concerned it's dead. It was a discussion point yesterday. It isn't going to happen."
The abrupt U-turn raises serious questions about Ukip's policy making process as it attempt to move from being a party of protest to one which they hope can challenge both Labour and the Conservatives in the next election.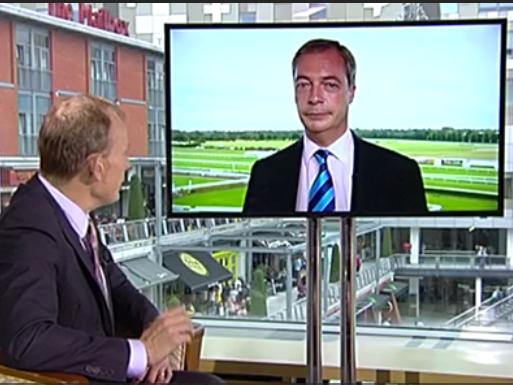 Mr Farage may have buckled to pressure from new Tory defectors Douglas Carswell and Mark Reckless to dump the plan. Both are on the right of the Tories and would find it hard to back a policy that would increase taxation. He may also fear the policy will put off other potential Tory defectors.
Ukip chairman Steve Crowther tried to claim that part of the party's appeal was that it was "shambolic" and did not attempt to be as slick as its rivals.
He told BBC Radio 5 Live's Pienaar's Politics: "My feeling is we have to clearly make clear that we are capable of having ideas and being able to deal with all of the aspects of government that we might be asked to deal with following the next general election, and we do that.
"But if sometimes we are a little bit hard-edged or sometimes we stub our toe, I don't think that's a problem.
"It's part of our brand, frankly, it's part of what Ukip is."
He added: "I haven't said being shambolic is something I wish to boast about."
But he continued: "I believe that it is true that Ukip is ... liked by its electorate because it is not always as slick and as polished as the other political parties.
"I think it's very important. It is the slick polish and nothing ever apparently going wrong, that leads to, frankly, torpedoes hitting you below the waterline."
Reuse content