David Cameron performed a major U-turn after telling ministers they would be sacked if they refused to back Britain's continued membership of the EU in the referendum he will hold before the end of 2017.
Downing Street has insisted he was only referring to the renegotiation phase when he said ministers must back him or resign.
No decision had been made on whether ministers would be bound by unity during the referendum campaign itself, the Prime Minister's spokeswoman said, claiming the media had "over-interpreted" his words.
But Mr Cameron's remarks were not exactly ambiguous - here they are in full: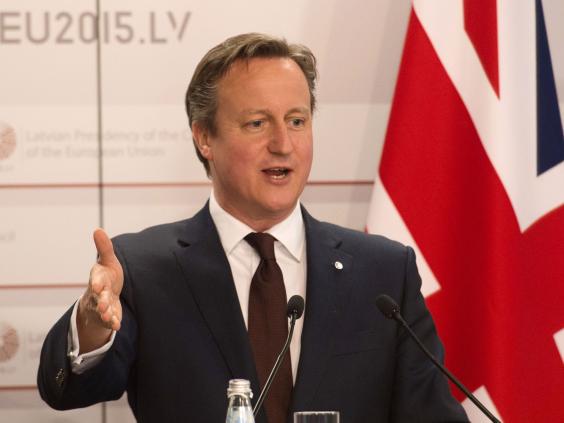 Speaking to journalists at the G7 summit at Schloss Elmau in Germany, Mr Cameron said: "Everyone in government has signed up to the programme set out in the Conservative manifesto.
"I am carrying out a renegotiation in the national interest to get a result that I believe will be in the national interest. I'm confident I can get that."
Question: On the EU referendum, have you absolutely closed your mind to allowing ministers a free vote? That's a no-no?
PM:  I've been very clear, which is I've said that if you want to be part of the government, you have to take the view that we are engaged in an exercise of renegotiation to have a referendum, and that will lead to a successful outcome.
Question: So anyone in government who opposes that will have to resign?
PM: Everyone in government has signed up to the programme set out in the Conservative manifesto. Thank you. See you all later. Enjoy the mountain.
His words were backed up by communities minister James Wharton this morning:
"If the Government is taking a Government position, if collective responsibility is applied, if you don't want to support that position, you have to leave. You are then free to campaign for whatever you want, to vote however you want.
"If we get to a position where the Government's position is that this renegotiation has been successful - and the details will be there for all to see at that point - then it is reasonable to expect that collective responsibility will apply."
But it all changed when the Prime Minister's official spokeswoman told journalists they had "over-interpreted" Mr Cameron's words.
"The Prime Minister was clearly talking yesterday about the position of collective responsibility during the renegotiation - a position the PM has set out previously, including in the House during the Queen's Speech debate.
Asked whether ministers would be bound by collective government responsibility during the referendum campaign itself, she said: "He has not set that out and we are not getting into any hypotheticals on the approach to the referendum."
Appointments in David Cameron's Tory government
Appointments in David Cameron's Tory government
1/7 Amber Rudd: Energy and Climate Change Secretary

Wins a big promotion after increasing her majority in Hastings and Rye despite once describing her constituency as a "bit depressing". The former banker and financial journalist is considered a moderate Eurosceptic

2/7 Priti Patel: Employment Minister (attending Cabinet)

Former party press officer and now the Witham  MP is rewarded for her  forceful performances  during the election campaign. She is on the right of the party and a Eurosceptic.  Ms Patel has called for the return of hanging

3/7 John Whittingdale: Culture Secretary

Having never been a minister in his 23 years as an MP John Whittingdale's elevation to the Cabinet is meteoric. But his appointment sends a message to Tory backbenchers that preferment is possible even for those who may have given up hope (and be tempted to rebel)

Getty

4/7 Anna Soubry: Minister for Small Business

Not long ago the former defence minister feared she would not even be an MP but now she has a key role in the Department for Business and the right to attend Cabinet

5/7 Sajid Javid: Business Secretary

Rising star tipped as Britain's first prime minister from an ethnic minority. Son of a bus driver, he grew up in two-bedroom flat in Bristol. After university he joined Deutsche Bank. Parliamentary aide to George Osborne before becoming Treasury minister and Culture Secretary

6/7 Greg Clark: Communities Secretary

Thoughtful moderniser who grew up in Middlesbrough where his father and grandfather were milkmen.  Was a special adviser before entering Parliament in 2005. In previous ministerial posts he drew up plans to devolve powers to cities

7/7 Matthew Hancock: Cabinet Office minister and Paymaster General

A former aide to George Osborne before becoming an MP in 2010 election. Hancock has had a meteoric ministerial rise
Reuse content