Nigel Farage unveiled Ukip's five-point pledge card today but there was a glaring omission: the word 'immigration'.
There was plenty of room for his face though and he was surrounded by pictures of himself as he launched Ukip's election campaign in central London.
There was also a notable absentee – Ukip's first elected MP Douglas Carswell. The party rolled out its other big stars - its other MP Mark Reckless and a number of its MEPs, including Patrick O'Flynn and the party's deputy chair Suzanne Evans.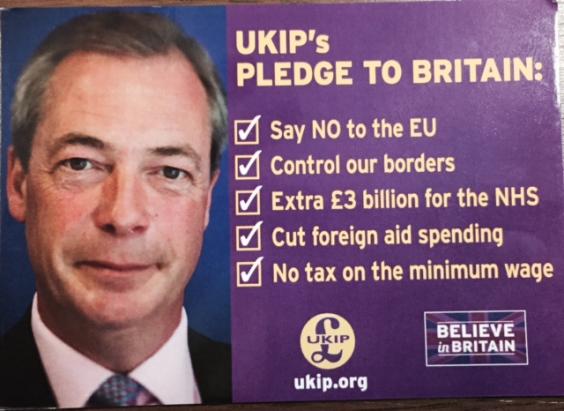 Mr Farage brushed both omissions aside, claiming "people aren't obsessed with immigration" and said Mr Carswell was campaigning in his Clacton constituency.
But it was odd that Mr Carswell would choose to miss the party's big campaign launch and it will fuel rumours he is at odds with Mr Farage, after last month saying immigration was "overwhelmingly a story of success" in Britain.
And it was also a notable omission considering Mr Farage has insisted he wants to change the perception that Ukip is a one-man band. Many see Mr Carswell as the kind of charismatic politician who could take over from Mr Farage if and when he decides to step aside.
Deciding to surround himself with at least seven pictures of himself at today's photo opportunity did nothing to dispel that perception of Ukip as a one-trick pony.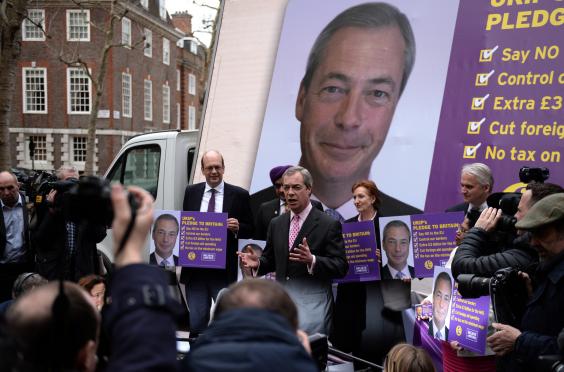 Perhaps Mr Carswell influenced the decision to exclude the word 'immigration' from the party's pledge card.
Instead it includes a vow to "control our borders".
Asked about the omission, Mr Farage said: "Control of our borders, that's what people want. People aren't obsessed with immigration as a subject; what they're worried about is a change in their community, the deflation of their income, their lack of availability to health services, education services and our emphasis is we want an Australian points system to control our borders once we've got back control of our borders – it's as simple as that."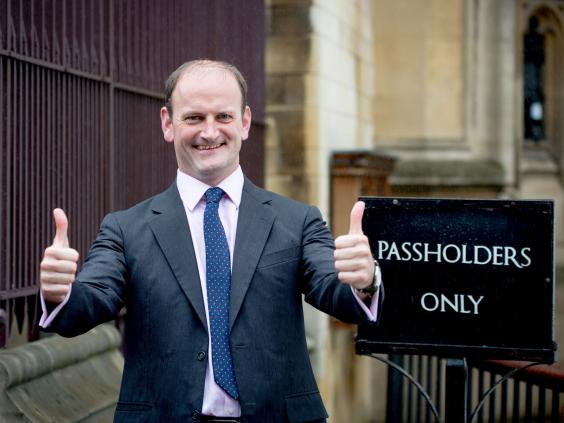 The party launched its campaign in Westminster, despite Mr Farage railing against the "Westminster bubble".
Its four other pledges are: exiting the EU, an extra £3 billion for the NHS, a big cut in foreign aid spending and abolishing tax on the minimum wage.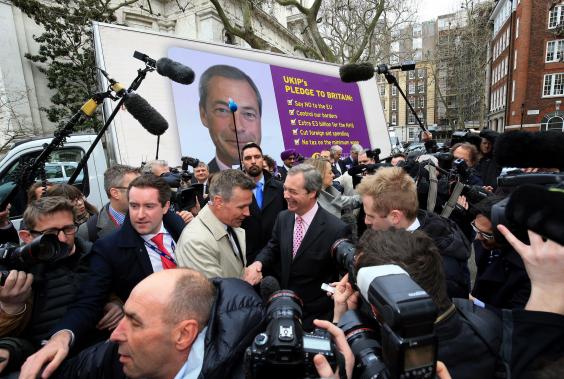 Launching the pledge card, Mr Farage said: "The great British public understand that as members of the European Union the so-called British passports, which incidentally the first two words of which are European Union, is now something nearly half a billion people effectively have.
"You cannot have an immigration policy, you cannot control numbers as members of the European Union. People get that."
Ukip gaffes and controversies
Ukip gaffes and controversies
1/18 European elections poster

Party's latest EU election posters branded 'racist' and compared to BNP campaigns

Rex

2/18 Farage 'car-crash' interview

Ukip spin doctor forced to intervene as Farage falters in disastrous radio interview

3/18 Neil Hamilton

Picture Exclusive: The year is 1998. The venue is a Springbok Club meeting. The flag is a symbol for white supremacists in South Africa. And the speaker is Ukip's deputy chairman, Neil Hamilton

4/18 Kerry Smith

Kerry Smith resigned as would-be MP for South Basildon and East Thurrock after it emerged he had mocked gay party members as "disgusting poofters", joked about shooting people from Chigwell in a "peasant hunt" and referred to someone with a Chinese name as a "Chinky bird"

PA

5/18 Natasha Bolter

Former Ukip member Natasha Bolter was suspected of not having the teaching qualifications she professed to, only days after it was revealed that claims of her having attended Oxford University were also false

PA

6/18 Ukip Calypso song

Mike Reid released a single in praise of UKIP trying to control the UK's borders, only to withdraw the single after being accused of racism for singing in a Jamaican accent

7/18 Janice Atkinson

Janice Atkinson, Ukip's South East chair, pictured by protesters while campaigning in Ashford, Kent with local party chair Norman Taylor

Facebook/Maria Pizzey

8/18 Ukip cancels Freephone

Ukip cancels Freephone number after protesters repeatedly called to push up costs

Getty Images

9/18 Farage 'car-crash' interview

Mr Farage appeared to be caught out on a number of issues, from Romanian neighbours to people speaking foreign languages on the train

10/18 Ukip employs illegal immigrants

Ukip criticised after European election candidate found employing illegal immigrants

AP

11/18 Magnus Nielsen

Ukip candidate: 'Take away the right to vote to improve election turnout'

Getty Images

12/18 Poster model

A "British builder" portrayed in a Ukip poster accusing EU workers of taking UK jobs turns out to be an Irish actor - aka a migrant worker

13/18 'Arrest protesters'

Ukip called for police to arrest protesters 'who call us fascists' ahead of showdown with anti-fascist groups in Brighton

14/18 London Live make-up

Ukip's Nigel Farage reportedly refused to go on London Live 'without professional make up-artist'

Reuters

15/18 Andre Lampitt

Ukip forced to suspend the "poster boy" of its European election broadcast, after it was revealed he had posted a series of vile racist comments on Twitter

16/18 Expenses

Nigel Farage says he is taking taking legal advice over "outrageous" allegations that he is responsible for more than £50,000 of "missing" EU funding that was paid directly into his personal bank account

17/18 Have I Got News For You

Nigel Farage appears in Have I Got News For You, spends the entire episode being ridiculed over expenses and party 'fruitcakes'

BBC

18/18 Anti-gay comments

Local branch chairman for Ukip defends a party's councillor candidate Douglas Denny who called gay people "abnormal" and said he wished "they stop trying to ram it down my throat", all while discussing whether the word "sodomite" should be used
Asked about the danger his party is seen as a one-man band, Mr Farage said: "The thing about Ukip is we have become the most eclectic, diverse political party.
"We've got all shades of opinion, we've got people from the left, people from the right, people of all ages, all classes, all races.
"We are quite reflective I think now as a party of what modern Britain is."
Reuse content