David Cameron unexpectedly ruled out raising VAT and the Labour leadership promised not to increase National Insurance rates as tax dominated the final parliamentary skirmishes before the general election.
Tory and Labour chiefs moved to deny their opponents potentially lethal ammunition in a campaign in which each will accuse the other of planning a "tax bombshell" after the election.
But the tit-for-tat declarations will leave both parties facing fresh questions over the credibility of their promises to balance the nation's books.
Ed Miliband had opened his attack at Prime Minister's Questions yesterday with a challenge to Mr Cameron to give a "straight answer" over whether he would raise VAT if he won the election.
Mr Cameron surprised him by simply replying: "Straight questions deserve straight answers, and the answer is yes."
Election Analysis: The Key Voters
Election Analysis: The Key Voters
1/6 Settled Silvers

These are the comfortably-off over-60s, still in work or drawing a decent pension – or both – who are enjoying their entitlements such as the Winter Fuel Allowance, free bus passes and free TV licence. They are worried about immigration and Europe. Both the Conservatives – who are pledging to keep benefits for wealthier pensioners – and Ukip want their votes

Micha Theiner

2/6 Squeezed Semis

Slightly older than the Harassed Hipsters, they are the second key group for Labour's family-focused election strategy. They are married couples on low to middle incomes who own unpretentious semi-detached homes in suburban areas. In 2001, these were the Pebbledash People sought by the Conservatives. Now the pebbledash is gone and a modest conservatory has been built at the back

Micha Theiner

3/6 Aldi Woman

In 1997 and 2001 she was Worcester Woman – a middle-class Middle Englander shopping at Marks & Spencer and Waitrose. Today, the age of austerity means she still goes to Waitrose for her basic food shop but cannily switches to Aldi for her luxury bargains such as Parma ham and prosecco. Identified by Caroline Flint, she is a key target of both Labour and the Conservatives

Micha Theiner

4/6 Glass Ceiling Woman

In her thirties or forties, she has an established career under her belt, perhaps in the "marzipan layer" – one position below the still male-dominated senior executive level. She is now, according to Nick Clegg, forced into making the "heart-breaking choice" between staying at home to bring up her children and going to work and forking out for high-cost, round-the-clock childcare

5/6 Harassed Hipsters

One of the two key groups identified by Labour as crucial to hand Ed Miliband the keys to Downing Street. Well-paid professional couples, often with children, they live in diverse urban and metropolitan areas rather than the suburbs. More comfortably off than most swing voters, they are time poor – struggling to balance raising a young family with busy work schedules

Micha Theiner

6/6 Neo-Greens

These are mainly first-time voters, though some are in their twenties – students and digital-age generation renters helping to fuel the "Green Surge". Idealists, but with no tribal loyalty to any party, they are anti-austerity, middle class, living in urban areas. Despite studying at university or recently graduated, they are struggling to find decent jobs and want cheaper housing and a higher minimum wage

Micha Theiner
The Chancellor, George Osborne, had sidestepped the same question five times less than 24 hours earlier when he appeared before the Commons treasury select committee.
His prevarication coincided with the launch of a Labour poster campaign claiming a Cameron government planned to increase VAT to pay spending cuts.
In raucous scenes, the Prime Minister then sought to turn the tables on the Labour leader by asking him to provide a similarly categorical assurance that his party would leave NI rates untouched after the election. Mr Miliband refused to do so, leading the Prime Minister to accuse the opposition of plotting a secret "jobs tax" to raise cash for its spending plans.
"This is their tax of choice, this is what they clobber working people, families, enterprises with," Mr Cameron told MPs.
Labour sources were later only able to say the party had "no need" to increase NI because its policies were fully funded.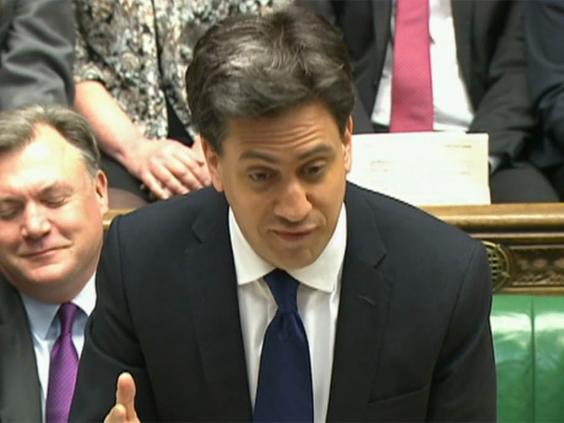 However, less than an hour had elapsed before the shadow Chancellor Ed Balls produced the form of words that the party leader had avoided in the Commons clashes.
Mr Balls said: "We will make it clear in the manifesto Labour will not be raising National Insurance. That will be a clear pledge from us."
He also stressed that Labour would not increase the basic or higher rate of income tax or the main rate of VAT.
Mr Balls claimed the Conservative announcement had been made in panic and would not be believed by the voters.
Later Labour insisted it would press on with its campaign, accusing Mr Cameron – and earlier Tory leaders – of breaking promises not to increase VAT.
Conservative sources confirmed the Prime Minister had ruled out raising VAT from its current rate of 20 per cent for the entire five-year lifetime of a parliament.
The party's chairman, Grant Shapps, claimed Labour was "in chaos over tax", citing the different answers on NI produced by Mr Miliband and Mr Balls. He said Labour would have to find £15bn in tax rises to meet its promises to reduce the deficit.
"It's becoming clearer by the day that Ed Miliband has a secret plan for a new jobs tax and other higher taxes on hard-working people.
"Labour did it before and they'll do it again," Mr Shapps said.
Reuse content