Nigel Farage lets rip the deepest of guffaws, cigarette nearly slipping from his fingers: "It's very funny! Haven't they got better things to do?"
About 20 yards from Ukip's purple-painted headquarters in the Grade II-listed high street of Rochester in Kent, where the party raises funds selling purple-and-yellow branded rock at £1 a stick, Europhile Conservative MPs are lunching at the George Vaults pub.
Sir George Young, the former Tory chief whip, sips a pint of lager as he claims: "Half-a-dozen Conservative MPs coming down here to campaign sends a signal to the local party that we're taking this seat really seriously."
Rochester and Strood was the second of two seats the Tories lost in quick succession last year. In October, former Tory Douglas Carswell defected to Ukip and regained Clacton in Essex with nearly 60 per cent of the vote, while Mark Reckless won under his new banner with a 2,930 majority the following month.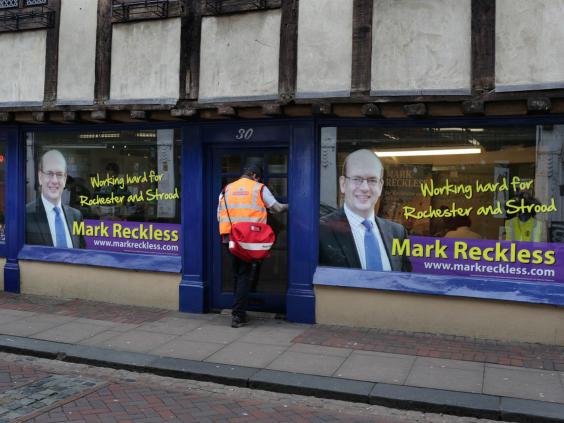 The results confirmed Ukip as an electoral force – and a threat to Conservative hopes in May's general election. Sir George says that the Tories need to win Rochester if they want an outright majority. 
Mr Farage giggles that Mr Reckless won the by-election despite "having the kitchen sink thrown at him". This claim seems fair given the hundreds of Conservative MPs and senior activists whose names emblazon a whiteboard at Rochester's Conservative shop at the other end of the high street, marking who has campaigned in the constituency since Mr Reckless defected in September.
The signatories include Cabinet members Nicky Morgan, Michael Fallon and Liz Truss. After this visit, Sir George's name is marked "x4".
The Conservatives have held campaigning MP away-days in marginal South-east seats every Thursday for weeks. Zombie parliament that it has become, not much happens in Westminster on a Thursday any more, but what was unusual last week was that there was a Budget to debate. Yet here is Sir Tony Baldry, who speaks for the Church of England in the Commons, being ordered to "get off my step" by the irritated resident of the first door he knocks on. Harriett   Baldwin, a junior whip, hand-writes envelopes to constituents who she hopes will be won over by the personal touch.
In pictures: Rochester by-election
In pictures: Rochester by-election
1/15 Rochester by-election

Counting gets under way for the Rochester and Strood constituency by-election held at Medway Park, Gillingham, Kent

2/15 Rochester by-election

Nigel Farage and members of the UKIP team celebrate after Mark Reckless won the Rochester and Strood by-election at Medway Park, Gillingham near Rochester, Kent

3/15 Rochester by-election

Howling Laud Hope, leader of the Official Monster Raving Loony Party (R) awaits for the by election results in Medway, Gillingham Rochester, Kent

4/15 Rochester by-election

Kelly Tolhurst, the Conservative Party's candidate in the Rochester's by-election, walks down the town's high street on polling day, in southern England

5/15 Rochester by-election

Gulpreet Baines (18) sets fire to a United Kingdom Independence Party (UKIP) rosette, on polling day in Rochester's by-election

6/15 Rochester by-election

Naushabah Khan, Labour Candidate for the Rochester and Strood by-election is joined by shadow transport secretary Michael Dugher in Rochester on the final day of campaigning ahead of by-election

7/15 Rochester by-election

UKIP supporter Graham Harper and his dog Roquie carry a electoral poster supporting UK Independence Party (UKIP) parliamentary candidate Mark Reckless in Rochester, Kent ahead of the by-election poll

8/15 Rochester by-election

A customer poll of sweets purchased in favour of the party's contesting the Rochester and Strood by-elecction on display in the Sweet Expectations Sweet Shop in Rochester, Kent, on the final day of campaigning before the by-election later this week

9/15 Rochester by-election

David Cameron and Conservative Party candidate for Rochester and Strood, Kelly Tolhurst, talk to Mick Parks, Workshop Foreman at MCL Mechanical near Rochester, Kent, southern England, during a visit ahead of the by-election

10/15 Rochester by-election

People stand holding placards against the Britain First party who held a march in Rochester, southeastern England

11/15 Rochester by-election

Britain First march through Rochester

Justin Sutcliffe

12/15 Rochester by-election

UKIP parliamentary candidate Mark Reckless campaigns in Rochester on November 4, 2014

Rob Stothard/Getty Images

13/15 Rochester by-election

Ed Miliband campaigns with Yvette Cooper (left) and Naushabah Khan before the Rochester and Strood by-election

Ben A. Pruchnie/Getty Images

14/15 Rochester by-election

The Britain First march was met by vociferous counter protest

Justin Sutcliffe

15/15 Rochester by-election

A UKIP office in Rochester. Rochester and Strood will hold a by-election on November 20th following the defection of Conservative Party Member of Parliament, Mark Reckless to UKIP

Rob Stothard/Getty Images
Told that Sir George had spoken to only about eight people after knocking on 80 doors that morning, Mr Farage sniggers: "Of course, everyone will be out!" He has a point. Kelly Tolhurst, the Conservative candidate, can't campaign this morning as she is working.
Mr Farage, two bodyguards in tow, nabs the limelight as he stands in the shadow of the 12th-century Rochester Castle, announcing council defections. "I like Rochester and Strood, there's always something quite exciting happening here!"
Mr Reckless says he is now using his toes as well to count the number of times his boss has visited the constituency, but Mr Farage has greater prizes in mind. Dressed in his trademark covert coat, Mr Farage says: "I fully expect us to be the opposition in Wales after next year's [Assembly] elections. It's blown my socks off, the growth of Ukip Wales! We topped the poll in Merthyr Tydfil! How do you explain that?" He also thinks Ukip will emerge as "the longer-term challenger" to Labour in the North, confident the party will take at least take a host of second places. Labour stronghold Great Grimsby is a winnable target.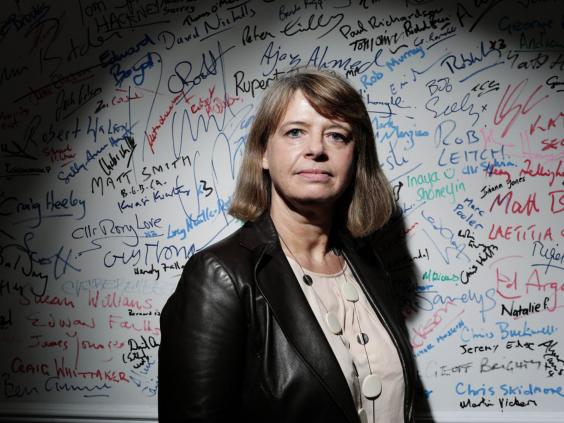 Mr Farage sighs at the headlines he created by announcing he would quit as party leader should he not win South Thanet, where he is the betting favourite: "I said the same thing if we didn't win the European elections [last year], which we did. I like to up the stakes – besides, lots of party leaders could be considering their positions in a few weeks' time."
It had been a good week for Mr Farage. He had gained publicity with his new book, The Purple Revolution. In this, he reveals a red line in any coalition negotiation with the Tories would be the conduct of an EU in/out referendum, promised by David Cameron for 2017.
Mr Farage doesn't want the four million EU citizens living in the UK to vote in that poll, including his German wife. Realising some people felt he was talking for her, he quickly adds: "Nor does she think so, by the way."
But Mr Farage's triumphant mood is later soured by news that MEP Janice Atkinson is embroiled in an alleged expenses scandal. And Rochester is not a clear-cut win. Opposite Mr Reckless's HQ is Baggins, England's biggest second-hand bookshop. Close by the till sits a copy of a book by the "Pub Landlord", Al Murray's comedy character standing against Mr Farage in South Thanet. Told Mr Farage is over the other side of the road, shop-owner Godfrey George, 63, smiles: "I'll get the eggs out."
The Tories might just have a fighting chance in this medieval military town after all.
Reuse content