David Cameron was heckled by pensioners this afternoon as he attempted to answer questions at an Age UK conference in London.
Cries of "rubbish" met the Prime Minister's response to questions over the government's record on health and social care.
"The NHS needs more money," shouted a member of the audience, while another shouted: "You promised free prescriptions… we want the NHS how it used to be".
When Mr Cameron tried to hit back at the verbal attacks by claiming his government had protected health and social care budgets, he was met with shouts of "that's not true" and "You've cut social care… it's a lie".
The Prime Minister was heckled again when he told pensioners they should blame him, not other ministers, if they were dissatisfied with the government's record on care. "We are, we are," came the response from another angry member of the audience.
In what he later described as "lively interactions", Mr Cameron was visibly surprised at the hostile reception, perhaps due to the number of services for the elderly the Tories have pledged to protect, such as the free bus pass, winter fuel allowance and TV licence, along with the beneficial reforms to pensions.
Labour's Shadow Health Minister Jamie Reed said: "David Cameron cannot shake off his betrayal of the NHS and older people's care services."
Today's scene brought comparisons to the time when Tony Blair was slow hand-clapped when speaking at the Women's Institute in 2000.
The former Prime Minister as also heckled and criticised for making a speech that was too long and overtly political as he sought to explain that traditional values lay at the heart of Labour's policies. 
Mr Cameron was pressed on why so many nurses and doctors were leaving the NHS to earn better money elsewhere.
While accepting the issue of health and social care was a "difficult issue" as services were "under pressure", he refused to blame personnel for wanting to work elsewhere.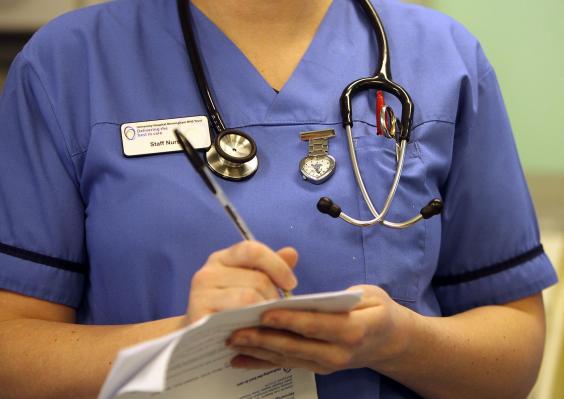 "The truth is well-run hospitals will be less reliant on agency staff, and so what we need to do is make sure there are good managers planning for the capacity they need, rather than rushing around hiring agency staff," he said.
"I'll never forget sitting in a hospital talking to an agency nurse, who said she was sick that so many agency nurses are used as it is 'such a waste of money for the NHS'.
"We need to make sure all hospitals copy the best hospitals that are less reliant on the NHS."
Mr Chemo, a retired garage owner from Warrington who is now a governor of his local hospital, challenged the Prime Minister: "You haven't answered my question. It's the actual doctors and nurses who are leaving the NHS to get more money."
Mr Cameron replied: "I'll answer that directly. You can't blame someone for making a choice of wanting to go and work in another hospital. I don't blame that for making that decision. The person we need to work on are the managers who need to plan their care more carefully to make sure they've got the nurses and doctors that they need. You see a real contrast, the best run hospitals are using fewer nurses than the worst run ones.
But his words were met with cries of "rubbish".
"I am answering the question," he shot back. "I don't want to ban agency nurses as then hospitals that were struggling wouldn't be able to get hold of them."
Three years ago Theresa May, the Home Secretary, was booed by police officers as she told them to stop pretending the police were being "picked on".
And finally, who can forget George Osborne's hostile reception as he handed out medals in the Olympic stadium at London 2012:
Reuse content