Ed Miliband was given the chance to speak on his "life experience" outside of politics today while being grilled by students on live television.
But the crowd of first-time voters seemed unimpressed by his reel of credentials in the corridors of power, including working as an economic adviser to Gordon Brown and teaching economics at Harvard.
The Labour leader was speaking to young voters during a question and answer session on Monday at Facebook's London offices called Stand Up Be Counted: Ask The Leaders.
When asked what experience "outside of politics" he had to "indicate that [he] should be the one to represent the people of Britain", he replied: "I've done a number of things which I think, I hope, are relevant to this.
"I was obviously an economic adviser to the Treasury. I think that's important because how we change our economy is at the heart of the country.
In pictures: Ed Miliband trying to look normal
In pictures: Ed Miliband trying to look normal
1/17 The beggar

Ed Miliband casually gives money to a homeless woman in Manchester, surrounded by press photographers.

2/17 The Bacon Sandwich

Ed Miliband buys a bacon sandwich from cafe owner Antonios Foufas at New Covent Garden Market in London as he kicks off a day of campaigning on the eve of the local and European elections

3/17 The Bacon Sandwich

Ed Miliband chats with a cafe owner Antonios Foufas at New Covent Garden Market in London

4/17 The Bacon Sandwich

Ed Miliband embarked on a whirlwind campaign tour of England - but struggled at the first hurdle (a bacon sandwich). Aides intervened after just a few less-than-elegant bites

Jeremy Selwyn

5/17 Flower Shopping

Ed Miliband talks with a couple of traders at New Covent Garden Market in London

6/17 Flower Shopping

Ed Miliband purchases some red roses for his wife at New Covent Garden Market in London

7/17 Talking Business

Ed Miliband talks with a trader at New Covent Garden Market in London

8/17 Good Morning Britain

Miliband on ITV's Good Morning Britain show on 20 May 2014, a day of gaffes in which he was also caught out by BBC Wiltshire for not knowing who the local Labour leader was

9/17 '£70 Weekly Shop'

Ed was accused of being 'out of touch with reality' after he seemed not to know what he - or the average British family - spends on a weekly food shop

PA

10/17 Drop in Polls

Ed Miliband paid a visit to Leighton Hospital in Crewe to speak with the staff about the NHS, but faced difficult questions about polls showing his personal ratings falling well behind those David Cameron and George Osborne

PA

11/17 On the Sofa with Farage

Ed Miliband appeared on the Andrew Marr Show to debate with Nigel Farage - but has all but conceded defeat in the Newark by-election, allowing Ukip a free run at the Tories

BBC

12/17 Wollies in Wellies

Miliband was among a number of politicians to come under fire for 'touring' the floods in the South and South West earlier this year

PA

13/17 Wollies in Wellies

The Labour leader admitted it was 'a difficult decision for politicians whether to visit areas like this'

14/17 Missed Opportunity

Miliband's performance at the Labour conference last year failed to make much of an impression on voters, polls suggested

Getty Images

15/17 Sharing the Moment

Miliband, Nick Clegg, David Cameron and Angus Robinson enjoy their moment with Andy Murray, after the tennis player's Wimbledon win

Getty Images

16/17 Casual Husband

Miliband and his wife Justine are pictured in their hotel room in Brighton as he prepares to give his keynote speech to the annual Labour Party Conference

Getty Images

17/17 The Milibands

Just your average family of four?

Getty Images
"I've taught, I taught at Harvard University. I actually taught around government and economics.
"I think one of the things that did for me was actually the ability to be able, I hope, to listen and engage with people about what their issues are, what they're interested in."
The comments came after a series of embarrassments for the Prime Ministerial hopeful, including the infamous bacon sandwich incident, giving a beggar small change and apparently not knowing how much his weekly shop costs.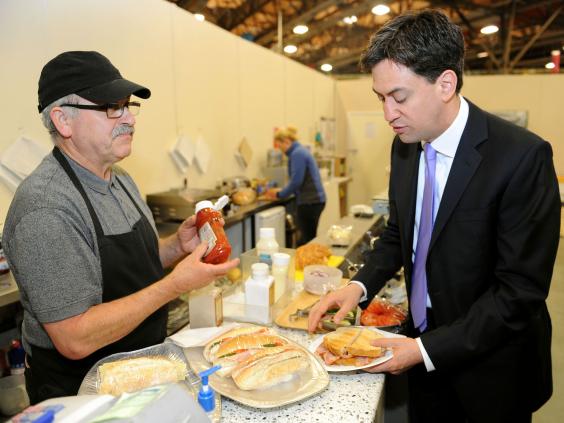 The Labour leader went on to talk about his family's background as refugees fleeing the Nazis and how that inspired him to enter politics.
"Why am I in politics, you might wonder? It's because I think it makes a difference to our country," he added.
"I was brought up by my parents to think 'you've got a duty to leave the world a better place than you found it'."
The session was part of Sky News's "Stand Up and Be Counted: Ask the Leaders" pre-election event, where David Cameron and Nick Clegg will also appear.
Mr Miliband also spoke out against tax evasion, graduate unemployment and unpaid internships during the session.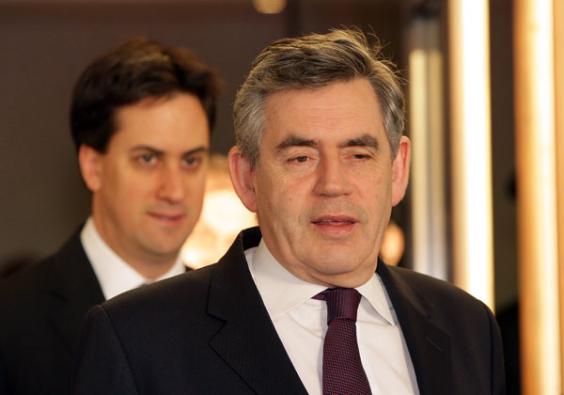 He started his career after graduating from Oxford University as a researcher on Channel 4's A Week in Politics before being recruited by Harriet Harman to her shadow department.
He was then promoted to work for Mr Brown, then the shadow Chancellor, before taking out to study for a masters degree at the London School of Economics.
Teaching at Harvard University came on a 12-month sabbatical from Whitehall in 2002. His stint at the prestigious US institution did not seem to impress critics on Twitter...
Asked how can he relate to people on the street Ed Miliband replies "I was an economic advisor and taught at Harvard"! Really? Not a clue!

— Greg Philip Thomas (@GeographyGreg) February 2, 2015
Ed Miliband thinks that working as an advisor to a Labour Govt which crashed the economy is life experience . I am sure voters will disagree

— Robert Winfield (@RobertWinfield2) February 2, 2015
Ed Miliband asked why he's qualified to be PM: "i was economic advisor & I taught at Harvard" That won't chime with voters #AskTheLeaders

— Ranj Alaaldin (@RanjAlaaldin) February 2, 2015
Ed Miliband's credential "I was economic advisor to the Labour government" there is your answer & how to vote! #StandUpBeCounted

— Jackie P (@Jackie___P) February 2, 2015
Ed Miliband was an economic advisor to Gordon Brown, the same Gordon Brown who failed to regulate the banks. #AskTheLeaders

— Ben (@Jamin2g) February 2, 2015
#EdMiliband presenting his role as economic advisor to the treasury, at the time of #Labour's mismanagement of the economy, as a positive!

— NorthNorfolkDigital (@NorthNorfolkDig) February 2, 2015
Can't blame @Ed_Miliband for not having 'life-experience' - sadly there is a pol class that perpetuates itself. As PM he needs to change it.

— Purls 'n' Politics (@PurlsofColour) February 2, 2015
Mr Miliband became an MP in 2005, when he resigned from the Treasury to stand for election in Doncaster North.
Reuse content