Will David Cameron take up Ed Miliband's offer to share a bacon sandwich with him down the pub? Why was Jeremy Paxman so concerned for the Labour leader at the end? And does Kay Burley really feel sorry for Mother Miliband?
Are you okay Ed?
The best moment of the whole showdown came right at the end when the microphones were meant to be switched off.
After finishing his grilling of Ed Miliband, Jeremy Paxman turned to the Labour leader and with concern in his voice, he asked: "Are you alright, Ed?"
"Yes. Are you?" replied a confident Ed Miliband. Because this is a man who "stood up" to Rupert Murdoch.
Thanks for 2 mentions, Ed Miliband. Only met once for all of 2 minutes when you embarrassed me with over the top flattery.

— Rupert Murdoch (@rupertmurdoch) March 26, 2015
Miliband does a Paxman to Jeremy:
Asked whether he would be forced to cut a deal with the SNP, the Labour leader shot back: "You don't get to decide the outcome of the general election – you're important Jeremy, but not that important." Zing.
A pint, a carrot or a bacon sandwich?
Kay Burley ends her Q&A by asking whether Miliband would consider going to the pub for a pint with David Cameron.
"I don't know whether we'd have a pint," Miliband replied. "A carrot?" Burley asked. "We could  share a bacon sandwich or something." Glad we got that one settled.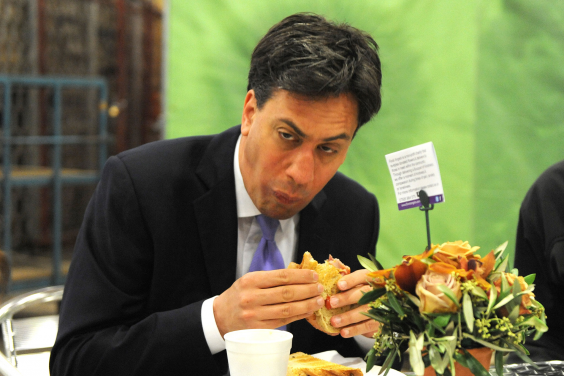 Don't tell Ed Miliband he's not tough enough
"Am I tough enough? Hell yes I'm tough enough." Miliband bats away suggestions he would be too weak on the international stage.
The cool kids think you're weird Ed.
People see you as a north London geek, Paxman tells Miliband. "Who cares?" he replies.
"Newspapers can write what they want, the bloke on the tube can say what he likes. I don't care."
Kay Burley expresses sympathy for Miliband's mum
The Sky News presenter pitied Miliband's mum when the Labour leader spoke about his "bruising" contest with his brother David over the party leadership. "Your poor mum," was Burley's comment on the matter.
Paxman grills Cameron on whether he could live on a zero-hours contract:
In pictures: Ed Miliband trying to look normal
In pictures: Ed Miliband trying to look normal
1/17 The beggar

Ed Miliband casually gives money to a homeless woman in Manchester, surrounded by press photographers.

2/17 The Bacon Sandwich

Ed Miliband buys a bacon sandwich from cafe owner Antonios Foufas at New Covent Garden Market in London as he kicks off a day of campaigning on the eve of the local and European elections

3/17 The Bacon Sandwich

Ed Miliband chats with a cafe owner Antonios Foufas at New Covent Garden Market in London

4/17 The Bacon Sandwich

Ed Miliband embarked on a whirlwind campaign tour of England - but struggled at the first hurdle (a bacon sandwich). Aides intervened after just a few less-than-elegant bites

Jeremy Selwyn

5/17 Flower Shopping

Ed Miliband talks with a couple of traders at New Covent Garden Market in London

6/17 Flower Shopping

Ed Miliband purchases some red roses for his wife at New Covent Garden Market in London

7/17 Talking Business

Ed Miliband talks with a trader at New Covent Garden Market in London

8/17 Good Morning Britain

Miliband on ITV's Good Morning Britain show on 20 May 2014, a day of gaffes in which he was also caught out by BBC Wiltshire for not knowing who the local Labour leader was

9/17 '£70 Weekly Shop'

Ed was accused of being 'out of touch with reality' after he seemed not to know what he - or the average British family - spends on a weekly food shop

PA

10/17 Drop in Polls

Ed Miliband paid a visit to Leighton Hospital in Crewe to speak with the staff about the NHS, but faced difficult questions about polls showing his personal ratings falling well behind those David Cameron and George Osborne

PA

11/17 On the Sofa with Farage

Ed Miliband appeared on the Andrew Marr Show to debate with Nigel Farage - but has all but conceded defeat in the Newark by-election, allowing Ukip a free run at the Tories

BBC

12/17 Wollies in Wellies

Miliband was among a number of politicians to come under fire for 'touring' the floods in the South and South West earlier this year

PA

13/17 Wollies in Wellies

The Labour leader admitted it was 'a difficult decision for politicians whether to visit areas like this'

14/17 Missed Opportunity

Miliband's performance at the Labour conference last year failed to make much of an impression on voters, polls suggested

Getty Images

15/17 Sharing the Moment

Miliband, Nick Clegg, David Cameron and Angus Robinson enjoy their moment with Andy Murray, after the tennis player's Wimbledon win

Getty Images

16/17 Casual Husband

Miliband and his wife Justine are pictured in their hotel room in Brighton as he prepares to give his keynote speech to the annual Labour Party Conference

Getty Images

17/17 The Milibands

Just your average family of four?

Getty Images
Reuse content