Ed Miliband's strong performance and off-the-cuff remarks have been put down to a ten-page script in which the Labour leader compares himself to Prime Minister David Cameron and writes 'bizarre' motivational quotes.
The script was uncovered by The Sun on Sunday, who claim that the printed sheet included reminders to be a 'happy warrior' and 'relish the chance to show who I am'.
In the notes, he also reminds himself to be 'calm never agitated' and turn a 'negative to positive', as well as comparing himself to David Cameron in a note entitled 'Me vs DC', listing three attributes, 'decency', principle' and 'values'.

While polls on the leaders' performances differ, the notes won't be helpful to Miliband whose biggest challenge in the run-up to the election will be to shed his oddball image and convince the public that he can run the country.
One Tory MP, Charlie Elphicke, told The Sun that the notes were like something from Armando Iannucci's political satire The Thick of It.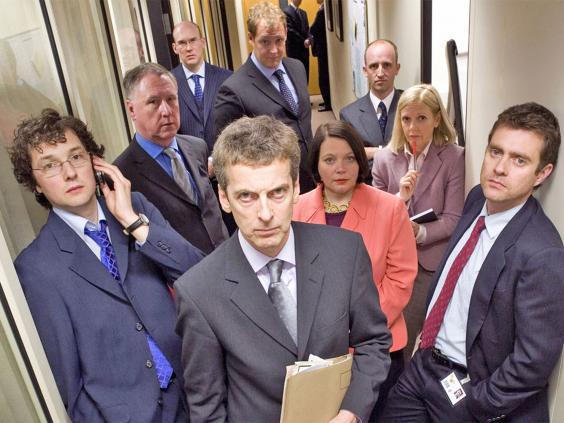 He said: 'Ed Miliband is looking increasingly bizarre. Everybody thought this sort of thing was comic fantasy from The Thick of It.
'But it appears the workings of Malcolm Tucker are alive and well in Ed Miliband's Labour party.'
The news comes after reports that Nicola Sturgeon, leader of the Scottish National Party, told the French ambassador that Miliband was not 'PM material' - though she has vehemently denied the claims.
It's also a blow to the Labour machine trying to convince Britain that Labour is up to the job of running the country, as some political commentators have asked how the notes ended up in the hands of reporters.
On social media, one user posted 'First Ed Miliband forgets the deficit, now he forgets his debate notes in his dressing room. Doh!'
First @Ed_Miliband forgets the deficit, now he forgets his debate notes in his dressing room. Doh! http://t.co/qicTh2YCdK #HappyWarrior

— Carrie Symonds (@carrieapples) April 5, 2015
Labour accepts that the notes are genuine but wouldn't comment on how the notes were obtained and believe the public will be fully aware that Miliband came prepared.
A Labour spokesman said: 'These notes will come as no surprise to anybody who saw the debate.
'They explain why and how Ed took on David Cameron over the NHS and living standards.
'They also show how Ed set out a positive vision for the future with Labour's better plan, including on zero-hours contracts, lower tuition fees and rents.'
Some social media users reaffirmed this view that Ed Miliband's preparation was not unusual.
'Why is Ed MIliband writing notes at a debate news? It's pretty normal', posted one user.
Why is Ed Miliband writing notes at a debate news? It's pretty normal.

— Charlotte (@charlottefaulkz) April 5, 2015
Another wrote: 'Ed Miliband writes notes to help him perform in a debate. I bet he used to revise hard for exams too. He's weird.'
Ed Miliband writes notes to help him perform in a debate. I bet he used to revise hard for exams too. He's weird.

— Peter Smith (@Redpeter99) April 5, 2015
Reuse content