With 53 days until the election, the pledges from the political parties are coming thick and fast. In the latest of these, Nick Clegg yesterday announced an additional £1.25bn for children with mental health problems over the next five years – to be confirmed in this week's Budget.
But are these really giveaways? While politicians noisily give with one hand, they are also fond of quietly taking away with the other.
The money for child mental health, unveiled at the Liberal Democrat conference in Liverpool, represents an annual increase of more than one-third on the current £700m budget. Yet the coalition has presided over cuts to children's mental health services since 2010. Official figures published earlier this year show that spending on these services in England has fallen by more than 6 per cent in real terms, equivalent to nearly £50m.
The Conservatives and Lib Dems say they have cut income tax for 26 million people on low and middle incomes, worth in excess of £800 to individuals, with more than three million of the lowest paid paying no income tax at all. Yet, as Labour has pointed out, the rise in VAT to 20 per cent and other tax and benefit changes have meant that the overall tax burden has increased since 2010 by an average of £1,127 a year.
Election Analysis: The Key Voters
Election Analysis: The Key Voters
1/6 Settled Silvers

These are the comfortably-off over-60s, still in work or drawing a decent pension – or both – who are enjoying their entitlements such as the Winter Fuel Allowance, free bus passes and free TV licence. They are worried about immigration and Europe. Both the Conservatives – who are pledging to keep benefits for wealthier pensioners – and Ukip want their votes

Micha Theiner

2/6 Squeezed Semis

Slightly older than the Harassed Hipsters, they are the second key group for Labour's family-focused election strategy. They are married couples on low to middle incomes who own unpretentious semi-detached homes in suburban areas. In 2001, these were the Pebbledash People sought by the Conservatives. Now the pebbledash is gone and a modest conservatory has been built at the back

Micha Theiner

3/6 Aldi Woman

In 1997 and 2001 she was Worcester Woman – a middle-class Middle Englander shopping at Marks & Spencer and Waitrose. Today, the age of austerity means she still goes to Waitrose for her basic food shop but cannily switches to Aldi for her luxury bargains such as Parma ham and prosecco. Identified by Caroline Flint, she is a key target of both Labour and the Conservatives

Micha Theiner

4/6 Glass Ceiling Woman

In her thirties or forties, she has an established career under her belt, perhaps in the "marzipan layer" – one position below the still male-dominated senior executive level. She is now, according to Nick Clegg, forced into making the "heart-breaking choice" between staying at home to bring up her children and going to work and forking out for high-cost, round-the-clock childcare

5/6 Harassed Hipsters

One of the two key groups identified by Labour as crucial to hand Ed Miliband the keys to Downing Street. Well-paid professional couples, often with children, they live in diverse urban and metropolitan areas rather than the suburbs. More comfortably off than most swing voters, they are time poor – struggling to balance raising a young family with busy work schedules

Micha Theiner

6/6 Neo-Greens

These are mainly first-time voters, though some are in their twenties – students and digital-age generation renters helping to fuel the "Green Surge". Idealists, but with no tribal loyalty to any party, they are anti-austerity, middle class, living in urban areas. Despite studying at university or recently graduated, they are struggling to find decent jobs and want cheaper housing and a higher minimum wage

Micha Theiner
On housing, one of the greatest challenges the country faces, the Coalition launched the Help to Buy  scheme two years ago, with the Government underwriting the cost of getting on to the housing ladder. The Lib Dems backed this up last week by launching Rent to Own, helping first-time buyers build up a share in their own home through renting. Yet, it does nothing to tackle the shortage of housing stock.
Labour, also, is not immune from giving with one hand and taking with the other. One of Ed Miliband's five election pledges is to cut tuition fees from £9,000 to £6,000 – but it was the last Labour government that introduced fees in the first place, and which raised them to £3,000 in 2004, after earlier pledging not to increase them. Another of Labour's core pledges, to freeze energy bills until 2017, is intended to bring regulation to a market that was designed by Mr Miliband when he was Energy Secretary in the previous government, when household bills soared.
Speaking at his party's final conference before the election, the Deputy Prime Minister will today tell Lib Dems that the party will "defy the odds" at the general election – even though senior MPs are privately warning that they could be left with fewer than 30 seats.
The party won 57 seats in 2010, but, having been badly burned by its experience in coalition, its poll ratings have slipped into single digits. It has concentrated on holding on to its "citadels" at the possible expense of its near-200 second places, which will make the party's rebuilding job tougher.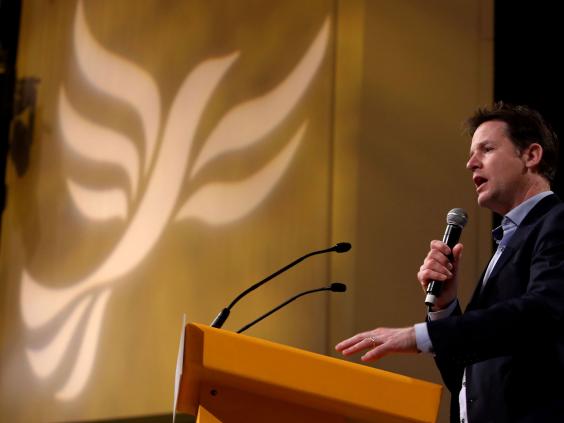 One senior Lib Dem MP said yesterday that they thought "under 30" seats was the most likely outcome when the nation goes to the polls; another said that the current thinking was that they would end up with anything between 23 and 42 MPs.
But Mr Clegg will strike what an aide called an "optimistic note" in his speech today. "He will rally the troops," the aide added.
Mr Clegg, who faces a tough fight with Labour to retain his own seat in Sheffield Hallam, will say: "As Labour and the Conservatives flailed around, pulled to the left and right by competing factions, we haven't wavered... We will defy the odds and win again this May.
"So when people tell you we can't, tell them where to go. I have a message for all those who are writing us off once again: the Liberal Democrats are here to stay... We will do so much better than everybody thinks."
The Deputy PM will argue that the Lib Dems have "passed the test" of being in government, pushing through policies previously opposed by their Tory partners, such as raising the starting point of income tax. "Make no mistake, the [economic] recovery would not be happening without the Liberal Democrats."
But the conference has been notable  for the absence of many current MPs who are not standing down at the election. They are furious that organisers scheduled the event so close to polling day. And those in seats north of the border are frustrated that there will be a Scottish conference in Aberdeen next weekend. They believe that this is draining valuable time, effort, money and volunteers who would be better used in constituencies when so many MPs are struggling to hold their seats.
"Spring conference makes little enough sense in a good year [given there is a bigger autumn conference]," said one MP. "But, this time, they're taking our most hardcore activists out of constituencies to conference."
A second MP said: "Go somewhere that you don't go very often, eight weeks before polling day, to contemplate your naval with a bunch of Liberal Democrats, when you could be knocking on doors? Whoever thought of putting two conferences within eight weeks of an election needs their head examined."
An MP with a large majority who is at conference said that it was "understandable" that many of his colleagues were in their constituencies this weekend.
In a pre-election rally in Birmingham, Mr Miliband unveiled his party's pledge card with five promises to voters: a strong economic foundation, higher living standards for working families, an NHS with the time to care, controls on immigration, and a country where the next generation can do better than the last. He said: "Today, I urge the British people to choose optimism, to choose a country for the many, to choose the good of all, to choose hope – and to recognise that, when working people succeed, nothing can stop us as a country."
Reuse content