Labour will today appeal to women voters to help it win the general election, telling them their support can stop politics being a "men-only club".
Analysis by the party of the candidates chosen to fight marginal seats shows that women would make up 43 per cent of Labour's MPs if it wins a majority in May – close to its 50 per cent target.
More than half (53 per cent) of Labour's candidates in its target seats will be women, Labour claims, compared with 25 per cent of the Conservatives' candidates in their target constituencies and 31 per cent of Liberal Democrats in theirs.
Men will literally take a back seat in Labour's "Woman to Woman" campaign when Harriet Harman, the party's deputy leader, tours more than 70 seats from today in a pink 16-seater mini-bus. The party denied that the "Barbie doll" colour was patronising to women, insisting it was a deeper "burgundy end of pink" used in the party's "One Nation" campaign.
Election Analysis: The Key Voters
Election Analysis: The Key Voters
1/6 Settled Silvers

These are the comfortably-off over-60s, still in work or drawing a decent pension – or both – who are enjoying their entitlements such as the Winter Fuel Allowance, free bus passes and free TV licence. They are worried about immigration and Europe. Both the Conservatives – who are pledging to keep benefits for wealthier pensioners – and Ukip want their votes

Micha Theiner

2/6 Squeezed Semis

Slightly older than the Harassed Hipsters, they are the second key group for Labour's family-focused election strategy. They are married couples on low to middle incomes who own unpretentious semi-detached homes in suburban areas. In 2001, these were the Pebbledash People sought by the Conservatives. Now the pebbledash is gone and a modest conservatory has been built at the back

Micha Theiner

3/6 Aldi Woman

In 1997 and 2001 she was Worcester Woman – a middle-class Middle Englander shopping at Marks & Spencer and Waitrose. Today, the age of austerity means she still goes to Waitrose for her basic food shop but cannily switches to Aldi for her luxury bargains such as Parma ham and prosecco. Identified by Caroline Flint, she is a key target of both Labour and the Conservatives

Micha Theiner

4/6 Glass Ceiling Woman

In her thirties or forties, she has an established career under her belt, perhaps in the "marzipan layer" – one position below the still male-dominated senior executive level. She is now, according to Nick Clegg, forced into making the "heart-breaking choice" between staying at home to bring up her children and going to work and forking out for high-cost, round-the-clock childcare

5/6 Harassed Hipsters

One of the two key groups identified by Labour as crucial to hand Ed Miliband the keys to Downing Street. Well-paid professional couples, often with children, they live in diverse urban and metropolitan areas rather than the suburbs. More comfortably off than most swing voters, they are time poor – struggling to balance raising a young family with busy work schedules

Micha Theiner

6/6 Neo-Greens

These are mainly first-time voters, though some are in their twenties – students and digital-age generation renters helping to fuel the "Green Surge". Idealists, but with no tribal loyalty to any party, they are anti-austerity, middle class, living in urban areas. Despite studying at university or recently graduated, they are struggling to find decent jobs and want cheaper housing and a higher minimum wage

Micha Theiner
Labour's first separate "women's manifesto", to be launched in April, will promise:
25 hours of free childcare for working parents of three- and four-year-olds (up from the current 15 hours); an additional 50,000 childcare places; guaranteed access to "8am-6pm" schooling through breakfast and after-school clubs to help working parents
Support for grandparents who juggle the care of their grandchildren and their working hours
Companies with more than 250 workers to publish the "hourly pay gap" between the sexes in their annual report to shame them into ensuring equal pay for women
Greater priority to tackling domestic and sexual violence against women, through a commissioner to set minimum standards.
Ms Harman said: "Women do not want to be told by men how they feel. They want women to speak up for them. Politics is too important to be left as a male-only activity. Women are entitled to have a government elected by them that understands them and will deliver for them. Conservatives want women's votes so they can get into government, full stop."
She admitted: "We [women] have not made all the progress we need. Women believe they are equal citizens of the country. Our politics is left behind. It is still male-dominated. We are still pioneers in the male business of politics. We are in the minority, but we are making progress."
Labour's campaign will target the 9.1 million women who did not vote in the 2010 election, telling them: "Don't give up on politics." The party leadership argues that this group "holds the balance of power" in what it describes as a "watershed" election for women.
Lucy Powell, vice-chair of Labour's general election campaign, said: "This is a once-in-a-generation choice about who our country works for."
Caroline Dineage, a Tory MP, said: "The wheels have come off the Labour bus. Getting Harriet Harman to drive around the country in a pink van to try and attract the female vote is as patronising as it gets. This is clearly just another divisive gimmick that the electorate will see through."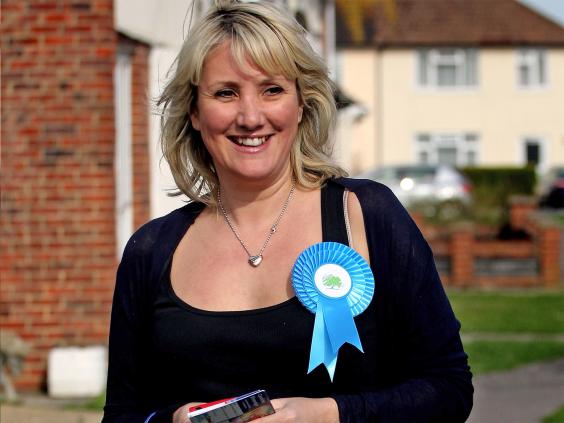 Nick Clegg urged businesses to smash the "glass ceiling" for women and called for a million more female workers to be in employment by 2020. The Deputy Prime Minister told the British Chamber of Commerce that at the highest levels too many firms are male-dominated and more work was needed to close the gender pay gap.
He said: "We have started to crack the glass ceiling, but we are still a long way from smashing it. In Britain today, too many women find their talents are wasted."
Urging bosses to implement Liberal Democrat plans for shared parental leave and flexible working, Mr Clegg said: "Too many women still face a heart-breaking choice between pursuing their career and caring for their family. And too many businesses let the status quo persist year after year."