The man at No 4 jerks upright as if jolted by electricity. He shoots out of his armchair and is flinging open the front door before SNP candidate Roger Mullin has got much further than extending his finger towards the doorbell.
To say Douglas Meaney, a retired petrochemical plant manager, and his wife, Patricia, are excited to meet the Westminster hopeful would be an understatement. He beams broadly, and shakes an ever-so-slightly bemused Mr Mullin's hand so heartily his teeth rattle.
Mr Meaney, 63, a big man, ruddy and fit, tells him: "You'd have had no chance five years ago. Everybody round here voted Labour. This time, I really think you can do it. People are waking up."
Really? Round here? We are in the Fife fiefdom of former prime minister Gordon Brown, Kirkcaldy and Cowdenbeath. He won it for Labour with a majority of 23,009 last time, the safest seat in Scotland.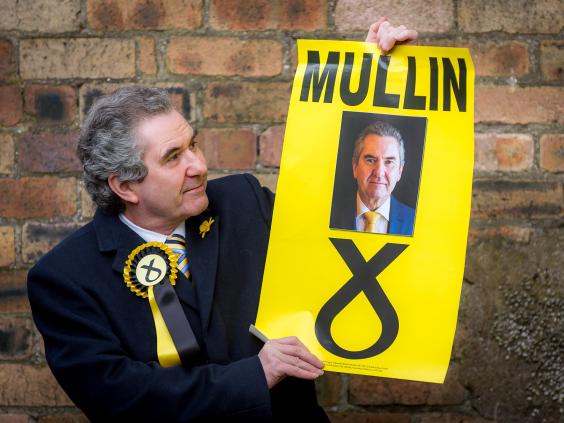 Except, in the aftermath of the tumultuous Scottish referendum, nothing is certain any more, not even in this socialist heartland with its rich industrial heritage, of mining – Cowdenbeath was once dubbed "The Chicago of Fife" – of linoleum manufacture, and of the docks. All the more so because Mr Brown is standing down after 32 years, and taking a sizeable personal vote with him.
Take the results last week of Tory peer Lord Ashcroft's poll of 1,000 voters in this constituency. It suggests Labour will lose to the Scottish National Party here, with unprecedented implications for the political landscape at Westminster.
We already knew that the SNP, far from being cowed after the 55/45 per cent defeat last September, has piled on support. Its membership is up four-fold at almost 100,000. As for how many seats it may win at Westminster – it has six now – the polls and the bookies have pointed towards ever bigger gains.
But Lord Ashcroft's findings – by all means take them with a hefty pinch of salt – suggest that, not only will Mr Mullin (no relation) win here with an astonishing near 30 per cent swing, but that the Nationalists are on course to take 56 of Scotland's 59 constituencies. Labour, currently with 41 seats, would be left with just one, as would the Tories and the Liberal Democrats. The SNP would be the third largest force in a hung parliament. It would be kingmaker negotiating from real strength, and with a resolute focus on Scotland.
And the irony? That the SNP may eviscerate Scottish Labour and its new leader Jim Murphy, and then prop up Ed Miliband at the Westminster it affects to despise.
The price? For starters, Nicola Sturgeon, who replaced Alex Salmond as SNP leader and First Minister after the referendum defeat, wants an extra £180bn in UK public spending.
The Ashcroft scenario has sparked hysteria south of the border. The Tories launched a poster showing Mr Miliband in the breast pocket of Mr Salmond, who is seeking a return to Westminster. One media pundit evoked the foaming Tigris, and even The Guardian's cartoonist Steve Bell hinted at incest among the Scots.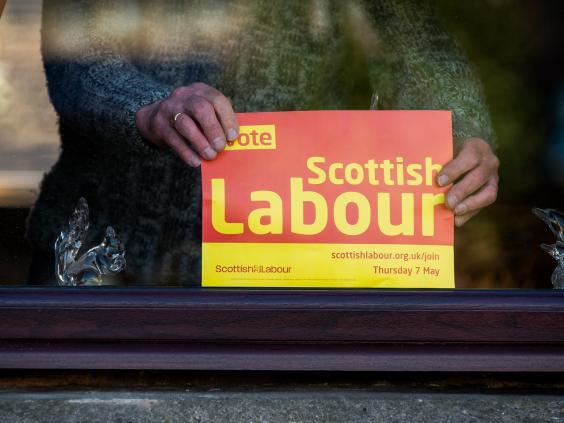 Back on the ground, Mr Mullin, 66, manages to extricate himself from the Meaneys, and moves along Woodlands Road, a private estate of semi-detached houses in Kirkcaldy built 40 years ago. The locals called it Spamhill then, because the cut-above-the-rest folk who moved from council housing struggled to pay the mortgage and, the joke went, were left with tinned meat for tea (the evening meal, round here). It is – or was – solid Brown country.
Mr Mullin, a sociology professor who has advised the UN on two dozen projects in Africa, introduces himself to Ian Anderson at No 6. He's on board. Douglas MacEwan and Shirley Redpath at No 8 get along so well with Mr Mullin that I suspect – wrongly, it turns out – they have met before, while across at No 21, the imposing figure of Joe Gray is waving at the candidate. He has erected a flagpole in his garden, and it is flying the Saltire.
Only at No 14, where Angela Reid is making the tea, is there any dissent. "I didn't like you criticising Mr Brown," she says, with a tight smile. But it is all very polite.
Mr Mullin, a dry and avuncular figure, says: "The political culture of Scotland has changed, and that post-referendum mood has created a remarkable difference in the way voters think about Westminster politics. Labour did themselves real damage with close alignment with the Conservatives during the referendum and now they too are committed to more austerity cuts and to replacing Trident.
"All I can do is try as hard as I can. But there's real goodwill on the doorsteps – it's a better atmosphere than the referendum. We're getting a fair wind to make our case."
The Labour candidate he has to beat is Kenny Selbie, 33, an equalities officer, anointed Mr Brown's successor only last month. He knows he is stepping into big shoes.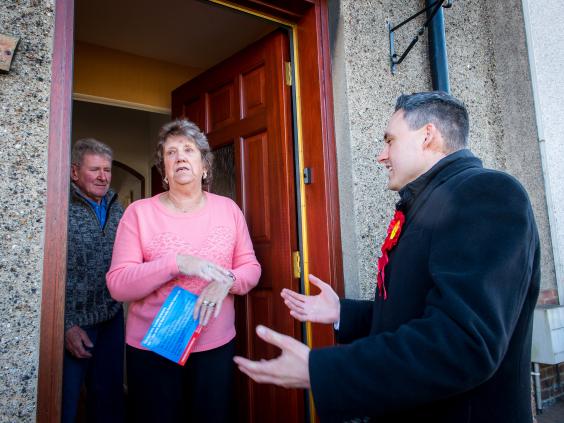 Mr Selbie, a councillor in Kirkcaldy, says: "I'm a local boy. I've been a grassroots activist for 14 years. I know what the problems are here. We have to convince voters we have the solutions.
"I don't recognise what the Ashcroft poll says. It is not what we are hearing on the doorsteps. But we can't take anything for granted. We have to fight for every vote."
The coal mines across the west of this constituency are long gone; the linoleum factories that made Kirkcaldy a world leader all shut up; the docks quiet these days. Unemployment – at 8.7 per cent – is two percentage points higher than Scotland's overall rate, and a call centre is the biggest private employer.
But socialism is a mainstream philosophy here even now. Gagarin's Way in Cowdenbeath is named after the Soviet space hero. Willie Clark, in Ballingry, is the only elected Communist councillor in Britain. And they still celebrate Jennie Lee MP whose spells in the Commons spanned from 1929 to 1970, in her hometown of Lochgelly.
It is for this legacy that Labour and the SNP are locked in battle. The door-knocking is endless. The chat, though, has a familiar enough shape: the bedroom tax, the gloomy High Street in Kirkcaldy, with its 14 charity shops and Tesco soon to pull out, and the NHS. People here hardly exude the hardy glow of good health. The doorstep chatter is of arterial grafts, pacemakers, in one instance a particularly gruesome muscular abscess, and skin cancer.
Today, Mr Selbie, whose boyish good looks may well melt some hearts, is knocking doors in Croall Street, Kelty, a former mining village. This is real red territory.
Andrew Hoy, 82, at No 1, who was a blacksmith because his mother banned him from the pits after his father's death in an accident, is sticking with Labour. "I've got no time for Salmond," he explains. Across at No 6, Robert and Janet Allan are bickering about whose turn it is to pick up their five-year-old grandson from school. She says: "We're Labour. That's all there is to it."
Scottish independence: Referendum results in pictures
Scottish independence: Referendum results in pictures
1/15 Scotland

Chief Counting Officer Mary Pitcaithly on stage at the Highland Hall at the Royal Highland Centre with the final result of the Scottish Independence Referendum

2/15 Scotland

Pro-union supporters celebrate as Scottish independence referendum results come in at a 'Better Together' event in Glasgow

3/15 Scotland

A pro-independence supporter is pictured in George Square in Glasgow, following a defeat in the referendum on Scottish independence

4/15 Scotland

Pro-independence supporters console each other in George Square in Glasgow

5/15 Scotland

A pro-independence supporter is pictured in George Square in Glasgow

6/15 Scotland

A disappointed 'Yes' campaigners reacting to Scotland's decision to stay in the union with a David Cameron mask at George Square in Glasgow

7/15 Scotland

A dejected 'Yes' supporter in Edinburgh makes his way home in the early hours after Scotland voted decisively to reject independence and remain part of the Union

8/15 Scotland

NO supporters celebrate at the Royal Highland Centre, Edinburgh as the final results of the Scottish independence referendum are announced

9/15 Scotland

No supporters celebrate their win over the Yes campaign at the Royal Highland centre during the Scottish referendum in Edinburgh

10/15 Scotland

No supporters for the Scottish independence referendum celebrate a result at a No campaign event at a hotel in Glasgow

11/15 Scotland

Pro-union supporters dance in celebration during a 'Better Together' referendum event in Glasgow

12/15 Scotland

Anti-independence supporters react to an early strong result for the "Better Together" campaign at the Royal Highland Centre counting hall in Edinburgh

13/15 Scotland

NO ballots are stacked on a table during the Scottish independence referendum count at the Royal Highland Centre in Edinburgh

14/15 Scotland

Ballots arrive to be counted at the Aberdeen Exhibition and Conference Centre during the Scottish referendum in Aberdeen

15/15 Scotland

Ballot boxes arrive at the Highland Hall at the Royal Highland Centre in Edinburgh after polls closed in the Scottish independence referendum
Mike McLaughlin, 67, round the corner in Mossgreen Street, is hacking away at the garden hedge. He says: "I'm Labour. But there is a big movement towards the SNP. It's the Braveheart thing. It's about having a go at the English."
A short hop away in Cowdenbeath, Sophie Clark, 19, is wheeling her six-month-old daughter, Reilly, with boyfriend, Andrew Martin, in tow. Ashcroft's polls show younger voters far more likely to vote SNP. So it is with Sophie. But Karen Watson, 51, a mother of three, says: "I'm with Labour. But we will miss Gordon Brown. He's very good with the schools round here and the charities."
Ten miles to the east is Kirkcaldy, where Mr Brown's father was the minister at St Bryce Kirk, and the future PM was a fast-track pupil at the high school. He went to university at 16. This is also where Adam Smith wrote The Wealth of Nations in 1776.
As a biting wind whips off the Firth of Forth and whistles down the grim, mile-long High Street, Chris Hogg, 32, a warehouseman who is voting SNP, says: "The referendum put family against family. Now it's about making a point not to each other but to the English."
At the Mercat Shopping Centre, where Labour's Jim Murphy was hit by eggs during the referendum campaign, SNP supporter Elaine Seefeldt, 59, is explaining why she left Labour after 40 years as an activist. "The policies they promote are miles away from addressing the difficulties people face here. They relied on us being lazy voters."
But retired construction engineer Eric Johnston, just back from a week in Athens to celebrate his 78th birthday, pours cold water on the idea that the SNP could win here.
"I don't believe there's much movement at all. It's like the referendum – they said that the Vow, when the three leaders pledge to devolve more powers just before the vote, saved the day. Not true. People had already made up their minds. The panic was only because of who makes more noise."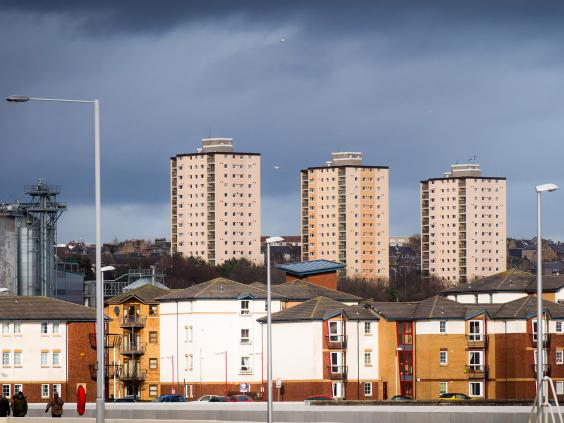 What, then, have we learnt from our tour of Kirkcaldy and Cowdenbeath? That Labour hardly has its troubles to seek in Scotland is clear. Mr Murphy, leader for four months, has played a bad hand well, with little impact. When the price of oil falls below half of what was posited in the SNP's economic platform at the referendum and that has no impact on public sentiment, you are urinating into the gale, as they would never say around these parts.
However hard Mr Murphy emphasises that an SNP vote could let in the Tories by reducing the number of Labour MPs returned from Scotland, the refusal of Labour at Westminster to rule out a deal with the SNP in a hung parliament runs a big risk. SNP sympathisers who may have otherwise voted Labour may stay as they are, and many would-be Labour supporters see a strong SNP presence – albeit in a Labour-SNP arrangement – as in Scotland's best interests.
While the referendum campaign set Scot against Scot, the vibe on the ground between Labour and SNP voters seems less bitter. Both are enjoying the Scottish tail wagging the Westminster dog, and the confusion that is sowing down south. The word which best describes it all? How about gleeful?
Word on the street
"I don't believe there's much movement. It's like the referendum, when the three leaders pledged to devolve more powers just before the vote, [but] people had already made up their minds."
Eric Johnston
"The referendum put family against family. Now it's about making a point not to each other but to the English"
Chris Hogg who is voting SNP
"The policies that they promote [in Westminster] are miles away from addressing the difficulties that people face here. They relied on us being lazy voters"
Elaine Seefeldt, a former Labour voter
"I'm Labour. But there is a big movement towards the SNP. It's the Braveheart thing. It's about having a go at the English"
Mike McLaughlin
Reuse content