During a heated question and answer session on BBC1 this morning, the interviewer, Andrew Marr, struggled to get a clear from the Chancellor George Osborne about how the Conservatives propose to find the extra £8 billion they have now said they invest in the NHS. Despite asking the question, in different ways, more than 15 times, he failed to get an answer. This is how the exchange went.
ANDREW MARR:
As Tory election strategist, you have just blown a huge hole in your own strategy by making an £8 billion unfunded pledge on the NHS, exactly what you said you were not going to do. Why?
GEORGE OSBORNE:
Well I don't accept that at all. We have a balanced plan to grow our economy, to make savings in government – including in welfare, to fund our NHS each and every year, to give a tax cut to working people, so that we make work pay, we support our public services and we have …   
AM: (interrupting) You've just found if I …
GO: (interrupting) … we have an economic policy that supports our entire country.
AM:
You've just found an extra £8 billion. All I'm asking is where does it come from?
GO:
Well if you …
General election 2015: The worst gaffes and controversies
General election 2015: The worst gaffes and controversies
1/35 4 May: Milibrand part 2

Russell Brand dramatically unveiled the second part of his interview with Ed Miliband, in which he agreed with the leader and then called on his YouTube viewers to vote Labour. David Cameron had described him as a "joke" who previously advocated not voting - but with Brand commanding more than a million YouTube subscribers that may come back to haunt the Tories.

2/35 3 May: #EdStone

Labour leader Ed Miliband unveiled Labour's pledges carved into a stone plinth in Hastings. He said it showed his commitment to keep promises - but many mocked the "risible" stunt and said it would be the "tombstone" for Labour's election hopes.

PA

3/35 2 May: Ukip candidate suspended

A Ukip candidate who described himself as "unapologetically politically incorrect pro-British" was suspended after suggesting Shadow Minister Luciana Berger had split loyalties because she is Jewish. In one Twitter message Jack Sen, standing in West Lancashire, said: "Protect child benefits? If you had it your way you'd send the £ to Poland/ Israel."

Twitter/@jacksenukip

4/35 1 May: 'It's all about my career... I mean country'

Labour jumped on another David Cameron gaffe after the PM said on the campaign trail that the election was a "career defining" moment when he meant to say "country defining". Ed Miliband's party pounced, saying the remarks were proof Mr Cameron "puts his career before the country". "It's all about Dave," the party tweeted.

PA

5/35 30 April: The Sun has got two hats on

The Sun revealed who it was supporting in the election - both the Tories and, in Scotland, the SNP. While the UK edition of the newspaper called on the British public to vote Conservative so as to "stop [the] SNP running the country", The Scottish Sun announced its support for Nicola Sturgeon's party saying it will "fight harder for Scotland's interests at Westminster".

6/35 29 April: Complacent Conservative?

Tory Work and Pensions Secretary Iain Duncan Smith failed to turn up to hustings in his own constituency following a 'late change in his schedule'. Wags observed that it was ironic given the minister has ramped up monetary sanctions against people who do not attend job interviews or JobCentre meetings.

PA

7/35 28 April: Offensively independent

An independent candidate standing in Northern Ireland proudly came up with the least 'politically correct' leaflet of the campaign. Susan-Anne White declared she would criminalise adultery and homosexuality, end sex education, reinstate corporal punishment and much more.

8/35 26 April: The Ed and Boris bust-up

In what was widely hailed as the best bit of election TV so far, Ed Miliband and Boris Johnson clashed head-to-head in angry scenes live on the Andrew Marr Show, forcing their usually genial host to intervene and tell the pair of them to "shut up". The increasingly animated London Mayor repeated personal attacks over Mr Miliband 'stabbing his brother in the back', while the Labour leader got in some jibes of his own about Mr Johnson's Eton education.

Reuters

9/35 25 April: Political football

David Cameron's football-loving credentials received a kicking at a campaign event in Croydon after he suggested to the audience he supported West Ham- despite previously claiming he was a huge Aston Villa fan. When asked about his sudden change in loyalty, Cameron later said he was still a Villa fan and blamed the slip up on a 'brain fade'.

PA

10/35 24 April: Migrant crisis made political

Ed Miliband was branded 'shameful' by Downing Street after he said David Cameron was partly responsible for the deaths of hundreds of migrants in the Mediterranean. The Labour leader said the Prime Minister's role in creating instability in Libya had contributed to thousands of north Africans drowning in the Mediterranean as they try to flee the crisis. A senior Tory called the comments 'deeply provocative'

Getty Images

11/35 23 April: IFS accusations

Voters are being kept 'in the dark' by all the main parties over future spending cuts and tax rises, the influential Institute for Fiscal studies said. A detailed study of the party manifestos by the think-tank concluded that none of the Lib Dems, Labour, the Conservatives or SNP had provided "anything like full details" on plans to cut the deficit over the next five-year Parliament.

Getty

12/35 22 April: The not-so-Green Party

A group of leading scientists and campaigners rounded on the Green Party, accusing it of turning its back on its main mission by largely ignoring the crucial issue of climate change in the run-up to the general election. Critics said that although the Green Party manifesto contains plenty of references to policies on global warming, the party was 'grievously at fault' for leaving the subject largely unspoken in campaigning by the party and its leader, Natalie Bennett.

Getty Images

13/35 21 April: Wikipedia edits

Tory party chairman Grant Shapps was accused of editing the Wikipedia pages of his Conservative rivals and allegedly changing his own page to delete embarrassing references to his past. A Wikipedia administrator reported and suspended an account called 'Contribsx' on suspicion it was being used by Mr Shapps or 'someone acting on his behalf'.

Getty Images

14/35 20 April: Dodgy Tory donors?

The Conservatives were forced to return more than £50,000 in donations from a businesswoman whose husband was convicted of tax fraud in the US. Beatrice Tollman, who donated £20,000 as recently as early April, was herself charged with conspiracy to evade millions of dollars' worth of tax in the US, charges that were dismissed by a judge in 2008

15/35 19 April: Miliband a hit among the hens

Ed Miliband was described as "the stripper" by a group of women on a hen party in Chester after they spotted the parked-up Labour battle bus. But not everyone saw it as statesmanlike behaviour, some saying it was 'cringe-worthy' and others reporting he looked 'absolutely terrified'

YouTube/Chester Chronicle

16/35 18 April: DUP on gay marriage

A right-wing Democratic Unionist Party of Northern Ireland politician thanked Nick Clegg for 'reminding' voters that they are seeking to abolish same-sex marriage. After the Lib Dems set up a satirical website accusing the DUP of wanting to 'reject gay rights', North Belfast MP Nigel Dodds said he was grateful to Mr Clegg 'for reminding people of the pivotal role the DUP can play'

Joe Raedle/Getty Images

17/35 17 April: Labour 'metaphors'

A Labour candidate was forced to apologise for "getting carried away with colourful metaphors" after making a joke about being caught in a threesome with Ed Miliband and a goat. Clive Lewis, a former reporter for BBC Look East who is now standing in Norwich South, said "anything could happen" when asked if he could be beaten by the Greens. After the Miliband example caused a bit of a backlash he added: "If anyone was genuinely offended then I'm sincerely sorry for that."

Rex

18/35 16 April: Ukip candidate calls Islam 'evil cult'

A Ukip candidate standing for Parliament faced being sacked by the party after describing Islam as an "evil cult". Stephen Latham, who is fighting the West Bromwich East seat, made the remarks in a Facebook post. He later said: "I wouldn't have meant it about Islam itself. It would have been about the people causing problems."

19/35 15 April: Labour candidate 'forgets manifesto'

A video emerged of a Labour candidate suffering a terrifically awkward 'brain fade' and failing to name her party's key policies. During an interview with local website The Chiswick Calendar, Ruth Cadbury (running for Brentford and Isleworth) froze: "Um… I can't remember my key… I do need to check… I'm reading them every day... er… sorry… Labour's key policies..."

The Chiswick Calendar

20/35 14 April: Tory candidate 'wristbands'

There were calls and a petition for the Conservative parliamentary candidate for Cambridge to stand down, after she said that mental health patients could wear colour-coded wristbands to identify their conditions. Chamali Fernando was accused of showing 'prejudice' and 'remind[ing] us how far we have to go' by mental health campaigners

Twitter/Richard Taylor

21/35 13 April: Smarter than a 10-year-old?

Former PR man David Cameron is used to spinning his way out of trouble against the most challenging interviewers - yet came completely unstuck on a visit to a primary school for Newsround. With his guard down, 10-year-old Reema asked: 'If you could pick one politician apart from yourself to win who would it be and why?' Cameron said it was the 'best' question he'd had so far on the campaign, um-ed, ah-ed and failed to give a clear answer.

Getty Images

22/35 9 April: Ukip's porn star candidate

A mini-scandal surrounded Ukip's Bristol branch when it emerged the vice chair had an unusual second job as a veteran porn star. The party insisted it was happy to support candidates regardless of what they did in their spare time, adding proudly that 'no other party' would have taken John Langley - aka 'Johnny Rockard'.

23/35 8 April: Ed Balls on non-doms

No sooner had Ed Miliband announced a popular Labour policy to scrap the non-dom tax status, a video emerged of Ed Balls explaining how such a move would end up costing Britain more.

24/35 5 April: Tories taking care of business (owners)

In an interview with this newspaper Danny Alexander, the Chief Secretary to the Treasury, revealed that a senior Conservative minister told a Liberal Democrat cabinet colleague: 'You take care of the workers and we'll take care of the bosses' in a private Whitehall meeting to discuss the Coalition Government's priorities.

Getty

25/35 3 April: Nicola Sturgeon 'memo'

Nicola Sturgeon was forced to deny telling the French ambassador she wanted the Tories to win the election in May in preference to Labour, after a 'memo' to that effect was leaked to the Telegraph.

PA

26/35 2 April: Nigel Farage on HIV

UKIP leader Nigel Farage sparked controversy during the ITV Leader's Debate 2015 for saying that immigrants who were HIV positive should not be able to enter the country and use the NHS for free.

Ken McKay/ITV via Getty Images

27/35 29 March: Labour mugs

Senior Labour MP Diane Abbott was among those who led a backlash against a mug being sold by the party celebrating its new commitment to a tough immigration system.

28/35 23 March: Ukip's Atkinson expelled

Janice Atkinson, an MEP and once one of Ukip's most senior figures, was expelled after she was found to have brought the party into disrepute. Ms Atkinson's chief of staff was secretly recorded appearing to ask the manager of a restaurant in Margate to more than treble the £950 cost of a meal before Ukip's spring conference. Nigel Farage later said the claims 'couldn't look worse'.

Chris Radburn/PA Wire

29/35 8 January: 'Meet the Ukippers'

Ukip councillor Rozanne Duncan was expelled from the party for saying she had a problem with black people because there was 'something about their faces' during filming for the BBC documentary 'Meet the Ukippers'

BBC

30/35 20 November: Emily Thornberry and the white van

Labour front bench MP Emily Thornberry was forced to resign after tweeted a photo of a house in Rochester adorned with three England flags and a white van out the front, which saw her accused of holding working class voters in 'contempt'.

PA

31/35 22 October: Ukip Calypso

The former BBC Radio 1 DJ Mike Read was forced to apologise for "unintentionally causing offence" with his song Ukip Calypso and asked his record company to withdraw it. The song, which the Surrey-born disc jockey sang in a mock Jamaican accent, had been branded "racist".

PA

32/35 7 October: Forgetful Boris

During his Ask Boris show on LBC prior to the Clacton by-election last year, the London Mayor was asked by Nick Ferrari who the Tory candidate was. Boris replied: "We've got a fantastic guy called - oh he's brilliant… I don't know... he is superb man .. Stirling? Girling? Something like that… what's he called? You tell me." It was Giles Watling, Boris.

PA/Getty

33/35 18 August: Janice Atkinson

The senior Ukip MEP was forced to apologise after she was recorded by BBC South East Today describing a Thai constituent as 'a Ting Tong from somewhere'. It wasn't enough to see her disowned by the party - that came later when she was caught in a newspaper sting relating to expenses

Facebook/Maria Pizzey

34/35 16 May (2014): Nigel Farage on LBC

Nigel Farage's car-crash performance on LBC was one of his worst in recent years, and culminated in him saying he would be 'uncomfortable' with a Romanian family moving in next door. The gaffe later saw Ukip take out a full-page newspaper advert insisting it was not a racist party.

35/35 20 March (2014): 'Patronising' Grant Shapps

Grant Shapps, the Conservative chairman, came under pressure from across the political spectrum after a 'patronising' tweet in which he suggested Budget measures to halve bingo tax and cut the price of beer by 1p would 'help hardworking people do more of the things they enjoy'

Getty
AM:
No higher taxes, extra public spending cuts? Where?
GO:
Well it's part of our balanced plan. And if you look over the last 5 years …
AM:
That's not really an answer, Chancellor.
GO:
Well it is actually. If you look at the last 5 years, we found over £7 billion in real terms for the NHS. That's what happens when you have a sensible plan that makes savings in government, makes efficiencies in government, and then uses the dividends of that to fund our National Health Service each and every year and to support working people with tax cuts. You can't do … you can't have strong public services without a strong economy.
AM:
(interrupting) You're in a sit… you're in a situation where you've told us there are huge public spending cuts to come; there's going to be a very, very tough time to get rid of the deficit. You said that in the Autumn Statement and you repeated it again in the Budget. All I'm saying is you've now found halfway through an election campaign an extra £8 billion, which is not nothing.
GO:
No, no, we have always said we supported the NHS's own plan for its sustainable future, so we offer the best healthcare in the world and the best medicines.
AM:
(interrupting) But the money, the money.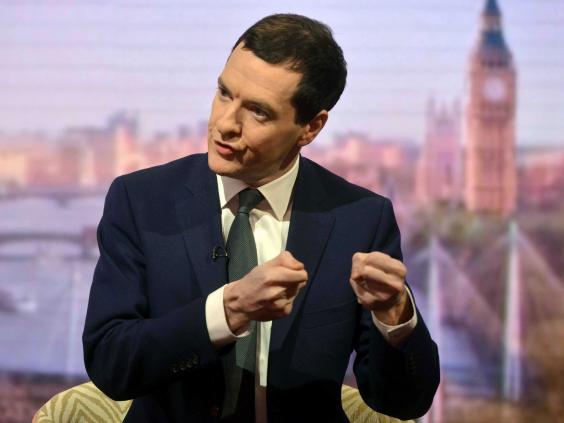 GO:
Simon Stevens, the Chief Executive, came up with that plan. We've worked with him. We've funded an initial part of it already. And because we have this balanced economic plan, because we are prepared to take difficult decisions in other parts of government, we can go on increasing the money to the NHS just like we did in the last parliament.
AM:
Okay.
GO:
You said to me, Andrew, 5 years ago, you can't increase spending on the NHS every year in the interview we did before the last election. We have increased spending on the NHS each year. We've also delivered a tax cut for working people each and every year.
AM:
(interrupting) All I'm asking you is where … What I'm asking is where the money is coming from. The inheritance tax announcement that you've made this morning, you have said we're going to fund that by raising taxes on some pensioners. So we know where the money is coming from. The £8 billion on the NHS, you have said nothing like that, it's totally opaque.
GO:
(interrupting) There's part … Well I'll come onto the inheritance tax plan, but we have got a balanced proposal to make savings in government equivalent to £1 in every £100 that the government spends, so that yes we eliminate our deficit and fix the roof when the sun is shining, but also so we can fund a brilliant NHS and give a tax cut to working people.
AM:
(interrupting) You're still not telling me where the money's coming from.
GO:
In this parliament, we have found over £7 billion. And by the way, you know in this parliament we had to make even more difficult decisions on public expenditure. We had 5 years of public expenditure restraint …
AM:
Okay.
GO:
… and in the next parliament we need 2 years of public expenditure savings. We've set out the balanced plan to achieve it. And part of the balanced plan – and I'm not pretending it's easy – but we made a judgment call. We want to back the people who rely on our National Health Service, we want to back the people who work in our National …
AM:
(interrupting) Don't say hardworking families, please.
GO:
I'm talking about all families in this country who rely on our National Health Service and indeed the brilliant people who work in it.
AM:
So if you're not going to tell me where the money's coming from, I'm going to tell you where the money's coming from. It's going to come from even deeper cuts in the unprotected departmental spending budgets of around 14 per cent in total, so you're going to hit the police, you're going to hit the armed forces, you're going to hit local government to pay for this. That's the truth, isn't it?
GO:
We have to make similar savings each year, as we've made in the 5 years of this parliament, but for 2 years. So let's finish the job. Let's not leave this country exposed to the economic storms out there in the world. Let's eliminate the deficit, keep our national debt falling as a share of national income (as it now is) as part of a plan for economic security in our country – security for families, security for our country, security for the businesses that create jobs.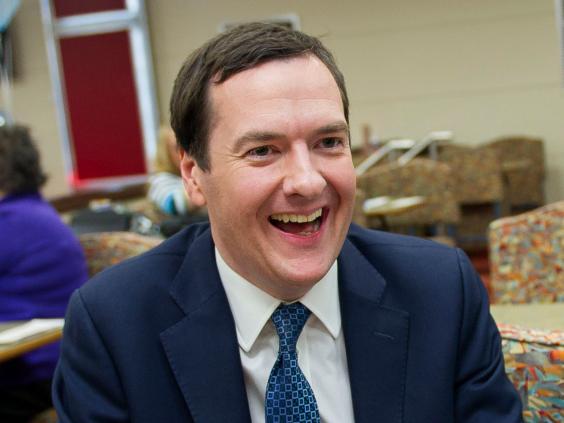 AM:
Okay. So you're not going to give me an answer on the £8 billion and where it's coming from?
GO:
Well I've said it …
AM:
(interrupting) You haven't given me an answer. With respect, you've said the economy's going to grow, everything is going to be fine …
GO:
No, I …
AM:
… somehow we'll find the money. It's exactly what you've attacked Labour for again and again.
GO:
No, no …
AM:
You can never again say it's another unfunded Labour spending promise. Not after this.
GO:
Andrew, I come on this programme and say yes we've got to make difficult decisions in public expenditure.
AM:
But I won't tell you what they are.
GO:
Yes we've got to save £1 out of £100 the government spends, yes we've got to make savings in government departments, yes we've got to make savings in welfare – including a freeze on working age benefits …
AM:
(interrupting) So where is the big cut coming? Is it coming in the police?
GO:
(interrupting) … but that is part of a balanced plan in order to eliminate our deficit, give our country economic security so we create jobs, fund our National Health Service and make work pay by giving working people more of what they earn.
AM:
So it's fair for me to say to you this £8 billion is coming from deeper cuts in unprotected departments?
GO:
It's part of our public expenditure plans. And you only have to … We have …
AM:
(interrupting) It's not coming from extra taxes, is it?
GO:
Andrew, we have a track record in this parliament where we found almost £8 billion extra in real terms for the National Health Service in very, very difficult economic circumstances. So we proved our metal, we proved our ability to stand behind the National Health Service in this parliament.
AM:
(interrupting) Okay let me try one last time …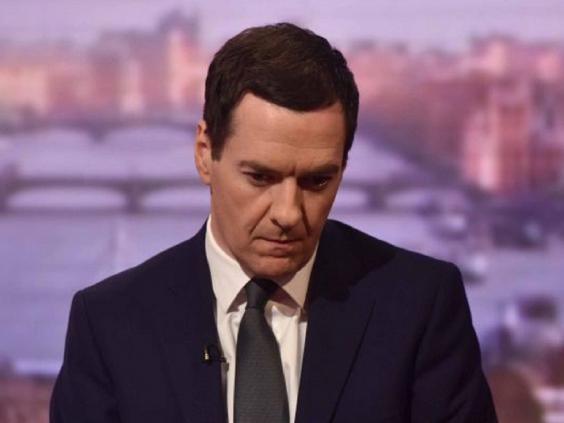 GO:
(interrupting) We can do it in the next parliament.
AM:
Let me try one last time. Eight billion is the limit. It could be much higher than that; that's the bottom limit. It could be much higher, the money …
GO:
Well …
AM:
… if you don't get the efficiencies that you want and you don't know that you will …
GO:
(interrupting) Yeah but the … yeah but the assessment of the NHS itself – this is not my judgment…
AM:
(interrupting) Okay well let's start with …
GO:
The assessment of the NHS itself is that it can find those efficiencies of course because …
AM:
(interrupting) So let's … Okay let's stick with the £8 billion …
GO:
(interrupting) … we want to make sure that every pound goes further.
AM:
… let's stick with the £8 billion. You're not going to borrow that money, are you?
GO:
It's part of our …
AM:
Are you going to borrow an extra £8 billion?
GO:
… it's part of our plan to reduce the deficit …
AM:
(interrupting) Are you going to borrow an extra £8 billion?
GO:
We're not … we don't have to borrow it because it's part of a …
AM:
(interrupting) Are you going to raise it in taxes?
GO:
I've just explained. We've got a balanced plan that involves saving £13 billion in the department, £12 billion in welfare …
AM:
(interrupting) I'm talking … Yes but …
GO:
… raise £5 billion extra from dealing with aggressive tax planning and tax avoidance and evasion. As part of that plan, you can fund the National Health Service …
AM:
(interrupting) So no more … so no extra borrowing? You're not going to fund the …
GO:
(interrupting) The funding for the health service has always been integral to the plan.
AM:
So you're not going to fund the extra £8 billion for the health service by borrowing, you're not going to fund it by taxes. That only leaves you extra spending cuts, doesn't it?
GO:
If you have a sensible plan to balance your public finances, you have a stronger economy and you have stronger public services.
AM:
I keep asking you very straight questions about where the money's coming from …
GO:
(interrupting) Well I'm giving you very straight answers.
AM:
No you keep saying sensible and balanced, balanced and sensible. That's not, with respect, exactly what I'm asking.
GO:
I've just given you …
AM:
I'm just asking you where the money comes from.
GO:
I've just given you very specific numbers. By the way, you don't get anything like that from the Labour Party. Indeed they don't even talk about the NHS (inaudible)…
AM:
(interrupting) Actually … actually it's very interesting. They're offering less money for the NHS in the first period - £2.5 billion – but they are saying exactly how they're going to raise the money, which you are not.
GO:
Let's be clear, if you have an Ed Miliband/Scottish Nationalist government, they will trash this economy and they won't be able to pay for the public services, and they will undermine economic security and cost people jobs in this country and we'd be back to square one and that would be an outrage …
AM:
Okay do you think …
GO:
… all the work we've done in this country to get where we are, so we can support people in work and can create jobs and can support our National Health Service.
---
The Independent has got together with May2015.com to produce a poll of polls that produces the most up-to-date data in as close to real time as is possible.
Click the buttons below to explore how the main parties' fortunes have changed:
All data, polls and graphics are courtesy of May2015.com. Click through for daily analysis, in-depth features and all the data you need. (All historical data used is provided by UK Polling Report)
Reuse content