You could tell which one was the Prime Minister because he was the only one with no jacket, an open-neck shirt and sleeves – literally – rolled up.
Having arrived in the blue battlebus emblazoned "On the Road to a Better Future", he bounded enthusiastically into the hall at The Corsham School in Wiltshire after a lyrical – at times almost trance-like – introduction from the local Tory candidate Michelle Donelan, who announced: "We are in the heart of the battleground, where every single vote can count."
Hmm. Maybe. But while Cameron's choice of Chippenham to kick off his election campaign is a tribute to the struggling Liberal Democrat candidate Duncan Hames, defending his small majority – a solitary poster for whom was borne by a supporter in the drizzle outside the school gates – it seemed a slightly odd location given his repeated emphasis that the only choice was between himself and Ed Miliband. Especially as the latest Ashcroft poll shows the Tories here at 39 per cent and Hames at less-than-nail-biting 24. Here there is only one battle, though. "The coalition is over," Ms Donelan announced a little redundantly.
In pictures: Top 12 wacky candidates seeking your vote in 2015
In pictures: Top 12 wacky candidates seeking your vote in 2015
1/12 Charlotte Rose, Brighton Pavilion

Sex worker Charlotte Rose stood in last year's Rochester and Strood by-election on a platform of legalising brothels (she came 11th) and says the issue is "important for democracy"

Image taken from Twitter

2/12 Solomon Curtis, Wealden

The youngest candidate to emerge so far is Labour activist Solomon Curtis. Just 18, the young chap has a Tory majority of 17,000 to overturn to become the youngest MP ever

3/12 Doris Osen, Ilford North

The oldest candidate to declare, Doris Osen, 84, of Epic – Elderly Persons' Independent Party – spent £1,000 on 30,000 fliers to voters

4/12 Dave Wasgij, Preston

Standing to give "piece a chance", comedian Dave Wasgij has been captured by the jigsaw lobby and is promising free puzzles for OAPs

5/12 Joe Stead, Calder Valley

Protest singer Joe Stead will provide colour at the count. He says war can be prevented through music alone

6/12 Arthur Uther Pendragon, Salisbury

He's stood for Parliament in five elections and believes he's the reincarnation of the King Arthur. Apparently, the stones say this is finally his year

Matt Cardy/Getty Images

7/12 Greg Clough, Islington

An Australian married to a Greek, Ukip's Greg Clough wants to stop immigrants using "our" NHS

8/12 Colin Bex, Eastleigh

Colin Bex's mission is self-government for the ancient lands of Wessex

9/12 Dave Bishop, seat TBC

Standing alternately as Elvis Loves Pets, The Church of the Militant Elvis, Lord Biro and the Bus Pass Elvis, Dave Bishop (below) has stood since 1997. Among his policy ideas are "free neutering for cats and Boris Johnson"

10/12 Mark Flanagan, Leeds North West

Mark Flanagan is giving voters the option of voting for "none of the above" and thereby rejecting every other candidate

11/12 Al Murray, South Thanet

Presumably wants a boost in sales for his next comedy DVD

PA

12/12 Robert Boaler, South Thanet

Robert Boaler for the Al-Zebabist Nation of Ooog party, wants to build a "great wall of Thanet" to save the town from nearby elite in Broadstairs
The result was an audience demographic with more than a sprinkling of tweed caps and jackets, twills and the odd Barbour. Much of the constituency is cottage-and-dry-stone-walls country.
Cameron had come home, you might almost be forgiven for thinking. But also to an audience of around 200 who appreciated being reminded of the Miliband threat: "If you vote for the Lib Dems you get Ed Miliband. If you vote Ukip, you get Ed Miliband," he told them, "and if you vote Labour you will certainly get Ed Miliband".
That last course of action at least did not seem one likely to find favour among the audience here in pleasantly rural Wiltshire, appreciative that he had been to see "Her Majesty the Queen" that very day as the prelude to trying to secure the clear victory that eluded him five years ago.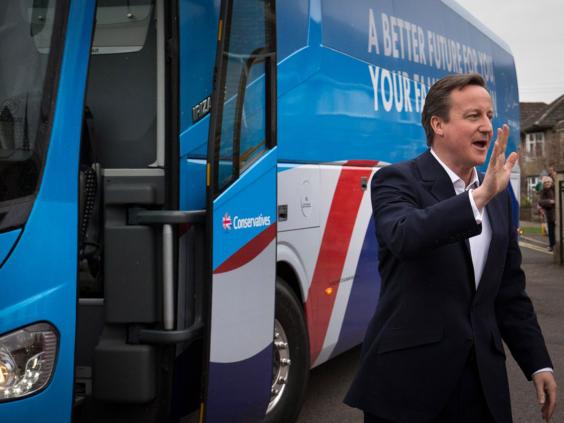 Returning earlier from Buckingham Palace – which he left just after Nick Clegg had arrived – he had pursued the same theme, saying at one point that the alternative to a Tory government was "the economic chaos of Ed Miliband". For some reason this conjured the image of a Labour leader who had maxed his credit card and lost his wallet, instead of the man who Cameron claims, oddly as it sounds, "wants to bankrupt the country". No less than his putative SNP backers "want to break up the country".
Modestly, Cameron insisted: "I don't claim that I have got every call right or that I am the perfect Prime Minister." But then, when the alternative was so baleful, that hardly mattered, he implied.
"I know this. I had a job to do in 2010 and it was about sorting out our economy, getting the deficit down and getting people back to work. There are only two people that can walk through that door in Number 10 in 39 days' time – there is me or Ed Miliband, the guy who even forgot to mention the deficit and who has opposed every single decision we have taken, every single tough call we have made."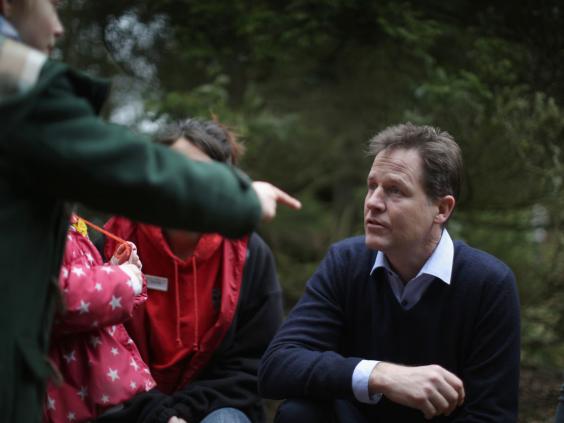 And after all, he insisted he had the record, the vision, the plan and the "team". As in what did the voters want – the man who "broke the banks" (Ed Balls) or the one who had "turned the country round" (George Osborne)? Etc etc.
But one worry is a strange fusion of Labour and Tory slogans on this first day of the election proper. ("Don't forget to hold your banners up when you're applauding," a helpful woman told Tory supporters last night.)
On Friday Labour promised us a "better plan, a better future". Yesterday's not entirely catchy Tory rival was "A better future for you, your family and Britain." Nigel Farage may have a point about all the parties sounding the same.
Reuse content