Ed Miliband has won the first skirmish in the televised battle between the party leaders ahead of the May general election.
Labour won a toss of the coin on Sunday to decide whether Mr Miliband or David Cameron could choose to go first or last in the 90-minute live programme to be screened by both Sky News and Channel 4 at 9pm tonight. The Labour leader opted to go second, believing it would be an advantage to have the last word.
The running order
Jeremy Paxman, the former presenter of  BBC's Newsnight, will kick off "The Battle for Number 10" programme by interviewing Mr Cameron for up to 18 minutes. Then the Prime Minister will take questions from a studio audience for the same length of time. This session will be moderated by Kay Burley, the Sky News presenter.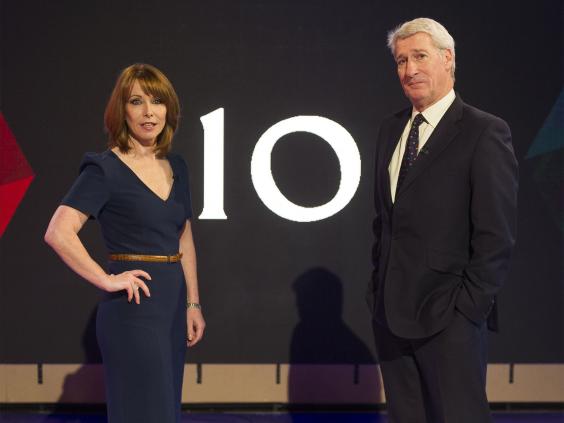 Then it will be Mr Miliband's turn to take the audience's questions before he is interviewed by Mr Paxman. The leaders' aides will then swing into action in the "spin room" at the London venue as they try to convince the watching journalists their man has won – whatever his performance.
Is it a debate?
Not really. At the 2010 election, Britain saw its first three TV leaders' debates, in which Mr Cameron, Nick Clegg and Gordon Brown took audience questions and debated with each other. During fraught negotiations ahead of this year's election, it was clear that Mr Cameron did not want to go head-to-head with Mr Miliband, as the broadcasters wanted. With the Labour leader's ratings so poor, the Tories judged he could get a boost if he surprised voters by doing well. Labour is frustrated by tonight's format, saying it is "ludicrous" that Mr Cameron and Mr Miliband would take questions from the same audience, but not debate face-to-face, and accusing the Prime Minister of "cowardice".
Labour is wary of Mr Paxman's involvement. He has described himself as a "One Nation Tory", was approached to be the Tory candidate in next year's election for Mayor of London and has said he senses the election is "running the Tories' way". But he may surprise his Labour critics.
Jeremy Paxman's best one-liners
Jeremy Paxman's best one-liners
1/12 On his political allegiance:

"I have to be frank, I suppose I am a one-nation Tory, yes."

REX FEATURES

2/12 On horse comparisons:

"I've spent my whole life being told I have a face like a horse. You are just what you are, aren't you?"

Getty

3/12 On his dream woman:

"I would be very happy to go cycling with Sigourney Weaver."

PA

4/12 On Tony Blair:

"He had a barrister's ability to master a brief. When you have that amazing command of detail and a messianic faith, it makes you slightly dangerous."

BBC

5/12 On sneering:

"I hate the word 'sneering', I can't help the way my face looks."

Penguin

6/12 On fitting in:

"I've always felt myself to be an outsider. I've always felt awkward."

Rex

7/12 On beard phobia:

"Unless you're lucky enough to be Uncle Albert on Only Fools and Horses, Demis Roussos or Abu Hamza, the BBC is generally as pogonophobic as the late-lamented Albanian dictator Enver Hoxha."

PA

8/12 On newsreader Huw Edwards:

"Huw Edwards can come across like some evangelical preacher on a wet Sunday morning in Merthyr Tydfil, and indeed, most of the earnest prophets of news claim merely to be passing on a greater truth."

9/12 On Twitter:

"Twitter? This is an activity for people who have got nothing going on in between their ears, or nothing going on in their lives."

PA

10/12 On English progressiveness:

"The English approach to ideas is not to kill them, but to let them die of neglect."

Newsnight

11/12 On conscientious objectors:

"To be honest extreme conscientious objectors have always struck me as cranks."

BBC

12/12 On the problems with Marks & Spencer underwear:

"I have noticed that something very troubling has happened. There's no other way to put this. Their [Marks and Spencer's] pants no longer provide adequate support."

BBC
Other programmes
On 2 April, a seven-way debate on ITV will include Mr Cameron, Mr Miliband, Mr Clegg, the Ukip leader Nigel Farage, the Greens' leader Natalie Bennett, the SNP leader Nicola Sturgeon and the Plaid Cymru leader Leanne Wood.
On 16 April, the five opposition party leaders – without Mr Cameron and Mr Clegg — will debate on the BBC. The Tories have dubbed this "the night of the nonentities".
On 30 April, Mr Cameron, Mr Miliband and Mr Clegg will appear on a special edition of the BBC's "Question Time", but they will not be on screen together.
Preparations
Mr Miliband has been holding intensive preparations for the TV debates since before Christmas. Alastair Campbell, who was Tony Blair's communications chief, played the role of Mr Cameron in rehearsals. But the Prime Minister's refusal to go head-to-Ed means that Labour has had to adjust its sights, with aides working out likely questions from interviewers and the studio audiences.  Mr Cameron is thought to have spent less time preparing – not least because Tory strategists were hoping there would be no agreement on any leaders' programmes.
Reuse content